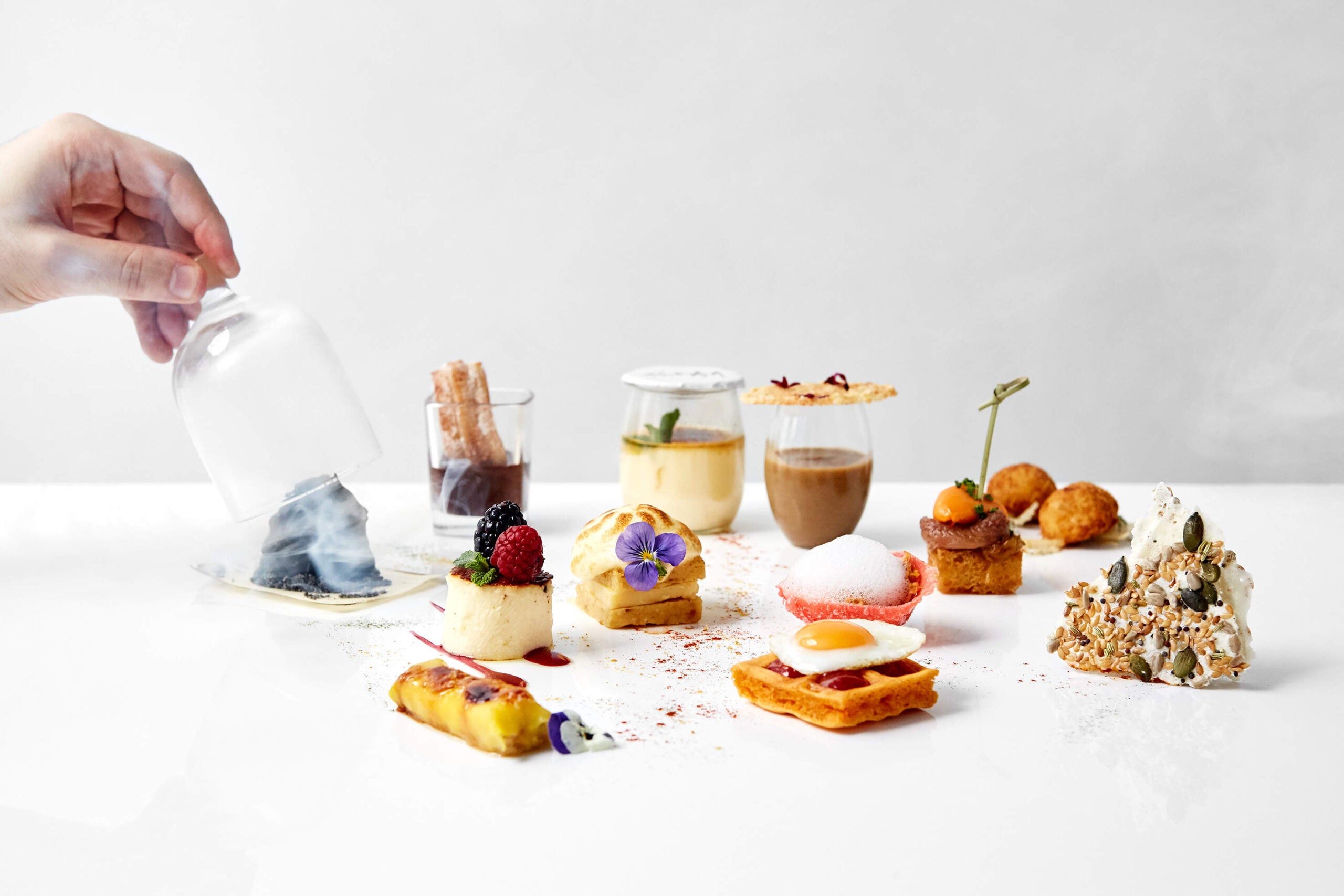 The Arzak family name is synonymous with gastronomy having been at the forefront of the global fine dining scene for decades. Restaurant Arzak was brought to its three-Michelin-star status by Juan Mari Arzak, whose grandparents began the venture in 1897, and now the culinary institution is run by his daughter, the accomplished chef Elena Arzak.
It was in March 2013 that Elena and her father Juan Mari opened the Belgravia dining spot Ametsa with Arzak Instruction at COMO The Halkin, bringing Basque flavors and their inspired culinary style to London. Now this Michelin-starred restaurant's team is celebrating its fifth year with the creation of a special seasonal menu, marked by a dinner with Elena in attendance.
It's in Ametsa's light-filled interior beneath its distinct ceiling installation of 7,000 tubes containing spices (a nod to San Sebastian) that I meet Elena on the day of the celebration to try some of the dishes she's created. Not only does this give me the chance to try the new menu, it's also an opportunity to hear the Arzak family's story from Elena herself.
Elena's own culinary journey began especially early. "When your parents have a restaurant, you're always in contact with it," she says, "When we were children the restaurant was very humble and my sister and I were able to help in the summer holidays. It was the time for squid and crab and we helped by chopping herbs. My dream then was to cook dishes for the kitchen."
Elena went on to study hospitality in Switzerland and work at restaurants including La Gavroche, Pierre Gagnaire and El Bulli before returning to Restaurant Arzak to work alongside her father. Now she's among the world's best known female chefs, having made her mark on what's considered to be one of the world's best restaurants. Juan Mari, she tells me, is still very hands on, giving Elena his expert opinion on her newest creations. "For me his opinion is gold," she enthuses, "He still tastes them like he did 25 years ago, telling me how they can be improved."
Each dish at Ametsa reflects Arzak's celebrated culinary style and the bold flavors of the Basque region. But the menus here are also tailored to suit local taste, making the most of the produce that's sourced locally. People in London, she explains, like to have more spice in their food. And while the hake is particularly high quality in San Sebastian, John Dory and monkfish stand out more here.
The dishes at Ametsa are full of vibrant color too, which is not at all inconsequential but instead based on Elena's interest in how color affects the way food is perceived. "Everything we do needs to enhance the ingredients," she explains, "I'm interested in how color affects the way people see food in different cultures."
As well as exhibiting Elena's interest in color, the menus at Restaurant Arzak are famously playful—one dish is served on a skateboard—and the same light-hearted approach applies to the dishes at Ametsa. An example of this is the Monkfish Cleopatra dish that features on the brand new menu. This dish takes inspiration in its presentation from Egypt and the country's hieroglyphs with different elements on the plate representing a pyramid's wall, the sand of the desert and the River Nile. A message written in hieroglyphs—from pumpkin and lemon puree, no less—translates to say 'I hope you like it'. "I looked it up on Google," she admits.
Bringing together entirely original dishes with some that are on the menu at Restaurant Arzak, the new menu at Ametsa incorporates Elena's Monkfish Cleopatra creation, scallops with bee pollen and the Stonehenge-inspired Cromlech with Foie Gras plate that Juan Mari is known for; this dish has been described as 'a masterpiece of molecular gastronomy'. As well as being featured on the main menu, elements of these new dishes are seen in Ametsa's Arzak-style afternoon tea.
Elena has won a number of awards for her distinct cuisine. Among these is the title Best Female Chef. This is clearly a source of great pride as she expresses her joy in the increase of women chefs who are at the very top of their game. This seems especially relevant as this restaurant's anniversary coincides with International Women's Day.