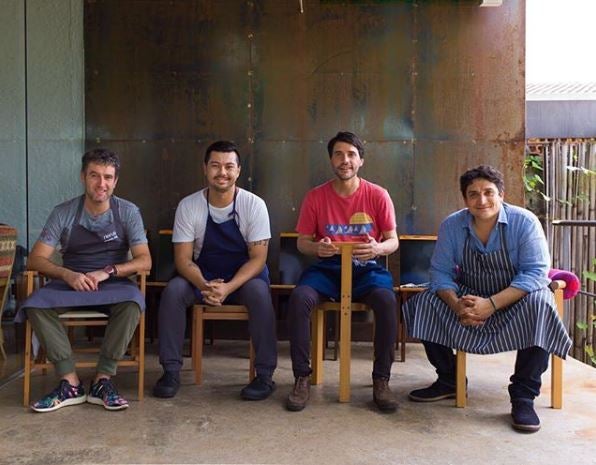 Following on from our piece about the best restaurant openings in Latin America, Elite Traveler has put together a list of nine Latin America chefs who are set for stardom over the next 12 months.
Xavier Pacheco
Comederia Fonda Urbana, Puerto Rico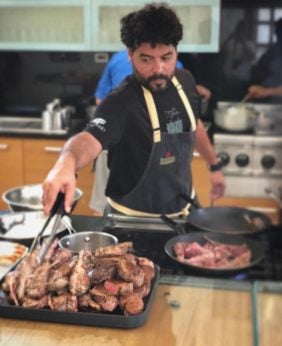 A chef that's said to be spearheading the farm-to-table dining scene in Puerto Rico, Xavier Pacheco has attracted widespread attention in recent years, even making an appearance on Parts Unknown with Anthony Bourdain late last year. This episode delves into Pacheco's work following Hurricane Maria, as he endeavors to bring business at his restaurant in San Juan (previously named La Jaquita Baya and now called Comederia Fonda Urbana) back to normal and return to sourcing the majority of his ingredients from the local farmers and fishermen he's forged relationships with. While he overcomes this challenge, Pacheco further proves his passion for developing the farm-to-table dining scene in this country, and sharing good and nutritious food with the people who eat at his restaurant. Not only is the chef promoting fresh and local cuisine, he's cooking up creative plates that you'll keep talking about long after you've left.
Manoella Buffara
Restaurant Manu, Brazil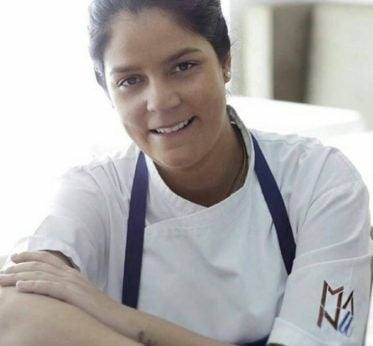 We wrote about Manoella Buffara in our recent piece on female chefs to watch around the world, and here we think she deserves another mention for being one of the chefs to keep an eye out for on Latin America's fine dining scene – she did, after all, hone her skills in world renowned restaurants such as Alinea, which came out top in the Elite Collection Top 100 Restaurants 2018. After traveling the world and stepping into these great restaurants' kitchens, Buffara poured her culinary experience into opening her own dining spot, Restaurante Manu, and has won a number of awards for it since. Known for creative cuisine that comes from the heart, she cooks up dishes combining ingredients brought in that day from small producers in the Curitiba region of Brazil with innovative cooking techniques and Brazilian culinary influence. A different menu is created for the restaurant each day. With the restaurant as her base, Buffara continues to showcase her passion for food at culinary events far and wide.
Elizabeth Puquio Landeo
Ambrosia, Chile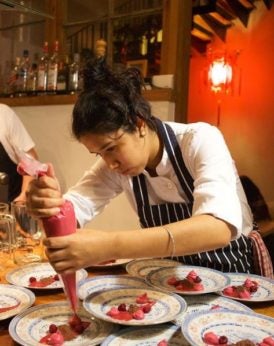 Another Latin American chef who also featured in our pick of female chefs to watch around the world, Elizabeth Puquio Landeo stands out for her long-held passion for cooking, having acquired a love for food from her family, and for the time she's spent in world-class kitchens across South America – Restaurant Central and Restaurant Maido in Peru, to name just two. Now based in Santiago, Chile, Landeo cooks at the prominent restaurant Ambrosia with chef Carolina Bazan, and has garnered global attention by being a part of international culinary events. When we spoke to her earlier this year, she said wants to give Latin American food its place on the world stage and is most inspired by the work of Virgilio Martinez and his team who go in search of lesser known Peruvian produce to introduce people to Latin America's different flavors. As she continues to show creativity, passion and curiosity, we're sure Landeo will continue to rise in the culinary world.
Rodrigo Oliveira
Mocoto, Brazil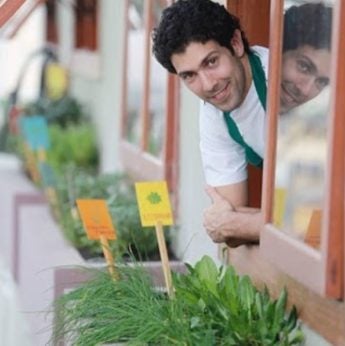 Chef patron of one of the best restaurants in Sao Paulo, Mocoto, Rodrigo Oliveira is a prominent name on South America's food scene. At this restaurant opened by his father in 1973, Oliveira has long cooked up traditional Brazilian dishes, which he interprets with creativity and modern culinary techniques. In recent years he has won a number of awards and widespread recognition for his time spent traveling around Brazil in search of ingredients and recipes and the contemporary concepts he then incorporates into the menu, also opening a second restaurant Esquina Mocoto. Both are now considered to be among Latin America's best. Naturally, this kind of passion, creativity and adventurous spirit translates into the pursuit for new ventures. For Oliveira, this will next be seen in the opening of a new restaurant that's further from home, a casual restaurant and bar in California. The new Los Angeles venue will combine his Brazilian culinary style with influence taken from the State it's in.
Alberto Landgraf
Oteque, Brazil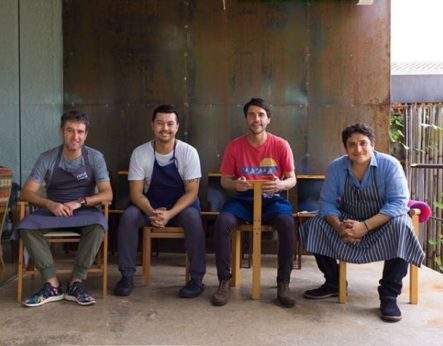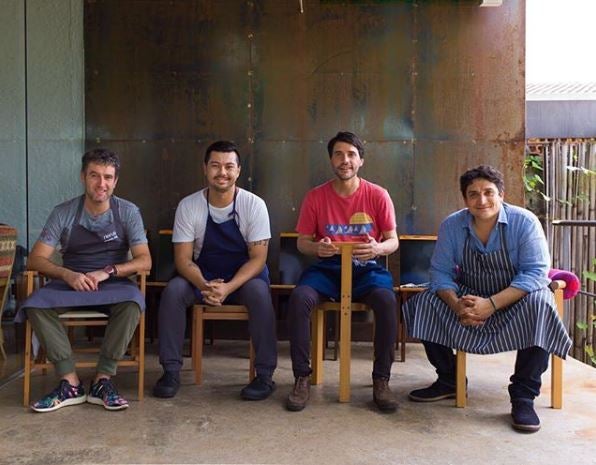 As the chef behind one of this year's most exciting restaurant openings in Latin America—Oteque in Rio de Janeiro—Alberto Landgraf is one to watch in 2018, despite already having made a name for himself by earning a Michelin star at his former restaurant Epice in Sao Paulo. Landgraf trained in kitchens with world renowned chefs Tom Aikens and Gordon Ramsay, and he now combines the skills he refined alongside these famous names with his own Brazilian culinary influence. Ingredients sourced from across the country are showcased in modern Brazilian specialties with imaginative exploration of flavors and texture. The chef has won a number of awards over the past few years, and we're sure he'll continue to shine with his latest venture.
Cristian Sierra
Sierra, Chile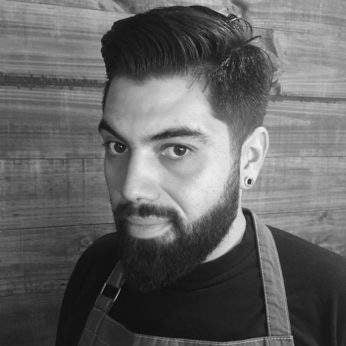 Eagle-eyed readers will recognize Cristián Sierra from our list of the most anticipated restaurant openings in Latin America this year. Having worked as a sous chef at the award-winning Boragó, Sierra's eponymous restaurant focuses on serving some of the regions finest cuts of meat, with the restaurant doubling as a tribute to his father who worked as a butcher for most of his life.
Prior to opening Sierra, the chef had spent the early years of his career learning from the legendary Rodolfo Guzmán, an experience he's transferred to his ten-seater restaurant in Antonio Varas. Under Guzmán (and with a bit of influence from his father), Sierra learned the art of nose to tail cooking, using everything from the bones to make broth right through to using prime cuts for homemade sausages.
Andres Patsias
Statera, Peru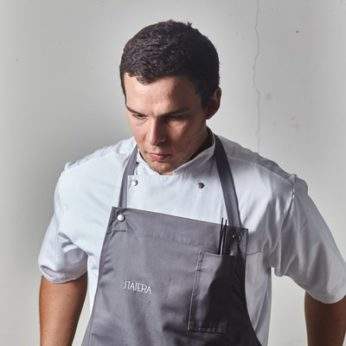 With experience working in some of the world's most established kitchens (including the likes of Quiqu Dacosta, Noma and Central), it is no surprise to see André Patsias on our list of the most exciting chefs in Latin America. Having honed his skills in Virgilio Martinez's Central, Patsias's Statera restaurant pairs traditional Peruvian dishes with modern cooking techniques. To ensure he is capable of offering only the best dishes to diners, Patsias works closely with a small group of farmers based in the nearby hills who provide much of the restaurant's produce.
Patsias's cooking is homely yet extremely delicate and intricate, with the chef using a wide variety of flavors and textures to ensure his cooking expresses his modern take on Peruvian cuisine.
Mario Castrellon
Maito, Panama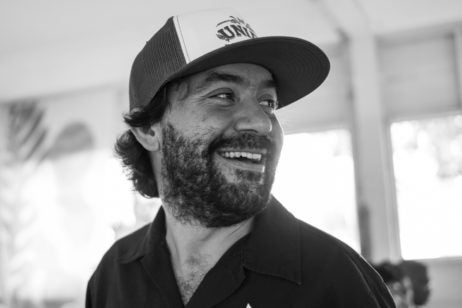 Originally from Panama, Mario Castrellon is the head chef and owner of two Panamanian restaurants – Maito and Humo. Castrellon's latest project is the Rainforest Table, where he and eight other restauranteurs work on harnessing the biodiversity of the Amazonian rainforest by using the produce rich landscape to offer a wide array of food. The project is billed as a way to help stop deforestation of the area (often coming from more modern forms of food production such as soybean, cocoa plantation and beef cattle farming) and focusing on using the forest's abundance of plants, fish and fruit to help work towards a more sustainable model of food production.
Oscar Segundo
Ajumu, Mexico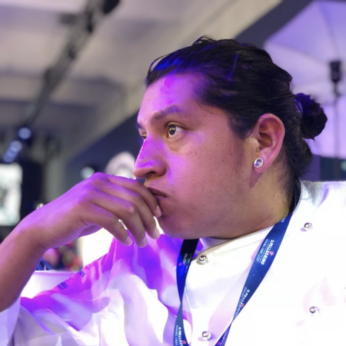 Named this year's San Pellegrino Young Chef of the year for Central America and the Caribbean, Oscar Segundo works in Ajumú in Mexico's Guadalajara. Having first developed an interest in cooking at the tender age of eight, Segundo's love of Mexican history and cuisine has inspired him to develop a hugely original and innovative cooking style that encompasses the country's rich heritage and culinary landscape.