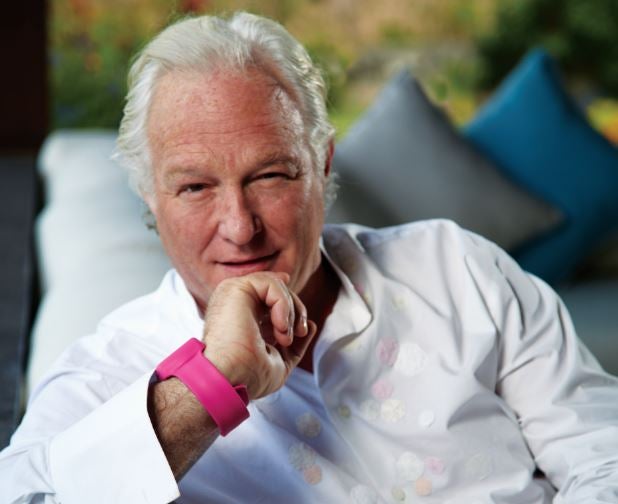 This story originally appeared in the September/October 2017 issue of Elite Traveler.
Lauren Holmes speaks to Chris Burch, CEO of Burch Creative Capital, about his new venture in Indonesia, making a connection with his workforce and giving something back to the communities in which his businesses thrive.
It's Saturday night at Nihi Sumba Island, the world-class lodge set on the remote Indonesian island of Sumba, and while guests mingle over barbecued tiger prawns, barracuda sashimi and cacao-flavored negronis, I take the opportunity to do some detective work. I'm in Indonesia to profile billionaire entrepreneur Chris Burch, who co-owns Nihi Sumba Island with hotelier James McBride. Since the pair took over in 2012, the once-simple surf spot has skyrocketed to the accolade of being named best hotel in the world.
As the founder and CEO of Burch Creative Capital, Chris Burch is a man with the Midas touch when it comes to business. Perhaps best known as the co-founder of fashion brand Tory Burch (which he launched with his ex-wife), he is the force behind multiple technology and luxury brands, including Jawbone, Poppin, Voss Water and hospitality group the Faena Hotel + Universe. More recently, he partnered with great pal and entertainer Ellen DeGeneres to launch her lifestyle brand ED. So who better to ask about the man behind the headlines than his staff? Far from reluctant, each person lights up when I mention his name, and everyone has a story to tell.
"The first time I met Chris, he had me in a headlock by the end of dinner, both of us roaring with laughter," shares Johnny, Nihi Sumba Island's Kiwi boatmaster. "Ask him where he gets his endless, boundless energy from…"
"I'd like to know how he always, always picks such successful projects to invest in," says London-born Lloyd the landscape gardener. The more I dig, the more it seems Burch is far from a stereotypical billionaire.
Weeks later, I catch him en route to an early breakfast meeting in New York, one of the three American cities along with Miami and LA where he now divides most of his time. "It's the key to my success," he shares, without hesitation, when I touch on his relationship with his staff. "My understanding of people. I have an empathetic nature and I see people differently. One of my best qualities is asking a lot of questions. I figure out where that little kid was at 14, what drives them, what makes them special and I then relate to them in that manner. So say someone is pitching me a company related to space, I figure out who they are, what kind of tenacity, integrity, creativity they have. I connect with them in an emotional way and then I tie that within the marketplace and what I understand of consumers. I see if this human can do a great job."
Burch describes the process as a "camera of curiosity" inside his head, which automatically scans everyone who crosses his path. It's a skill that he credits to a childhood of poor school grades, an inability to concentrate and trouble sleeping. He would stay up through the night, listening to sleepless callers on the talk radio show Voices Of America in the broom closet. "I'd spend my time just listening to people think and talk, and it helped to form my brain to be very curious and to listen, to create ideas and dreams from these conversations."
Burch took his first foray into business at Ithaca College, selling varsity-style sweaters to classmates with the help of his brother and a $2,000 investment. The company, Eagle Eye, was eventually sold to Swire Group for $165 million, which gave Burch the means to invest in Internet Capital Group, a well-known IPO story from the early days of the internet revolution.
"Early on, I just went with gut instinct and creativity," he says. "I didn't really realize that I had any talent, but was fortunately very successful because I came up with good ideas. It wasn't until I got older that I became more reflective on who I am and who others are. That kind of metamorphosis comes a lot from being hurt by other people, from when you are wrong, and the pain of disappointment, as well as from the joy when people surprise you. So hopefully the older I get, the better I get at having a clear understanding about why we as people do what we do."
A regular guest speaker at Harvard Business School, Burch stands out as an entrepreneur who credits his success to empathy above all else. While Burch's business career has the markings of a Wall Street fairy tale, the path was not always paved with gold. Things hit a rough patch in 2006 when he split from his wife and business partner Tory Burch, a period that he credits as one of the most transformative in his life.
"I've had big moments of pain that have actually defined me and big moments of joy that have defined me. I went through a period when I was paralyzed, very ill and going through a divorce. It felt as if everything was falling apart around me. I came out of that learning so much about good and bad, about people and life, about tenacity and about picking yourself up. I think these hard times actually take away a little of your soul and then build a little. The most defining moments of my business career are when I figured out that I was capable of a deeper creative understanding of people. I am very lucky that I'm not built with envy of others. In fact, that's one of my greatest pleasures, other people's success around me."
If a single trait runs through Burch's business investments, it's a passion for disruption, for going against the grain and backing products or people who challenge the status quo. Testament to this, his latest ventures include luxury pre-fab housing company Cocoon9 and the hospitality supplier Bur+Mah, which enables designers to custom-create fittings and finishings.
"I get very excited about bringing new concepts or products to the world in a different manner, especially when they haven't been introduced in the US. Last week, I was in China and found some of the most beautiful quality products, from furniture to stones and pots, all of which were very inexpensive. Whatever I do, I want to bring a spirit of uniqueness that calms the human soul."
If that is Burch's defining aim, then with Nihi Sumba Island he has painted nothing short of a masterpiece. Burch first visited the island in Sumba on the behest of some of his surfing buddies and was captivated by the raw natural beauty, its remoteness and the charm of its people. Back then, Nihi Sumba Island was "four or five simple shacks run by a group who didn't have the capital to put into it. After we bought it, we realized that we were sitting on a jewel. It would be like thinking you have a nice coal
mine, and ending up finding diamonds. And the reason we have diamonds is because we have the Sumbanese people. We have the most beautiful land, the water is beautiful and it's a place where you can really relax and be happy, but it's the people that make it so special—don't you just love them?"
Such is Burch's passion for supporting the people that upon purchasing the hotel, he immediately took over half the funding for the Sumba Foundation, Nihi Sumba Island's non-profit organization, originally launched by founder Claude Graves in 2001 in an effort to lessen poverty on the island. Since then, the foundation has provided healthcare to over 25,000 people and is responsible for reducing the rate of malaria by 85 percent, as well as building 300 wells and watering holes and supporting 16 schools by delivering lunch to otherwise hungry kids.
Now responsible for some 400 islanders and their families, Nihi Sumba Island is the largest employer on the island and the impact it has on the lives and futures of the people there is markedly prominent. A trail map for how foreign-led projects can ignite and engage with local communities rather than simply benefiting from labor and resources, it's one that the luxury hospitality industry could do well to watch.
"We are expanding now and it feels good. Five of our guests decided to throw a fundraiser for the foundation on their own and they raised $70,000. Where have you been in the world, where people meet at a hotel, get together as a group of friends and decide to have a party to raise money and change the lives of a lot of people off their own backs? I mean it just blew me away. So beautiful, right?"
Is placing philanthropy at the heart of business an approach Burch feels inspired to include in all his projects? "I would only do it if it was totally real. I'm really not into these companies who use so-called philanthropy as a way to sell more product. I think philanthropy is critical to how you build a business, but it has to really come from the heart, changing the people's lives without interrupting their society. Sumba will be a hard one to match, but every hotel I build we will involve the community. So even if we open a city hotel, I want to offer free nursery to local kids."
As the conversation draws to a close, Chris shares that his happiest moments are spent at Nihi Sumba Island, trekking back from the waterfall and then heading for a massage. "And conversations like this," he says, "the intelligent questions you've asked, the way you have woven this conversation into a story that flows like water, that makes me feel happy, relaxed. Relaxation is not a space but a human."
By the time we hang up, I'm grinning from ear-to-ear, shoulders tall, floating in a bubble and I realize I have been completely Chris Burched. He has connected so effortlessly, pin-pointed my passions, that I leave the call wanting to work with him and for him, to help and support this man with a miracle mind for clearly understanding and raising up humanity. "What does success mean to me?" Chris explained, "It's that moment when someone goes 'Ah, wow! He really got me.'"