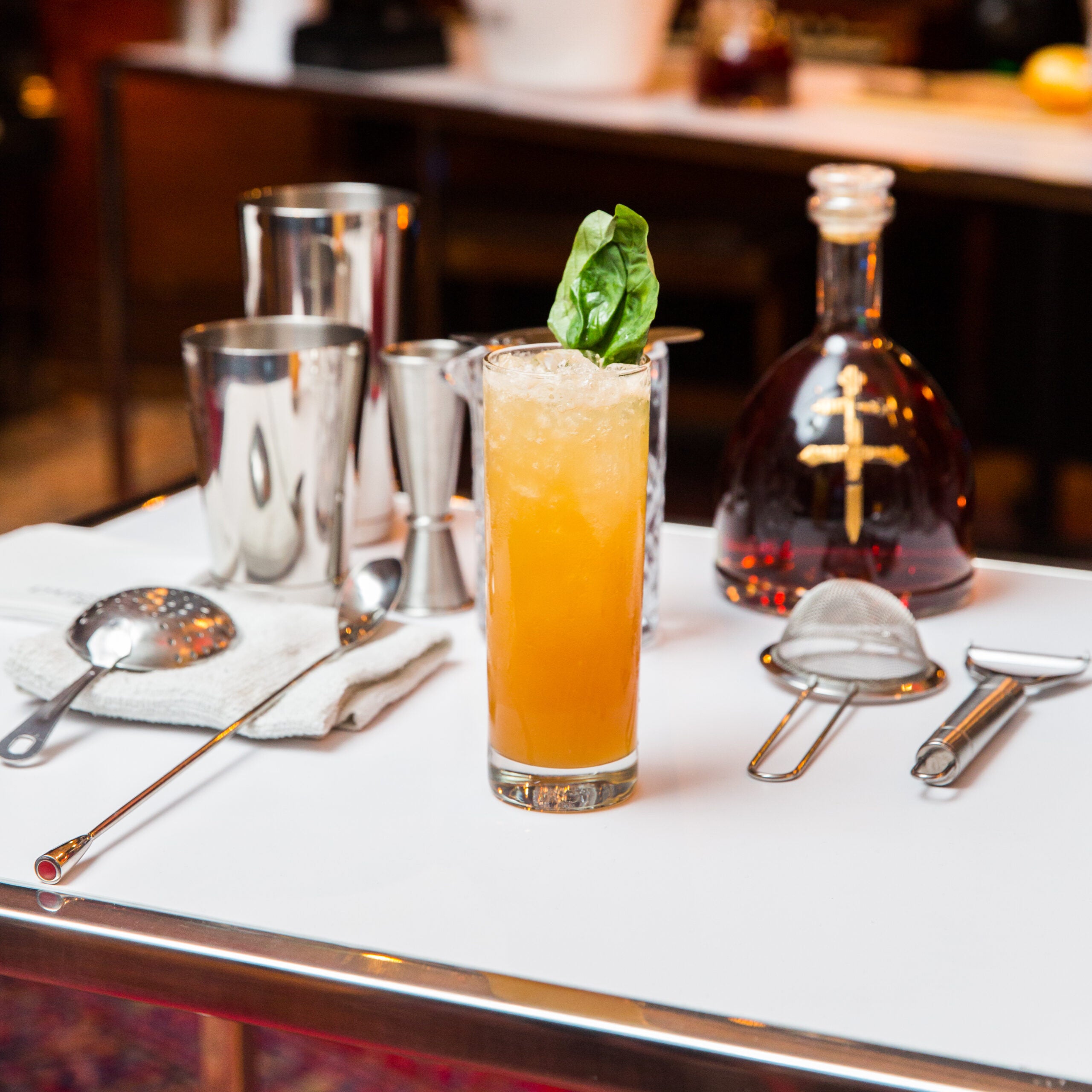 D'Ussé VSOP Cognac Julep
2.5 parts D'Ussé VSOP cognac
0.5 part simple syrup
2 to 4 sprigs of mint
crushed ice
To create this cocktail of the week, place simple syrup in a glass with five or six mint leaves and muddle. Fill the glass halfway with ice, add 1.5 parts D'Ussé VSOP cognac and stir. Add more ice and remaining D'Ussé. Stir again until the glass is fully frosted. Top with ice. Garnish with fresh mint.
Creating a cocktail is akin to composing a song. When done right, all the ingredients harmonize to make something that's pleasing to the palette — like music to our ears. As New York gears up to host the 60th Annual Grammy Awards at iconic Madison Square Garden this Sunday, Elite Traveler explored these parallels at Power Station Studio for the D'Ussé Remixer Series. Joined by award-winning producer 9th Wonder, we spoke to Bacardi portfolio ambassador Colin Asare-Appiah about the link between music and mixology.
"Something that I always say whenever I craft a cocktail is 'try to understand the base ingredient,'" he explained. "If you think of music and how music is formed, take D'Ussé and use that as the base for your piece. Then you have different ingredients, different liqueurs, cordials and citruses which can all be like your harmonies. Some of them can be your hooks to bring people into the cocktail and keep them coming back for more. Your base — the D'Ussé — is your constant beat. Find harmonies, find a pitch and find the hook that will make your cocktail a classic."
A 'remix' of the traditional mint julep, to master this cocktail of the week is to grasp its base ingredient: D'Ussé VSOP cognac. Asare-Appiah delved into the cognac's background and profile, noting that the history of D'Ussé extends beyond the brand's launch five years ago with 2018 Grammy nominee Jay-Z.
"D'Ussé is an exciting cognac and there's a lot of buzz around it," he said. "D'Ussé is made in Cognac where they've been crafting award-winning cognacs at the châteaux for over 200 years, so D'Ussé is built on over 200 years of experience. The maître de chai who makes D'Ussé is the longest-serving cellar master in the Cognac region. Michel Casavecchia is such an amazing man and when I went to the Château de Cognac I was so impressed by his aptitude. What makes D'Ussé different is we use eaux de vie from three of the most highly sought-after regions: Grand Champagne, Petite Champagne and Fins Bois. The simple reason is that those areas provide the best wines for the best aging for cognacs. We age our cognacs [D'Ussé VSOP and D'Ussé XO] in two very different cellar conditions. One is a dry cellar and one is a humid cellar. When you taste D'Ussé VSOP – which stands for 'Very Superior Old Pale' – all the eaux de vie in here are a minimum of four-and-a-half years old."
Once you understand where your base spirit comes from, Asare-Appiah's next step is to take a closer look at what's in your glass and allow the cognac's full character to be revealed to the senses.
"First, look at the color," he said. "It's a deep amber. Keep your mouth open while you nose it because the vapors pass over the olfactory and tell you what you're going to be tasting. When you inhale, there's a lot of character in this spirit. Whenever you taste a spirit for the first time, take a little sip, allow your palate to get used to it. Then, take another sip and vaporize the alcohol. If you vaporize the alcohol, it'll never hit you in the back of the throat. When you blow out, it really opens up your palate. The sides of your mouth start to salivate. That's the sign of a really good, clean distillate. Cognac has always been that spirit."
The 60th Annual Grammy Awards will take place on Sunday, January 28, 2018 at 7:30pm EST. For more information on D'Ussé cognac, please visit dusse.com.