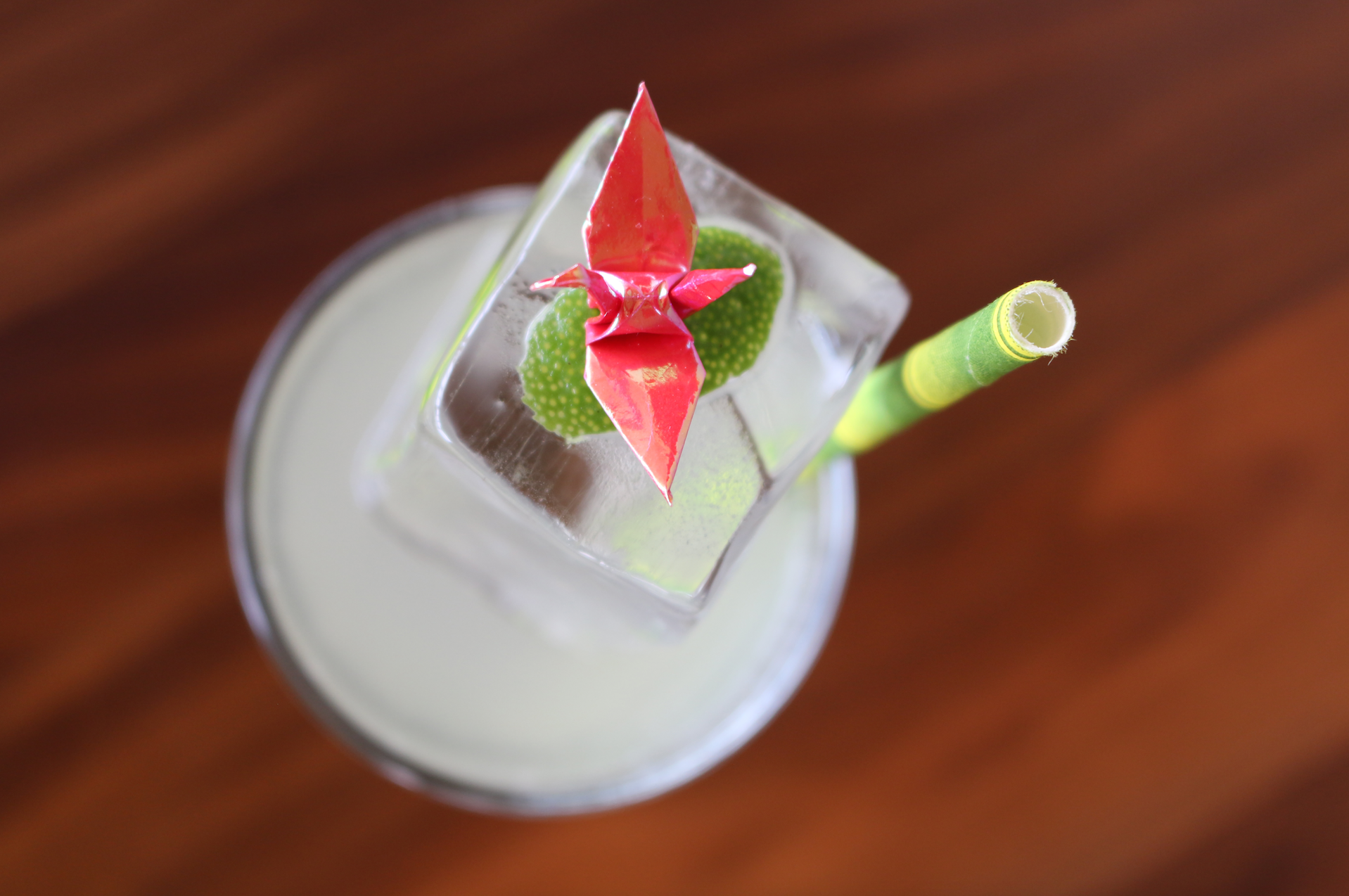 By Olivia Cuccaro
Higgin's Highball from Top of Waikiki
1.5 oz Kikori whiskey

½ oz house Yuzu syrup (simple syrup with Kochi Ice Yuzu)

3 shiso leaves

soda water
To create this cocktail of the week, muddle the shiso leaves, stir with ice, then strain into a glass and top with soda water.
Say aloha to the Higgin's Highball. Hailing from Honolulu, this week's cocktail breathes life into the classic highball with its inclusion of Japanese whiskey Kikori. The golden-hued whiskey is aged for at least three years in American oak, French Limousin oak and sherry casks to create a floral, fragrant aroma and velvety smoothness. Distilled and Japan and made from 100 percent rice, Kikori whiskey refreshes the tired Scotch and soda and proves that Japanese whiskies are becoming serious contenders in the US cocktail scene. The birthplace of Kikori is Kumamoto, where local rice grown in volcanic soil and pure spring water from the volcanic rocks on Kyushu Island are integral to its aroma and flavor. The Higgin's Highball balances the Kikori with other traditionally Japanese ingredients: yuzu fruit and shiso herb. And let's not forget its most delightful nod to Japan, a paper crane topper.
"Yuzu and shiso are flavors I've always enjoyed, so I wanted to find a spirit that would complement them," said Max Kam, mixologist at Top of Waikiki, in speaking to Elite Traveler. "Kikori worked out perfectly. Kikori's delicate and bright characteristics play well with the yuzu and shiso, producing a light refreshing cocktail. The oversized collins ice is functional and fun. It keeps the drink cold, and looks cool. People tend to get a kick out of it, especially the origami crane."
Set on the 18th floor of Waikiki Business Plaza, every table at Top of Waikiki is the best table since the restaurant itself  rotates. The revolving venue makes one rotation an hour, providing a panoramic perspective through the floor-to-ceiling windows overlooking the ocean. Sip your Higgin's Highball at sunset and enjoy a spectacular 360 degree view of the Hawaiian beachfront neighborhood.
Top of Waikiki is located at 2270 Kalakaua Avenue, 18th floor, Honolulu, HI 96815. For more information, please visit topofwaikiki.com. Planning a trip to Honolulu? See Elite Traveler's tips for How to Spend a Weekend in Honolulu.
Photo Credit: Noelle Chun