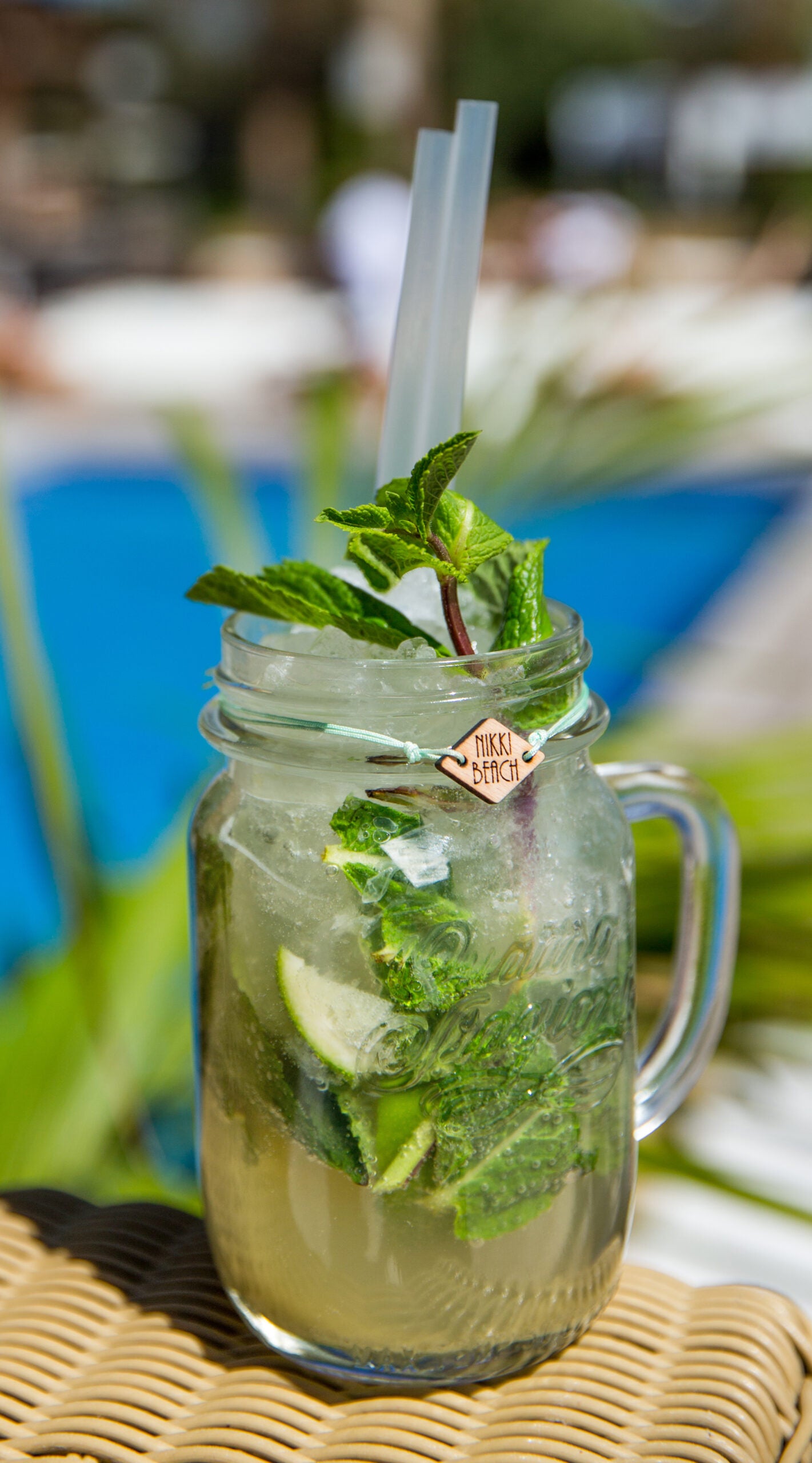 Mojito at Nikki Beach Barbados
1.7 oz Mount Gay Rum
7 lime slices
8 mint leaves
2 teaspoons of sugar
Sprite soda to top off
To create this cocktail of the week, muddle mint, sugar and lime. Add Mount Gay Rum with ice and shake. Pour into a mason jar and top with Sprite soda.
With refreshing citrus and the cool tingle of mint, the argument can certainly be made for the mojito as the essential beachside cocktail. This week's cocktail of choice will be sipped as the Caribbean sun sets over the North Atlantic at the highly anticipated Nikki Beach Barbados. Made with Mount Gay Rum, first crafted on the island in 1703 from Barbadian sugarcane, the signature Nikki Beach recipe puts a Caribbean twist on the classic Cuban cocktail. Sour lime balances out sweet sugarcane to make the mojito a favorite across Nikki Beach properties from Saint Tropez to Koh Samui, with more than a million of the thirst-quenching cocktails served worldwide.
"As our second location in the Caribbean, Nikki Beach Barbados is going to be a really special property," said Jack Penrod, founder and owner of Nikki Beach Worldwide, in speaking to Elite Traveler. "The views are extraordinary and what I'm looking forward to most is gazing out at the ocean and enjoying one of our world famous Nikki Beach Mojitos at sunset. The drink has been a favorite of our guests since we started the company nearly 20 years ago."
Positioned on 1.4 acres of pristine Caribbean beachfront, Nikki Beach Barbados will feature a restaurant, pool and beach club — decked out in the trademark all-white, wood-accented decor — when it opens this winter. Guests can look forward to a swim-up octagon wet bar, catamaran-like lounges extending out over the sparkling water, oversized luxury sun beds and VIP cabanas for relaxing by the pool, as well as yacht dockage and water shuttle providing easy access to its Platinum Coast setting.
As Nikki Beach Barbados becomes the latest property to join the esteemed franchise of luxury resort destinations, read how Penrod faced adversity to develop Nikki Beach Worldwide in the July/August 2017 edition of Elite Traveler. Then, find out which must-stay Nikki Beach property made our list of Top 100 Suites in the World.
Nikki Beach Barbados is located at Port Ferdinand, Retreat, Saint Peter, Barbados. For more information, please visit nikkibeach.com.