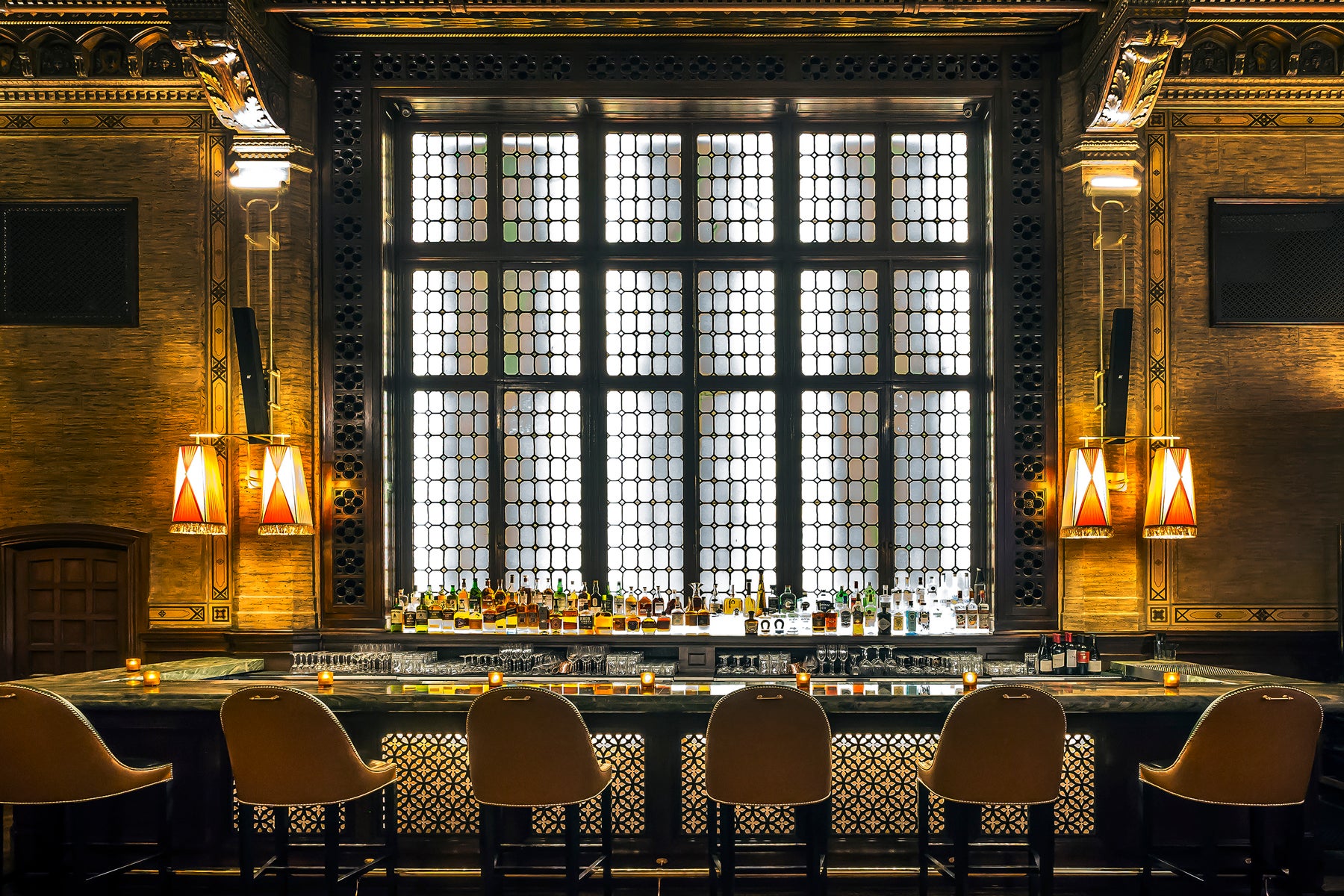 The Aviation at The Campbell
1.5 oz Nolet's Silver Gin
1/2 oz Luxardo Maraschino
 3/4 oz fresh lemon juice
1 bar spoon crème de violette
To create this cocktail of the week, combine Nolet's Silver Gin, Luxardo Maraschino, fresh lemon juice and crème de violette in a coupe glass. Garnish with cherries.
When sitting at the bar in a former Jazz Age financier's office, can you really order anything other than gin? Earlier this year, what was once railroad executive John William Campbell's private place of business and reception hall was restored to its original grandeur, welcoming guests for of-the-era cocktails in a historic setting. The Campbell is housed in a New York City landmark — Grand Central Station — but tucked away in the southwest corner, you'd never know it.
As one of New York's prominent tycoons of the the 1920s, Campbell commissioned a leading architecture firm to turn the Grand Central space into an office by day and salon for entertaining friends by night. Paying homage to the past, The Campbell of today features a grand bar topped with green quartzite and stately mohair and leather furnishings. Cozying up to the candlelit bar, one simply needs to look up to see how meticulously the integrity of the venue was kept in tact — a 25ft hand-painted ceiling stretches over the space, illuminated by custom brass sconces. From a stone fireplace to a century-old leaded glass window serving as the backdrop to the spirits on display, elements of The Campbell's former glory are everywhere. Even John Campbell's personal steel safe was kept during the revitalization.
The cocktail program plays into the Jazz Age ambiance with options such as this week's Nolet's Gin-based The Aviation. Crème de violette is the perfect complement to the botanical notes in the Holland-distilled gin. Nolet's Silver gives off flavors of peach, Turkish rose and raspberry that pair with the sweetness of maraschino cherry and freshness of lemon juice.
"The Aviation is a perfect blend of lemon juice, crème de violette, and the refreshingly floral taste of Nolet's Silver, creating an exceptional combination of tangy, sweet and bitter,"said Elphin Murren, manager of The Campbell, in speaking to Elite Traveler. "It's a prohibition-era cocktail with a flavor that's still relevant today, and tends to be popular with both cocktail connoisseurs and those that are just learning about quality drinks."
The Campbell is located at 15 Vanderbilt Ave, New York, NY 10017. For more information, please visit the campbellnyc.com.