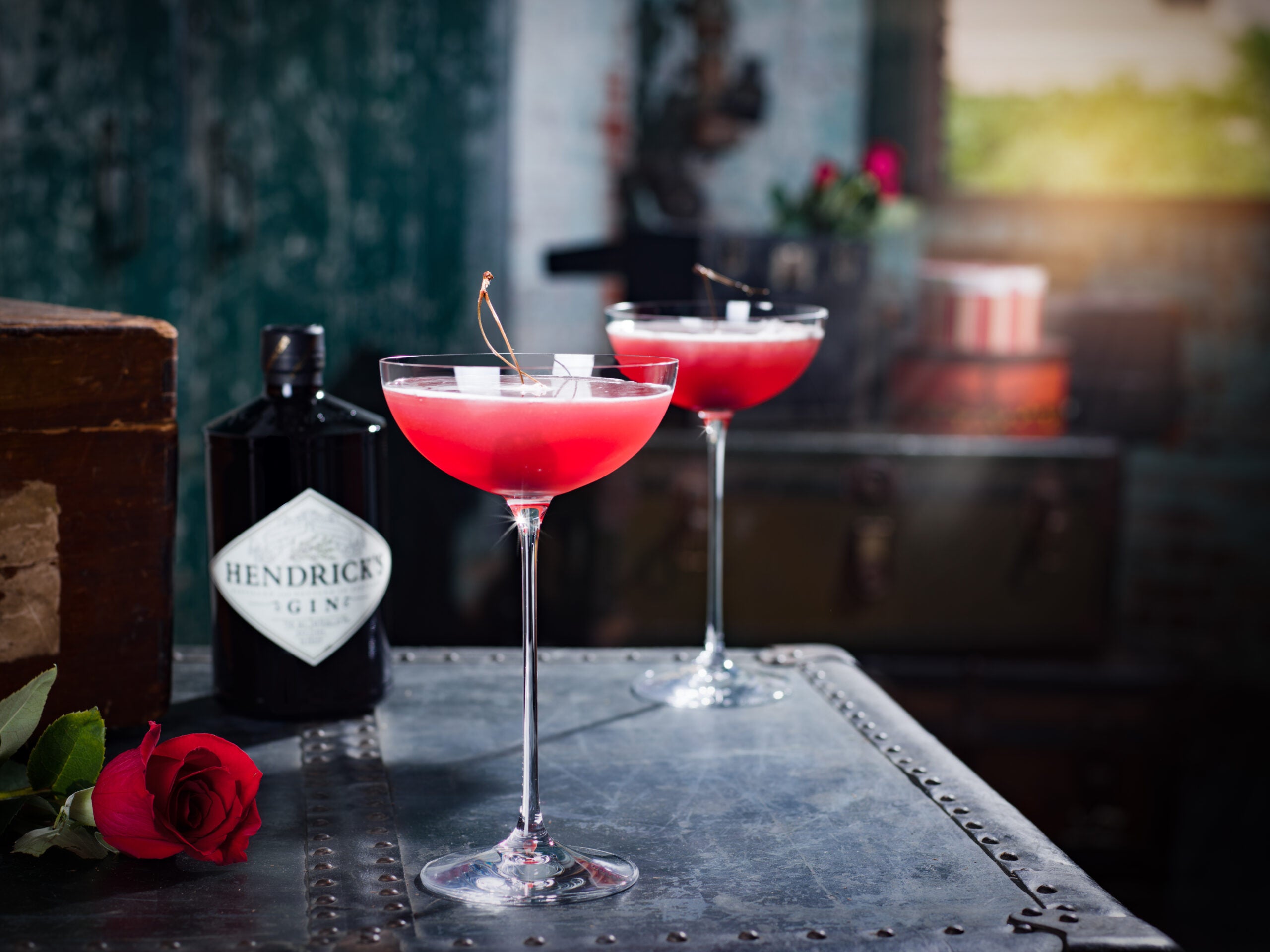 A candlelit gourmet dinner and a toast between you and your loved one complete the classic Valentine's Day date. Whether it's a new relationship or your eternal flame, an enticing cocktail adds a touch of enchantment to an evening of puppy love or passion. These are our picks of the most romantic cocktails to sip beside your sweetheart this Valentine's Day.
Bittersweet Boba
1.5 oz Campari liqueur
2.5 oz strong-brewed black tea
1 oz milk
1 oz vanilla syrup
1/2 oz Grand Marnier liqueur
1/3 cup sugar
plain boba
To create this tea cocktail, boil boba for about 30 minutes. Drain from pot and let steep in a mixture of one cup Campari and 1/3 cup sugar. Rim glass with edible red glitter and fill with Campari-infused boba. Shake additional Campari, black tea, milk, vanilla syrup, and Grand Marnier and strain over the boba. Recipe by Pam Wiznitzer of Seamstress in New York City.
Putting a new spin on "tea for two and two for tea," this boba cocktail is practically made for couples. The bubble tea trend originated in Taiwan, but add Campari and you've got an amorous-looking drink for celebrating the day of love anywhere in the world.
Read on for a tequila Valentine's Day cocktail.
Love of a Lifethyme
1 oz Patrón Silver tequila
1/2 oz lemon juice
1/4 oz pomegranate syrup
1/4 oz honey
2 dashes Peychaud's bitters
prosecco
absinthe
thyme
To create this tequila cocktail, shake Patrón Silver tequila, lemon juice, pomegranate syrup, honey and Peychaud's bitters with ice. Strain into an absinthe-rinsed coupe glass. Top with a float of prosecco. Garnish with a fresh thyme sprig. Recipe by Lucinda Sterling of Middle Branch in New York City.
Get sentimental with the love your lifetime over a whimsical tequila cocktail. Honey and lemon add a soothing element in delicious contrast to the anise bite of absinthe.
Read on for a gin Valentine's Day cocktail.
The Wonderlust 
2 parts Hendrick's Gin
1.5 parts fresh lemon juice
1/2 part vanilla simple syrup
2 parts plum bitters
1 part brandied amarena cherry syrup
powdered sugar
cherries
To create this gin cocktail, shake Hendrick's Gin, lemon juice, vanilla simple syrup, plum bitters and brandied amarena cherry syrup together with ice. Double-strain into a chilled, sugar-coated glass. Garnish with one cherry and half-powdered-sugar rim. Recipe by Hendrick's Gin ambassador Mattias Horseman.
Not to be confused with wanderlust (if that's what you have, see our round-up of Luxury Escapes for Valentine's Day), the Wonderlust cocktail is sure to get sparks flying with its gin base and sweet cherry finish.
Read on for a sherry Valentine's Day cocktail.
Share the Pear
1.5 oz Osborne Fino sherry
3/4 oz St George Spiced Pear liqueur
3 scoops vanilla ice cream
cinnamon
To create this sherry cocktail, add Osborne Fino sherry, St George Spiced Pear liqueur and vanilla ice cream to a blender. Blend until incorporated. Pour into a soda glass. Garnish with cinnamon. Recipe by Shaun Meglen of Péché in Austin, Texas. Image Credit: Annie Ray.
What more adorable way to tell them how young they make you feel than with a whimsical cocktail inspired by a childhood favorite: the milkshake? Péché makes its own ice cream in-house, but you can blend this dessert drink at home for something as sweet as your loved one.
Read on for a vodka Valentine's Day cocktail.
The Cat's Meow
1.5 oz VDKA 6100 vodka
1/2 oz fresh lemon juice
1/2 oz simple syrup
3 medium-sized strawberries
champagne
To create this vodka cocktail, muddle strawberries. Then, add VDKA 6100, lemon juice and simple syrup to shaker with ice. Shake and strain into a champagne flute. Top with champagne and garnish with strawberries.
Let your loved one know you think they're special — or 'the cat's meow' — while sipping this strawberry-infused cocktail. A little champagne fizzing with the vodka makes the drink all the more romantic.
If you're in need of gifting inspiration, be sure to take a look at our Ultimate Valentine's Day Gift Guide of luxury presents for 2018.