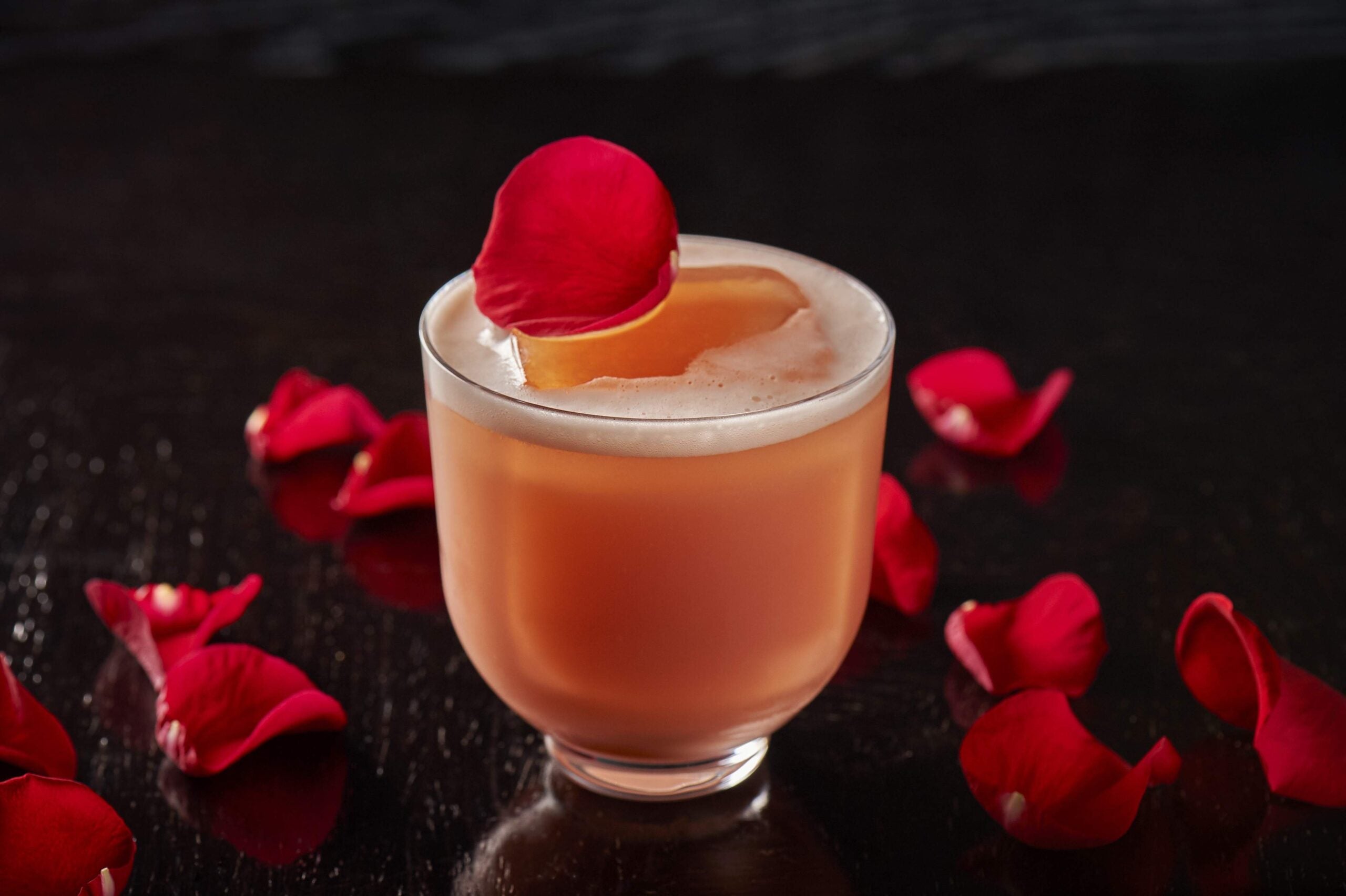 Whether you're spending it with friends or your significant other, celebrate the most romantic day of the year with our pick of Valentine's Day cocktails.
Aqua Valentine's Cocktail
20ml Brugal 1888 Gran Reserva Familiar Rum
40ml Serravinci Cocomerino
10ml apricot juice
25ml lemon juice
3 dashes Peychaud Bitters
30ml Cava
To create this cocktail, pour all the ingredients, except the Cava, over ice in a cocktail shaker, shake until mixed, then double strain into a small glass with ice. Top the glass up with the Cava and garnish with an edible rose petal. Try this Valentine's drink at Aqua Nueva and Aqua Kyoto in London.
Tangled in Love
5 oz cacao and chili infused vodka
5 oz mint simple syrup
5 oz lemon juice
1 bar spoon organic beetroot juice
Hibiscus foam
Edible paper to garnish
Try this appealingly presented cocktail at Hotel Arts Barcelona where the cacao and chili infused vodka, mint simple syrup, lemon juice and beetroot juice are combined before being topped with hibiscus foam and finished with an edible paper design. The cacao is meant to represent the sweetness of a relationship, while the chili represents the spice of love. Mint is added for the freshness it brings to each day and the beetroot represents the heart in which a couple is grounded.

Guilty in Rome 
5 oz Aperol
5 oz Gonzalez Byass
1/2 quartered lime
Crushed ice
To make this Valentine's cocktail yourself, first muddle the lime in sugar in a tin. You can then add the other ingredients and shake it together hard. Once the ingredients have been combined, strain the drink over crushed ice in a rocks glass. This tempting cocktail was created by acclaimed bartender Ivy Mix for Diego at Public Hotel in New York City.
Tahitian Coffee for Two
3 oz Plantation Barbados 2001
3 oz Encanto Pisco
1 oz lime juice
1 oz orange juice
1 oz passion fruit syrup
1 oz guava nectar
1 oz cold brew concentrate
1/2 oz Falernum
1-1/2 oz honey syrup
Create this cocktail for two by shaking all the ingredients together and straining over crushed ice in a glass. It's best served in a Chemex pour-over style coffeemaker. Garnish with grated coffee and an orchid for the best effect. You can order this Valentine's drink at Slowly Shirley in New York City.
A Rose by any other Name
35 ml rose and almond infused Grey Goose Vodka
10 ml Crème de Cacao Blanc
10 ml Rose liqueur
Rosé Champagne or Prosecco
Make 'A Rose by any other Name' by first Infusing one bottle of Grey Goose vodka with four large tablespoons of dried rose pedals, then adding eight drops of organic almond essence. Strain the rose pedals after one to two days, or to taste. You can then combine the vodka, crème de cacao, rose liqueur and vodka, strain into a flute and top with champagne.
Corazon de Melon
3 parts fresh cantaloupe juice
2 parts Havana Club Añejo Blanco rum
1 part simple syrup
1 part maraschino cherry juice
5 part fresh lime juice
Optional dash of orange bitters
Before making the Corazon de Melon, prepare the fresh cantaloupe juice by blending two cups of cubed cantaloupe melon in a blender until smooth, then straining it through mesh. You can then make the cocktail by combining this cantaloupe juice with the rum, syrup, cherry juice and lime juice in a shaker filled with ice, before shaking for 30 seconds then pouring into a frosted glass. Garnish this with a melon ball and wedge of lime.