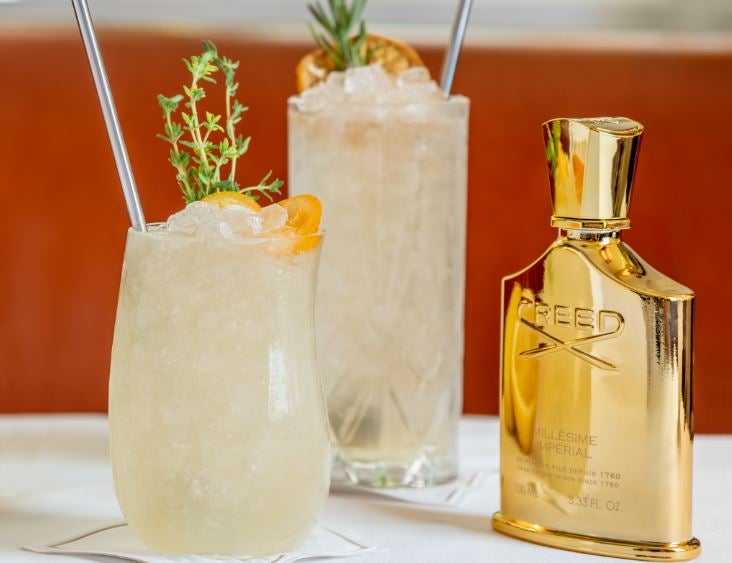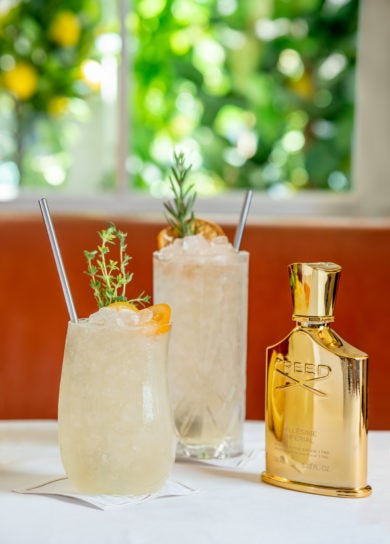 The Millésime, 34 Mayfair x Creed
30 ml Manzanilla sherry
30 ml Italicus liqueur
30 ml Sipsmith Summer Cup
15 ml mandarin cordial
15 ml lemon juice
To create the Millésime, combine all ingredients in a Boston shaker, shake hard and strain into a highball glass filled with crushed ice. At 34 Mayfair, this cocktail is garnished with golden painted dried lemon peel with a rosemary sprig and a metal straw. To make your own mandarin cordial following 34 Mayfair's recipe add the oils from the mandarin skin along with the citrus fruit's flesh to a 1:1 ratio of sugar and water. This infusion is left for 12 hours then finely strained into a bottle with a touch of citric acid.
This Mediterranean cocktail has been created by the prestigious London restaurant 34 Mayfair in collaboration with the luxury fragrance house Creed. Inspiration for this cocktail, and a complementary dessert, was taken from the perfume brand's Millésime Impérial fragrance, which is designed to evoke the citrus groves and coastal landscape of Sicily, combining bergamot and mandarin with notes of sea salt.
To encapsulate this fragrance in a cocktail, 34 Mayfair's bar manager Shaun Teeluck brought the dryness of Manzanilla sherry together with the freshness of Sipsmith Summer Cup and the citrus of bergamot-infused Italicus liqueur, mandarin and lemon. This combination of ingredients results in a light and refreshing summer pour, with its garnishes of dehydrated lemon and rosemary reflecting the fragrance's savory notes.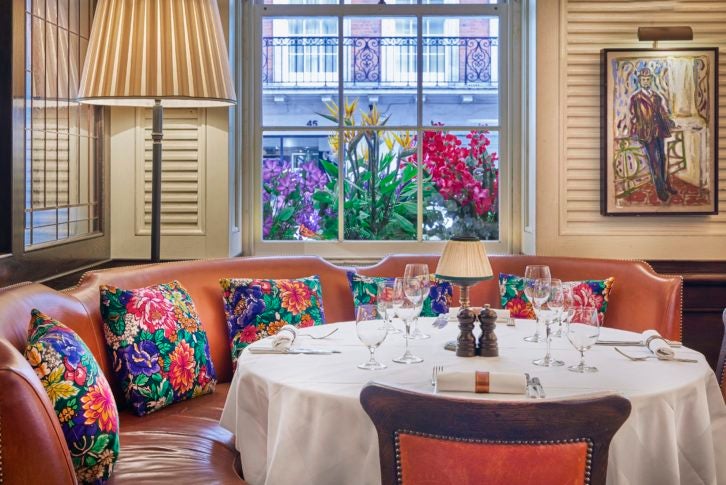 Commenting on the cocktail, Teeluck tells us: "I chose these ingredients because they complement the fragrance with a lovely texture of salinity, citrus and subtle sweetness. The cocktail is light, refreshing and very clean. Manzanilla adds dryness and salinity while Sipsmith Summer Cup provides a touch of tannin from the earl grey infusion and the freshness of lemon verbena and cucumber. Italicus liqueur gives it a subtle sweetness as well the aroma of bergamot and the homemade mandarin cordial adds a fruity mouth-watering feel. To finish, I added gold lemon for a touch of opulence and rosemary for a hint of the Mediterranean."
Guests who order the cocktail or dessert—a mandarin mousse with light lemon jelly resting on Italian meringue and sprinkled with crushed biscotti, named the Sicilian Garden—also receive a sample of the Millésime Impérial fragrance, with the invitation to book a complimentary fragrance consultation at the Creed boutique in Mayfair.
This cocktail is available at 34 Mayfair until August 31st.