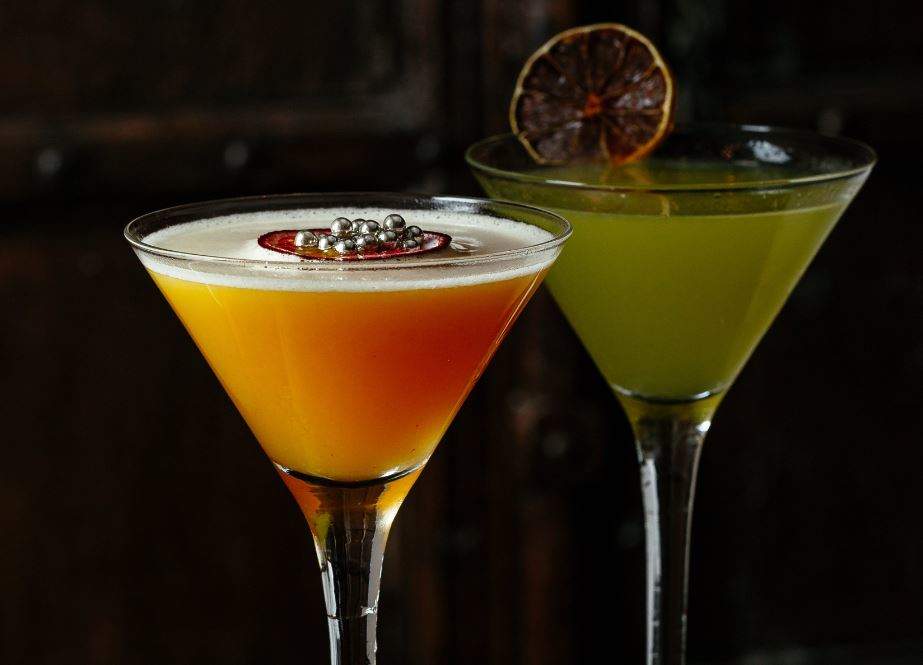 Indian spiced cocktails at Benares, London
Green Spice Martini
10 curry leaves, plus one extra to decorate
50ml vodka
20ml freshly squeezed lemon juice
10ml Monin Gomme or sugar syrup
1 teaspoon ginger juice
To make this spiced cocktail, first muddle the curry leaves in a cocktail shaker. You then need to add the remaining ingredients along with ice and shake the mixture hard. Strain this into a chilled martini glass and decorate with a curry leaf. At Benares, this cocktail is served with a de-seeded, fried and dried for 14 hours chili, giving a little more kick to the complementary India-inspired flavors of the drink.
Passion Fruit Chutney Martini
50ml vodka
15ml freshly squeezed lemon juice
15ml Monin Gomme or sugar syrup
10ml passion fruit juice
30g passion fruit chutney
Half a small passion fruit
Edible silver balls to decorate
To create this cocktail, combine all the ingredients in a cocktail shaker with ice cubes. Shake hard before straining the mixture into a chilled martini glass. To decorate, sprinkle a few silver balls on the passion fruit half and add it to the cocktail. The passion fruit will float on the surface.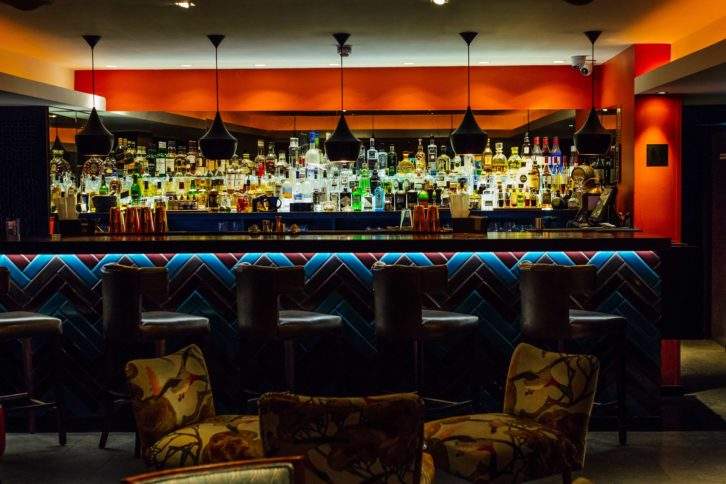 You can learn how to craft these cocktail with the expert behind them, bar manager of Benares Stefano Marchetto, by joining one of the Michelin-starred restaurant and bar's brand new cocktail masterclasses, Shake Up Saturdays. These bespoke classes will provide a hands-on introduction to making the cocktails that have been inspired by the innovative modern Indian cuisine of the restaurant's celebrated chef and TV personality Atul Kochhar. Taking place in the recently renovated bar and lounge area, these one-hour masterclasses give you the chance to learn two cocktail recipes from the menu.
With a backdrop of black wood and rich burnt orange, magenta and blue color scheme integrating design accents such as the stylish geometric-tiled bar, you can pair these cocktails with the lounge area's brand new Indian Street Food menu encompassing five dishes to share between two.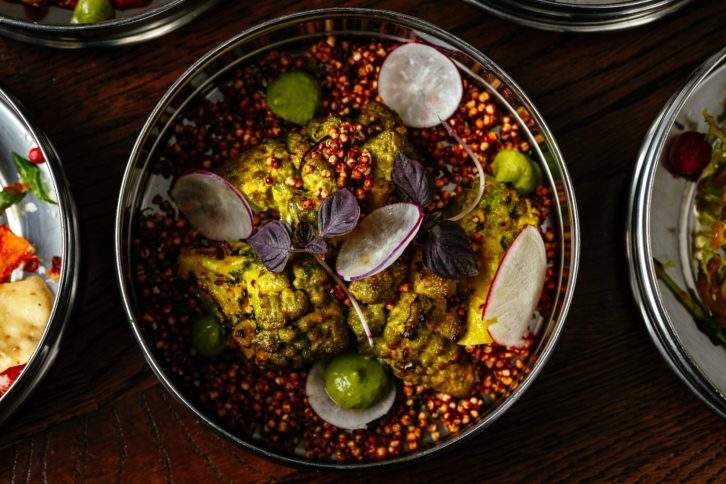 Paying homage to the diverse country's different regions, the menu brings together dishes from Kerala in the southwest to Lucknow in the northeast, beginning with a spicy panch phoron artichoke dish with mixed leaves and mustardy kasundi dressing, followed by tender fried squid with crispy bhel, which is sweetened with a sticky tamarind sauce, and tandoori cafreal sea bass with an addictive Konkan spiced tomato chutney. These three dishes pair well with the green spice martini. The last two dishes, rolls of grilled chicken seekh kebab with piquillo pepper ketchup, and chef Atul's signature lamb pepper fry with carom crisps, are ideally paired with the passion fruit chutney martini. A plant-based version of the Indian Street Food menu has also been designed to complement the bar's innovative drinks.
To enquire about cocktail masterclasses, contact reservations@benaresrestaurant.co.uk. Find out more by going over to benaresrestaurant.com.
Images © James Byrne