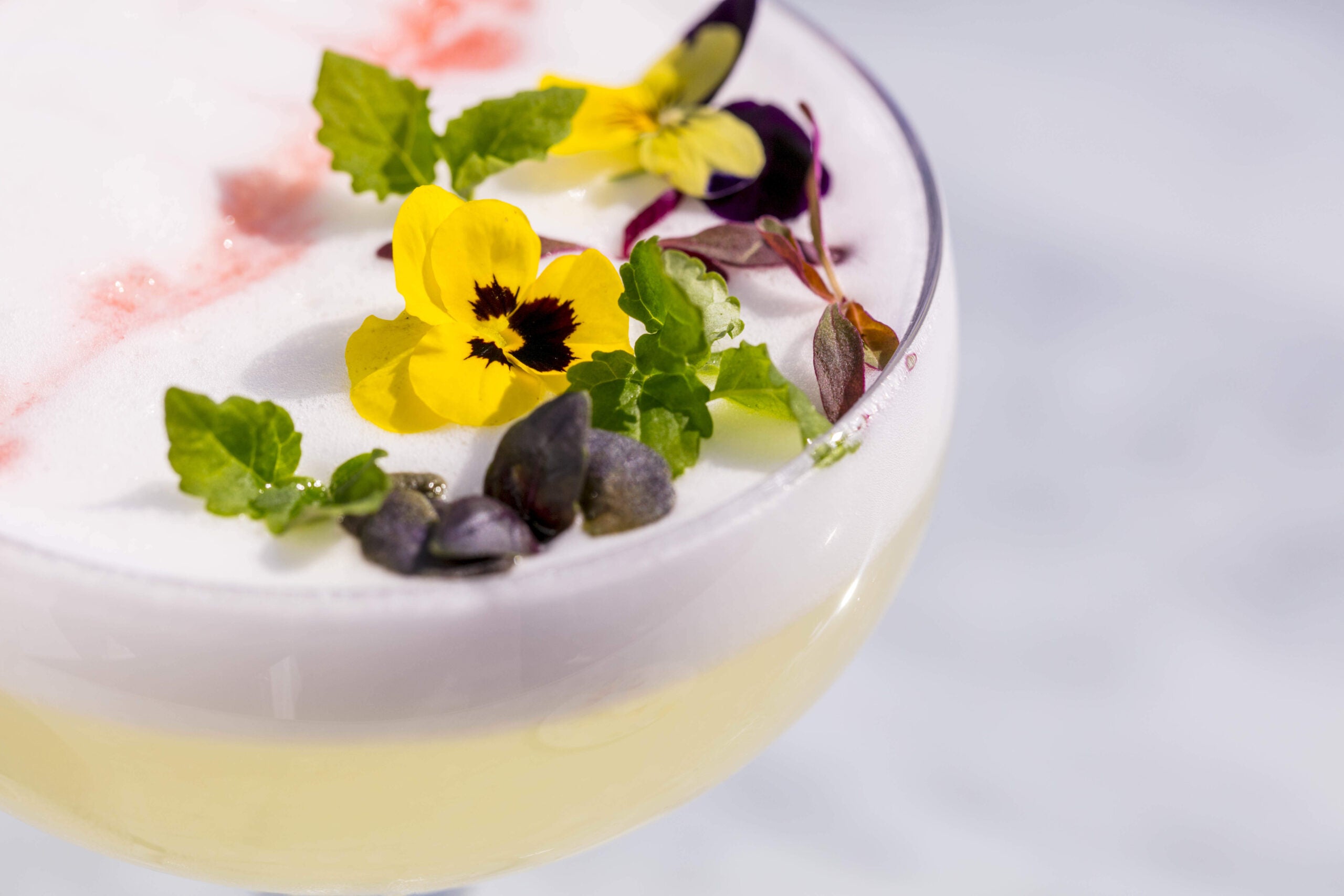 Cocktails inspired by Chelsea Flower Show, ME London
Violet Crown

50ml Star of Bombay gin
20ml violet liqueur
5ml Cointreau
25ml lemon juice
15ml sugar syrup
1 egg white
To create this cocktail, first combine all of the ingredients in a shaker. At ME London, these are dry shaken (without ice) to whip air into the cocktail. Four to five ice cubes are then added and the mixture is shaken again before being poured into a glass with edible flowers for decoration.
Pisco Lavender Sour
60ml Waqar Pisco
25ml lime juice
15ml lavender syrup
1 egg white

Add all of the ingredients to a shaker and dry shake to whip air into the cocktail. Add four to five ice cubes, shake again and serve, with edible flowers added at the end.
Radio Garden
50ml Hendrick's Gin
25ml elderflower cordial
25ml St Germain elderflower liqueur
15ml lemon juice
4 dashes cucumber bitters
To create this Chelsea Flower Show inspired cocktail, add the ice to the shaker first, followed by all of the other ingredients. Shake the mixture and serve with edible flowers for decoration.
St Germain Sour
50ml St Germain elderflower liqueur
25ml lemon juice
5ml sugar syrup
1 egg white
3 dashes Peychaud's Bitters
Just like the Radio Garden cocktail, the St Germain Sour is made by adding ice to the shaker first, followed by the other ingredients, then shaking and serving with edible flowers as a final flourish.
You can try each of these cocktails at the luxury hotel ME London's Radio Rooftop bar throughout the Chelsea Flower Show period. The four special cocktails are an appealing and prettily presented combination of edible flowers, pastel hues and floral flavors.
Francisco Vieira, head bartender at ME London tells us: "Chelsea Flower Show is a legendary event on the London social calendar that celebrates nature, beauty and creativity. It seemed only fitting that we would develop a cocktail for the occasion that embodied this spirit. We couldn't think of a better way to enjoy it than from our rooftop terrace, taking in stunning views of the city."
Try these cocktails at Radio Rooftop, ME London and find out more about Chelsea Flower Show by going over to rhs.org.uk.