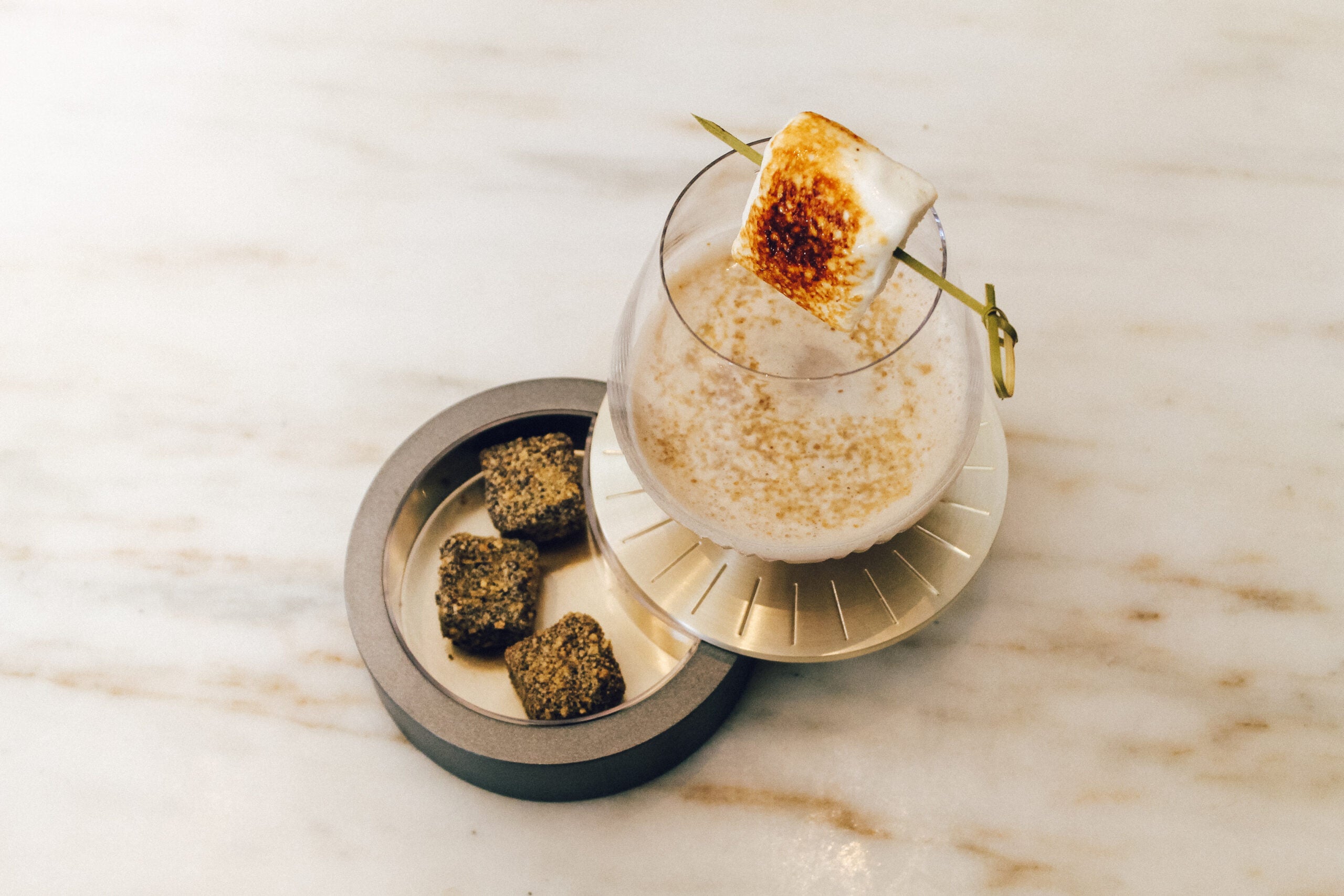 For our holiday edition of Cocktail of the Week, we've rounded up a selection of Christmas cocktails created by some of our favorite hotels around the world.
Campfire Hot Chocolate, Nobu Hotel Shoreditch, London
30ml Talisker Skye
35ml Baileys Luxe
25ml full cream
15ml spiced golden syrup
Toasted marshmallow
Spiced raspberry powder
This winter warming drink is being served at Nobu Hotel Shoreditch throughout the festive season. To create the cocktail yourself, combine all the ingredients in a pan, heat without bringing to the boil and pour into a coffee cup. You can add whipped cream and garnish with a toasted marshmallow and dusting of spiced raspberry powder.
Chubby Honey Egg Nog, Hotel Arts Barcelona
12 large eggs
500g organic honey
One tsp fresh-grated cinnamon
Two tsp fresh-grated nutmeg
10oz Torres 15
12oz Amontillado sherry
36oz whole milk
24oz organic heavy cream
Grated nutmeg
If you're in the Spanish city over the holidays, head to the Hotel Arts Barcelona bar for its tempting take on the indulgent classic. To make chubby honey egg nog at home, first beat the eggs until smooth. With the mixer on slow, add cinnamon, nutmeg and sugar until fully dissolved, then slowly add the Torres 15 brandy, Amontillado sherry, milk and cream. The cocktail is best refrigerated overnight and finished with fresh grated nutmeg.
Frankincense Fizz, Corinthia Hotel London
40ml Ford's gin
15ml Quaglia Chinotto liqueur
25ml orange juice
One egg yolk
20ml (1:1) sugar syrup
20ml lemon juice
5ml Frankincense water
One orange slice
Soda water to top
You'll find this seasonal cocktail in the sophisticated Bassoon Bar of Corinthia Hotel London, but if you're not passing through the city at this time of year, make the Frankincense Fizz in your own kitchen. Add all the ingredients except soda to a shaker. Shake with ice cubes and strain into a champagne flute. Top with soda and, for the best effect, garnish with edible gold spray.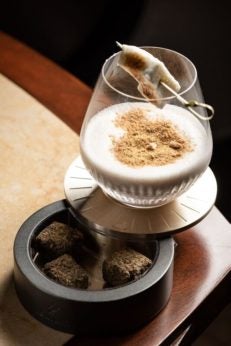 S'mores Tradition, Montage Beverly Hills
1 oz Remy Martin XO
3/4 oz Godiva White Chocolate Liqueur
1/4 oz Godiva Dark Chocolate Liqueur
1/2 oz chocolate syrup
One egg white (it can be substituted by aquafaba)
Cozy up with this cocktail at Montage Beverly Hills or try creating your own S'mores Tradition at home. Reverse dry shake (shake over ice then strain and shake again without ice) all the ingredients, then strain them into a snifter glass. You can top this with cracker crumbles and a toasted marshmallow on a stick. At Montage Beverly Hills, this is served with three small s'mores truffles on the side.
Alpine Spritz, The London Edition
40ml Grey Goose
10ml Green Chartreuse
10ml Oakmoss Syrup
25ml citric acid
Soda (to top)
Two dashes absinthe (optional)
Try the Alpine Spritz in the Lobby Bar of The London Edition. If that's too far for you to go, you can make the seasonal drink yourself by shaking together the vodka, chartreuse, oakmoss syrup and citric acid, then pouring in a white wine glass over cubed ice. Top the drink off with soda and garnish with a mint sprig and a light dusting of icing sugar.
Vieux Carre, Rosewood Sand Hill, California
1oz Hennessy VSOP
1oz George Dickel Rye
1oz Carpano Antica Vermouth
0.25oz Benedictine
Two dashes Angostura bitters
Two dashes Peychauds bitters
Lemon twist to garnish
This festive season, Rosewood Sand Hill is hosting a cozy winter pop-up in collaboration with Hennessy, and the Vieux Carre cocktail is one of the pop-ups signature drinks. Make the cocktail in your own home by adding all the liquid ingredients to a mixing glass (add the bitters last), adding ice and stirring for dilution. Strain this into a rocks glass with a large ice cube and express a lemon twist over the cocktail to finish.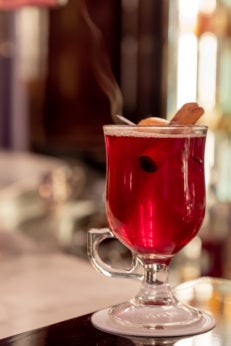 A Winter's Night, Gleneagles, Scotland
125ml of a light red wine
5ml grapefruit juice
7.5ml honey
Three dashes of Angostura bitters
Four cloves
One star anise
One stick of cinnamon
Five Szechuan peppercorns
Try this wintery cocktail named after the poem by Robert Burns at luxury Scottish hotel, Gleneagles. To make the warming drink, you need to slowly heat all the ingredients together in a pan, stirring regularly. Once it reaches the desired temperature, strain the mixture into a glass and garnish with a cinnamon stick. You can add a wedge of grapefruit to garnish if desired.
Let it Snow, Hôtel de Crillon, A Rosewood Hotel, Paris
7oz Elyx vodka
8oz Aperol
7oz cranberry juice
7oz lime juice
3oz cinnamon syrup
Coconut shavings
Cinnamon sticks
Redcurrant berries
Hôtel de Crillon created this seasonal signature cocktail for guests to enjoy in the sophisticated Les Ambassadeurs bar over the holidays. To create the cocktail at home, coat the rim of a glass with coconut shavings, then mix the vodka, Aperol, cranberry juice, lime juice and cinnamon syrup together in a cocktail shaker and pour over ice into the glass. Garnish your drink with a cinnamon stick and redcurrant berries. At the Parisian hotel, this cocktail is picture-perfect.