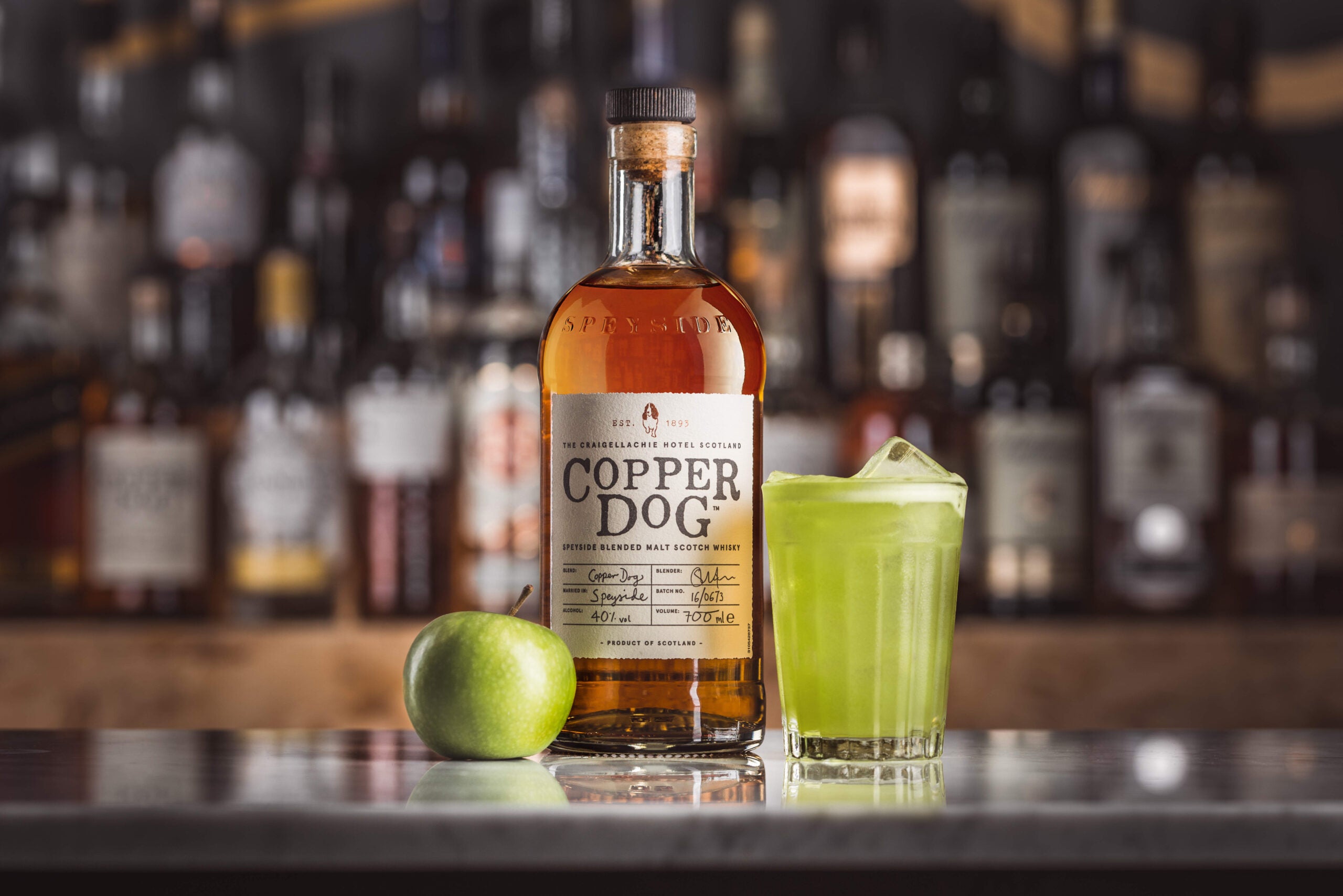 Apple Dog
1.5 oz Copper Dog whisky
1 Granny Smith apple
To create this cocktail of the week, juice one granny smith apple. Combine apple juice with Copper Dog whisky in a lowball glass. Add cubed ice.
Despite the charming Hugo Guinness illustration on the bottle, a 'copper dog' is more than a beloved pet. The history of the term is tinged with mischief, dating back to the mid-1800s when Scottish distillery workers designed their own mechanisms to smuggle whisky out of the casks. The most popular device for sneaking a sip was a piece of copper tubing with a penny on one end and a cork on the other, nicknamed a 'copper dog.'
"It was called a 'dog' because it was your best friend and always by your side," said Alastair Menzies, US managing director of Copper Dog, in speaking to Elite Traveler.
Before it inspired a whisky, the copper dog inspired a pub at The Craigellachie Hotel in the heart of Scotch production country. During the 19th century, distillery workers and Highland travelers would flock to the Speyside locale to share stories over a bite and a dram. Today, the spirit of camaraderie — and rascality — is alive and well at Copper Dog, but instead of tippling from a makeshift flask, friends can gather to share a bottle of  the pub's namesake whisky.
"We're really a whisky born within a pub," said Menzies. "We love pubs because they're an equalizing society. Company owners are sitting beside distillery workers who are sitting beside accountants who are sitting beside painters. They're all enjoying whisky however they like it, and that was the thought behind creating a local whisky. Speyside really is the epicenter and it was important for us to communicate that."
With master blender Stuart Morrison behind the blend, Copper Dog achieves flavors of toffee apple, berries, citrus, apples, pears and spice in its blend of eight single malts.
"It's a blended malt, which means it's a blend of only single malts" added Menzies. "Whiskies are made from one distillery from 100 percent malted barley, which is the traditional way of making whisky in Scotland. Our thought behind it was creating a whisky that was able to go into cocktails because of the flavor profile. Scotch that is more intense, peaty and smoky is a bit more one-dimensional and that can kind of limit the creativity."
As for the Apple Dog, Menzies said, "The beauty is the simplicity of it. People don't expect green with whisky, they expect brown. But this ties into the scenery in Scotland, where we get so much rain. It's a pretty green country."
The Craigellachie Hotel is located at Victoria Street, Craigellachie, Speyside, AB38 9SR. For more information, please visit craigellachiehotel.co.uk.