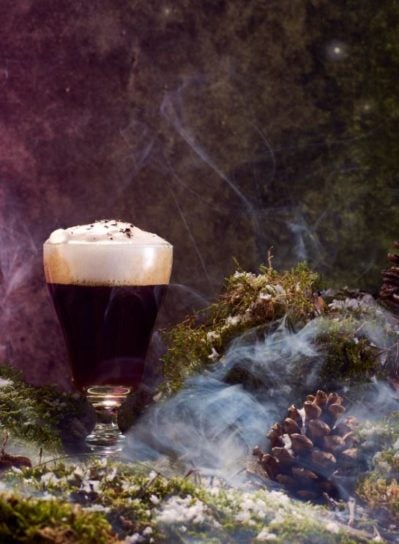 Speyside Coffee Cocktail at The Glenlivet Glade, Rosewood London
30ml The Glenlivet Nàdurra Peated Whisky Cask Finish
30ml Drambuie
50ml fresh coffee
Dash of simple syrup
Twist of orange zest
To make this cocktail, combine all the ingredients, except the orange zest, and stir, then heat it all together in a coffee machine or saucepan. Leave for several minutes but do not let it reach boiling point. Once it's the right temperature for you, pour into an Irish coffee glass and garnish with the twist of orange zest.
This warming cocktail is being served at the new Glenlivet Glade at Rosewood London. In collaboration with Speyside single malt whisky brand, The Glenlivet, the hotel has transformed its courtyard into a wintery woodland glade, complete with cozy Scottish throws, evoking the sights and sounds of the forest in Scotland's remote Livet valley. Under a starry night sky, guests can try the winter terrace's curated collection of hot and cold whisky cocktails, paired with sweet and savory dishes from the Holborn Dining Room kitchen.
Perhaps start with the smoky Flying Scotsman hot cocktail combining The Glenlivet 18 Year Old with pine-infused Belsazar Dry Vermouth and Campari with a homemade apple, cinnamon and clover syrup. For a more refreshing drink, go for the Orchard Reserve bringing Founder's Reserve together with Calvados, fresh apple juice and a homemade cinnamon and ginger soda.
The George 'Fashioned Three Ways' is then a modern take on the classic Old Fashioned cocktail, using your choice of three The Glenlivet whiskies: the fruity Glenlivet Nàdurra Oloroso, smoky Glenlivet Nàdurra Peated Whisky Cask Finish and sweet Glenlivet Nàdurra First Fill Selection.
To find out more about The Glenlivet Glade, go over to rosewoodhotels.com.
Images: Speyside Coffee; George Fashioned Three Ways © Addie Chinn