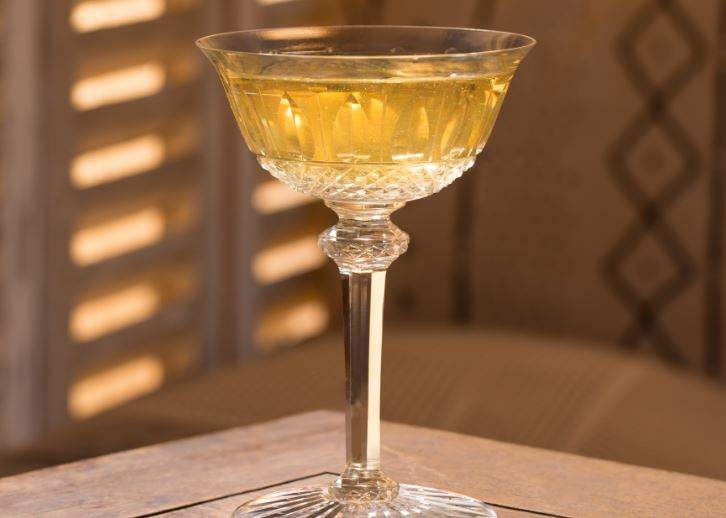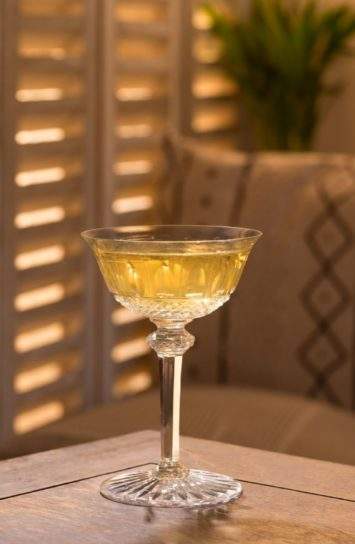 The Gloria at Maison St-Germain, Battery Gardens, NYC
0.5 oz St-Germain French elderflower liqueur
0.25 oz Suze herbal liqueur
Chilled dry champagne
Spray of St-Germain and frankincense essential oil
Dehydrated lemon wheel and gold dust to garnish
To create the Gloria, combine the St-Germain and Suze in a coupette glass and top the glass up with chilled dry champagne. Spray the surface with St-Germain and frankincense essential oil, then garnish with a dehydrated lemon wheel and touch of gold dust. The Gloria was created by St-Germain Global Ambassador Camille Ralph Vidal and notable mixologist Marlo Gamora for the upcoming installation, Maison St-Germain at The Battery Gardens in New York.
When it debuts on June 22nd, this immersive installation, which was created in collaboration with Hollywood's "Most Influential Stylist" Kate Young, will transform New York's historic landscape into a surrealist oasis filled with wild juxtapositions of flavors, styles and sensorial experiences.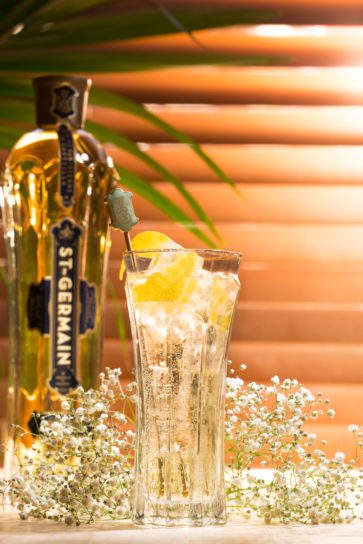 To celebrate the joy of summer, Young's experiential project (her very first) will lead you on a tantalizing journey through gardens showcasing the beauty of the elderflowers that go into every bottle of St-Germain.
"This summer's 2nd Annual Maison St-Germain is all about bringing St-Germain's enchanting story to life by celebrating the ephemeral beauty of 1,000 delicate elderflowers in every bottle," St-Germain global ambassador Camille Ralph Vidal explains, "On June 21st, the official first day of summer, layers of St-Germain's charming tale will be unveiled at The Battery Gardens as guests enter an oasis filled with surprises. We drew inspiration from the joyful decadence of the lavish parties of the 1920s, such as the ones depicted in F. Scott Fitzgerald's literary work, The Beautiful and Damned, to encourage visitors to savor the present and life's fleeting moments. I also worked with Kate to create her signature cocktail debuting at Maison, the Gloria, inspired by the ill-fated destiny of the beautiful and captivating protagonist of Fitzgerald's novel."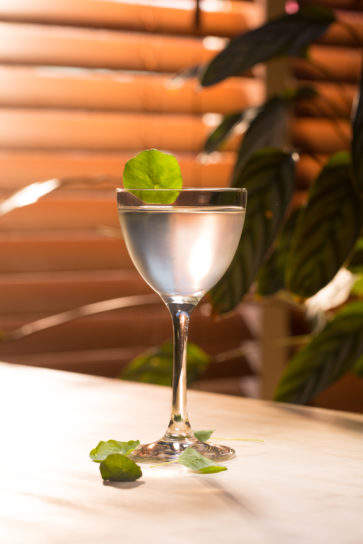 "The Gloria is a wonderful blend of modern and classic beauty," mixologist Marlo Gamora continues. "The cocktail finds a perfect balance with slight herbal and bitterness from the Suze, floral and citrus notes from the St-Germain elderflower liqueur and the dryness of champagne. The addition of frankincense and gold dust to these French ingredients makes the Gloria cocktail timeless."
Additional cocktails debuting at Maison St-Germain include the St-Germain Elderflower Spritz with Martini & Rossi Prosecco, St-Germain liqueur and sparkling water, Thé Rouge, combining St-Germain with Bacardi, rooibos tea and a dash of lemon essential oil, and the Brin Vert, which brings together Oxley gin, St-Germain mixed with equal parts coconut water, Tio Pepe, absinthe and celery.
Tickets from $150, eventbrite.com