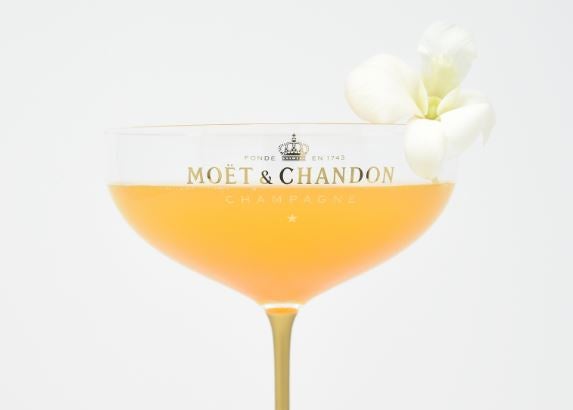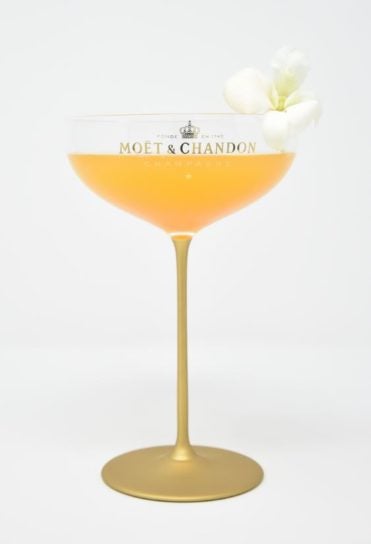 The Golden Globes Moët Belle by Camilla Belle
1oz of Cachaça
75oz of mango juice
5oz of ginger syrup
25oz of fresh lime juice
5oz of Moët & Chandon Brut Impérial
Tropical flower decoration or edible flower to garnish
To create this cocktail, combine the first four ingredients with ice, then strain into a coupe glass and top with Moët & Chandon Impérial Brut. Garnish with an edible tropical flower or tropical flower decoration.
Following last week's Golden Globes nominations, the official champagne of the awards, Moët & Chandon, announced that the Moët Belle will be the official cocktail served to the stars on the night of the event. This celebratory drink was created by actress and filmmaker Camilla Belle to capture the beauty and glamour of one of Hollywood's biggest nights.
Paying tribute to the Golden Globes' merging of cultures, Belle drew inspiration from her Brazilian roots, combining Cachaca with mango juice, ginger syrup, lime juice and Moët Brut Impérial, creating a bold cocktail that transports you to South America. At the Golden Globes, the Moët Belle will be topped off with a white orchid.
Moët & Chandon has been the official champagne of the Golden Globes for over quarter a century. As the upcoming awards take place on January 6th, 2019, 1,500 Moët Impérial minis will be served on the red carpet, 125 cases of Moët & Chandon 2008 Grand Vintage Brut and Moët Impérial Rosé Magnums will be placed on the tables during the awards ceremony, and 500 Moët cocktails will be made at the event's bars.
The champagne house is also hosting its philanthropic initiative, Toast for a Cause, for the 10th year in which Golden Globe nominees on the red carpet are invited to raise a toast with Moët Impérial minis in support of their favorite charities. For every toast raised, Moët & Chandon donates $1,000 to the chosen charity in the nominee's name.