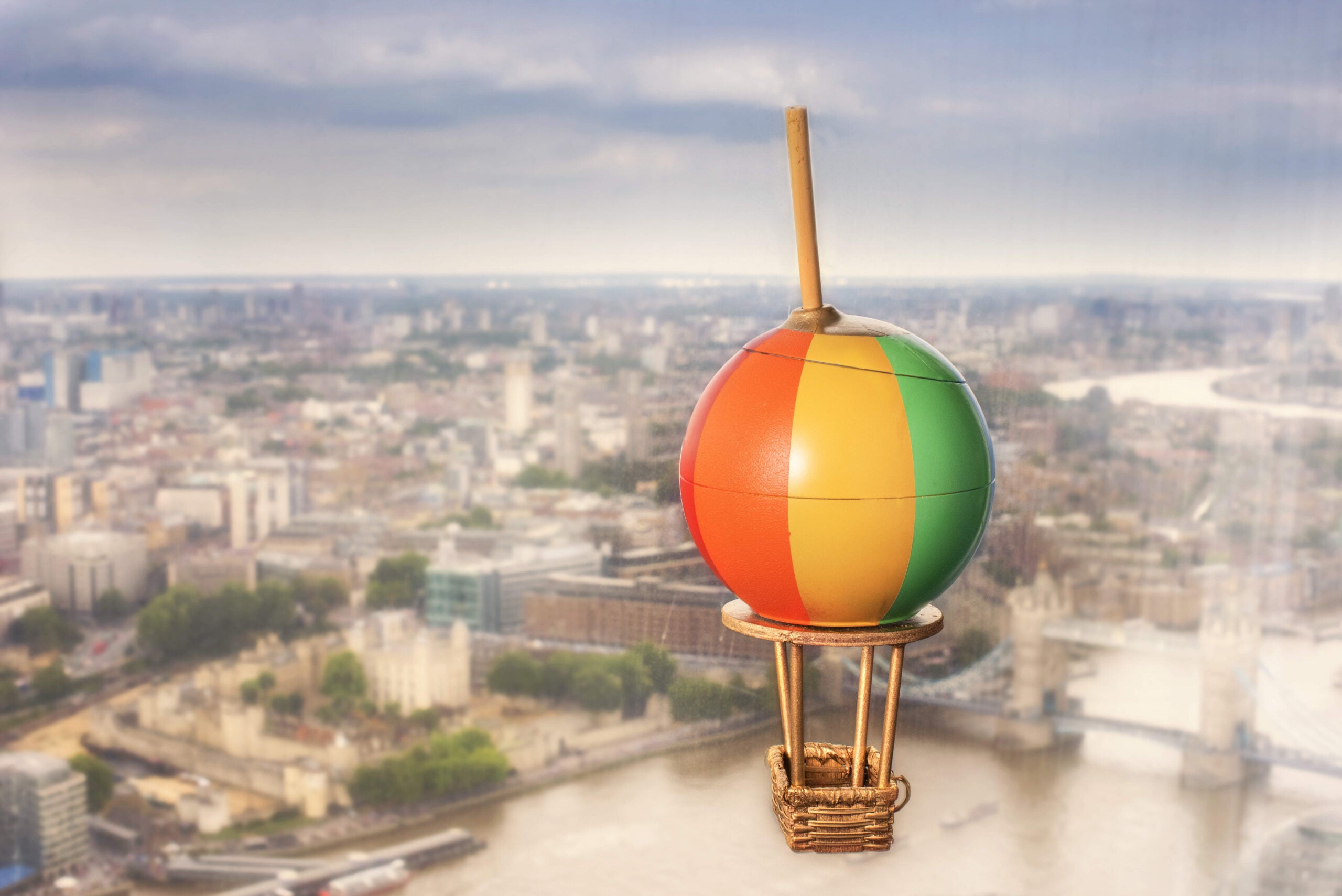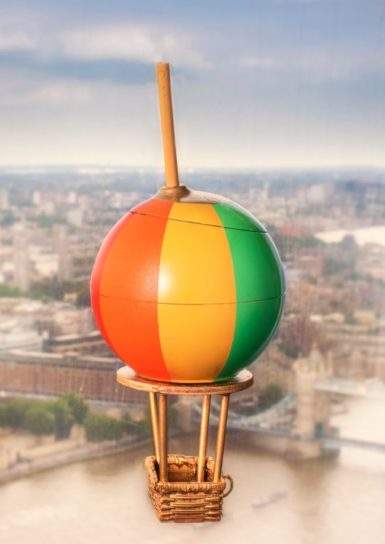 Over the Rainbow, Shangri-La Hotel at the Shard, London
45 ml Martell VS Cognac
15 ml Palo Cortado Sherry
15 ml Mozart dark chocolate liquor
15 ml mandarin juice
5 ml lemon juice
To create this cocktail yourself, place all of the ingredients in a cocktail shaker and shake with ice. Serve over more ice. At Shangri-La Hotel at the Shard, this cocktail is served in a whimsical hot air balloon glass that was designed specifically for the drink, with a homemade shortbread biscuit dipped in the Italian fruit curd, Braulio.
This sweet long drink with intense mandarin flavors and amaro pairing is a part of the new Miscellany of Inventions cocktail menu at the hotel's level-52 GŌNG Bar. Each cocktail comes with its own story of the inspiration behind its creation and is appealingly represented in an illustrated cocktail menu.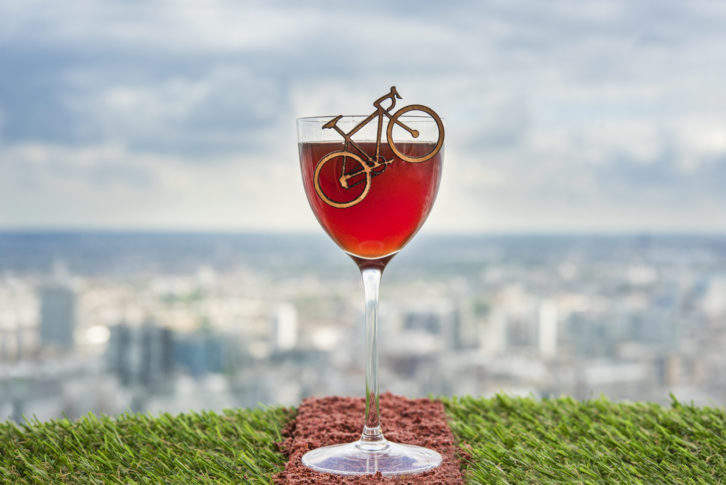 Inspired by the invention of the hot air balloon, Over the Rainbow comes with a series of facts—did you know, the hot air balloon created by the Montgolfier brothers was the first successful human-carrying flight technology—captivating you with these inventions' stories as well as the hotel bar's famously breathtaking views.
Designed to honor the most transformative inventions in human history, highlighting innovations that have impacted society, the new cocktail menu pays homage to creations like the helicopter, bicycle and penicillin on a menu of 15 cocktails and three non-alcoholic drinks.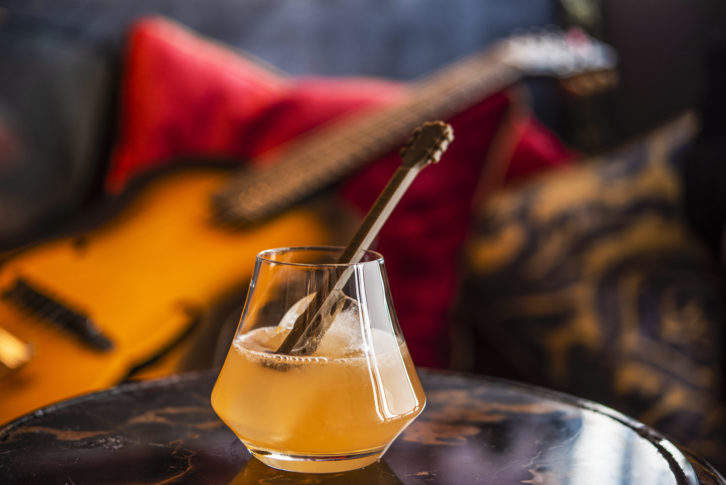 Concocted, trialed and tested by head bartender Christian Maspes and his team, each one combines unexpected ingredients and is presented in a unique receptacle that represents its inspiration. "The cocktails bring to life inventions that have been real breakthroughs," Maspes enthuses. "It is hard to imagine the world we know today without screw drivers and computers, and movies and guitars. Creating a new invention is like taking a leap of faith and being open to the possibilities, and the same goes for the creation of a new cocktail. We really enjoyed bringing our ideas to life and we look forward to entertaining our guests with our unique creations."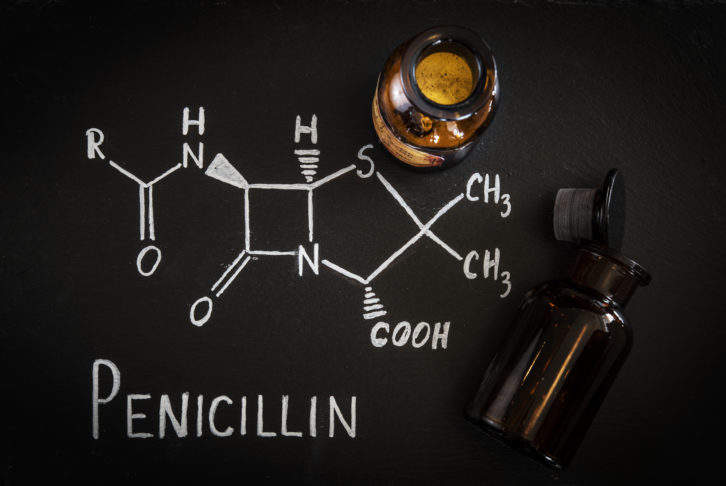 Try the helicopter-inspired Chopper 52, which as a modern interpretation of the Bloody Mary combines homemade Tuscan tomato water with Erba Cedrina, salty citrus and organic certified gluten-free VKA vodka infused with rosemary. Or go for the bicycle-inspire Look No Hands featuring Copper Dog Whisky, Gagliardo Triple Sec, IPA Reduction and Fernet-Branca; this cocktail is served in a Nick and Nora Tulip glass, garnished with a bamboo bicycle. Perhaps most appealingly, here in this Andre Fu designed elevated bar, every one of the drinks comes with a spectacular view.