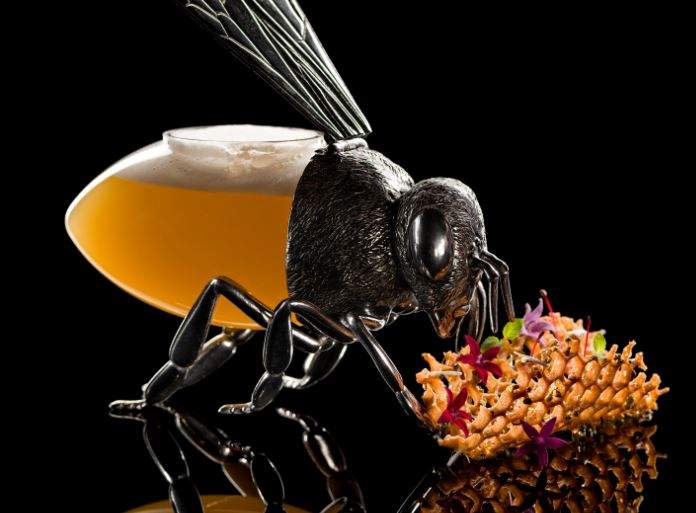 Nektar at Le Bar Botaniste, Shangri-La Hotel, Paris
5cl Cognac Martell Premier Assemblage infused with beeswax
2cl Inula viscosa honey
3cl mead
1.5cl fresh lemon juice
A few drops of red propolis
Fresh poppy pollen
To create this cocktail, combine the beeswax-infused Cognac Martell Premier Assemblage, honey, mead and fresh lemon juice in a cocktail shaker. Shake, strain and pour into your chosen cocktail glass—at Le Bar Botaniste the cocktail is presented in a glass and tin sculpted bee—and finish with the red propolis drops and fresh poppy pollen.
The head barman at Le Bar Botaniste, Clement Emery, created this cocktail to bring together all the ingredients offered by the beehive: pollen, mead, propolis and beeswax. Emery explains: "With this cocktail, I wanted to pay tribute to the wonderful world of bees through a mesmerizing journey, diving into a beehive thereby revealing its most delicate secrets. This cocktail is a living testimony to these fabulous honey bee societies, which are a true pillar of floral diversity and natural flavors – inherent values of Le Bar Botaniste."
Nektar is one of the 20 cocktails featured on the brand new cocktail menu at Le Bar Botaniste. In creating each of these unique drinks, Emery experimented with textures and unique flavors while drawing inspiration from the seasons and world travel. Nine months of research resulted in the menu we see today.
The menu was then designed in the style of a travel journal, with the featured cocktails highlighting natural ingredients from across the world. Malabar white pepper, Aomori black garlic, Sicilian sumac, Kentucky tobacco, curry plant, calamansi, pistachio sap and sweet clover are just some of the unique flavors you'll find here.
Other cocktails on the new menu include The Cyrus, which transports guests along the Silk Road to Iran with its Polish rye vodka, Iranian black lemon powder and Lillet Grande Réserve, and The Xerik, a spicy cocktail representing the arid Mexican desert with a blend of bourbon, mezcal, beetroot, Malabar white pepper and tarragon.
The new menu reflects Emery's constant pursuit to showcase lesser known artisan producers and rare botanical liqueurs, and this is epitomized most by Nektar, his signature cocktail.