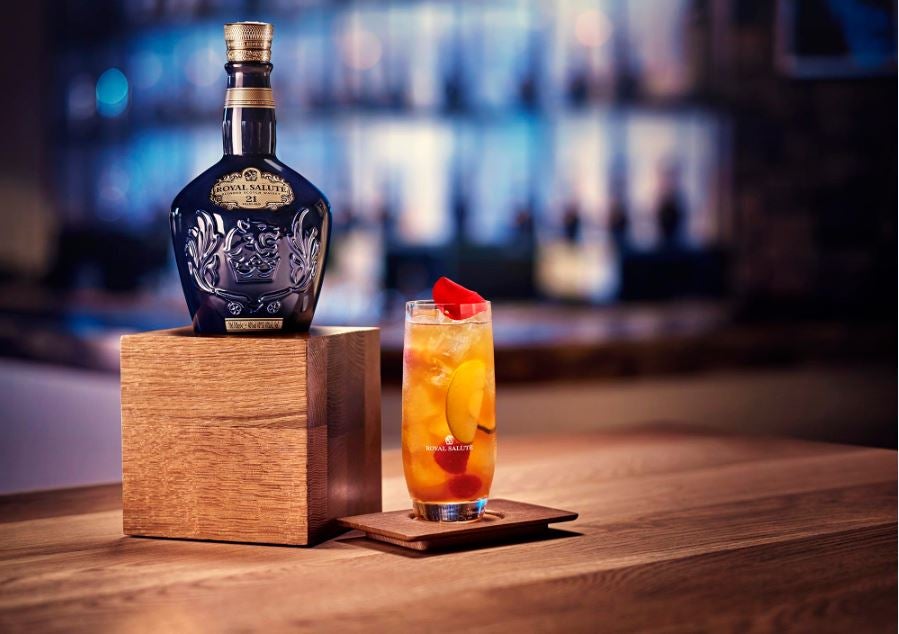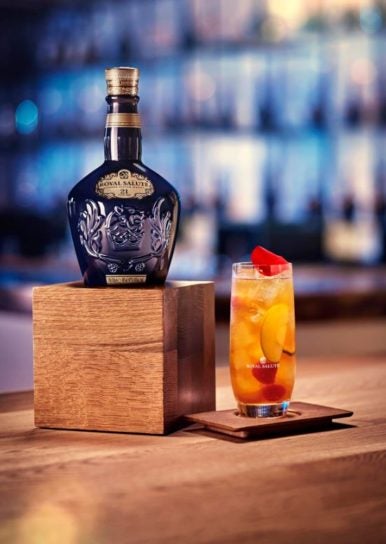 The Royal Salute 21 Year Old Summer Cup
50 ml Royal Salute 21 Year Old
20 ml passion fruit syrup
50 ml lavender earl grey tea
1 cucumber slice
4 raspberries
1 lemon wedge
1 apple slice
100 ml Fever Tree lemonade
To create Royal Salute's version of the Summer Cup, simply combine all the ingredients in a tall glass with ice, using the fruit slices as a garnish.
This aromatic summer cocktail uses Royal Salute's signature 21 Year Old whisky, which has just been released in two new Art of Blending limited edition sets for the upcoming Mid-Autumn Festival. This marks the launch of what will be an annual Art of Blending series celebrating British royal traditions and how they're interpreted in Eastern and Western cultures. These two new sets draw parallels between the skill, craftsmanship and rituals involved in whisky blending with the traditional royal pastime, tea.
Of the two gift sets, one depicts the Eastern interpretation of this theme, while the other depicts the Western interpretation. And both feature the Royal Salute 21 Year Old expression in a box created in partnership with the British artist Martin O'Neill who came up with colorful collages of tea rituals alongside famous landmarks.
"Royal Salute is no stranger to gifting," says Royal Salute's director of blending, Sandy Hyslop, "and when we think celebration, we think 21 Year Old. It's our signature expression and one that was originally created as a celebratory gift all those years ago to mark the Coronation of Queen Elizabeth II.
"The Mid-Autumn Festival honors the end of the autumn harvest when the moon is at its roundest and brightest," he continues. "The much-loved festival symbolizes togetherness and reunion – values that are absolutely inherent in Royal Salute. So, what better way to celebrate than with our majestic rich, round and velvety 21 Year Old in these stunning new gift sets."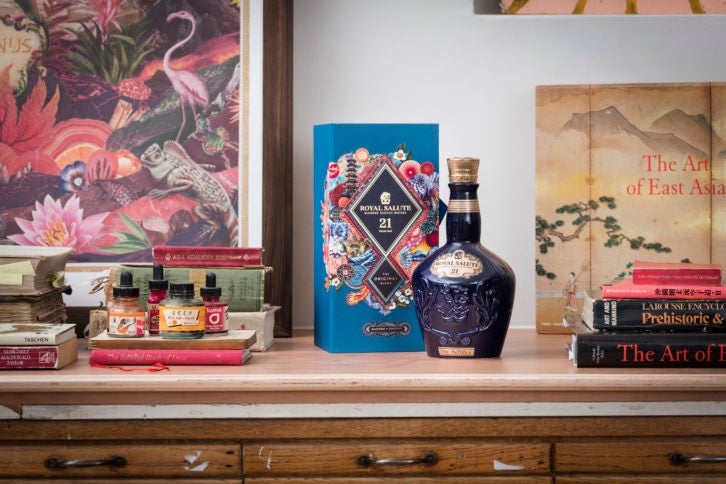 Royal Salute marketing director, Mathieu Deslandes adds: "We love the synergies between the craft of blending tea and that of blending Scotch whisky – both works of art and beloved by royalty as time-honored ways to toast momentous occasions with family and friends – in both Eastern and Western cultures."
"Our 'Art of Blending' series brings these similarities to life in spectacular color and intricate detail that not only pays homage to the knowledge, skill and true artistry of blending, but celebrates the many ways tea, like Scotch whisky, is enjoyed around the world."
The Royal Salute Art of Blending limited editions were launched this month, in time  for the Mid-Autumn Festival, which takes place on September 24th, and will be available for a limited time. Enjoy the whisky with a farewell to the season Royal Salute Summer Cup.