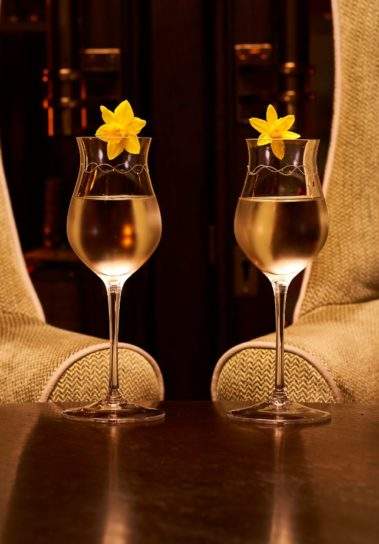 The Naturalist Cocktail, Inspired by Sir David Attenborough
45 ml Star of Bombay gin
5 ml soil distillate
15 ml hay vermouth
14 ml four flowers liqueur (rose, heather, hibiscus and elderflower)
To make this cocktail, simply stir all of the ingredients together, strain into a tulip glass and garnish with a flower.
The Naturalist cocktail was created by the newly appointed head bartender of Scarfes Bar, Yann Bouvignies whose passion and creativity, with time spent honing his craft at London's top hotels, has placed him firmly within London's cocktail scene.
The bartender took inspiration from Sir David Attenborough when creating this unique cocktail. He pays homage to Attenborough's dedication to documenting our planet's living creatures and plants by incorporating the flavor profiles of Earth's natural elements.
"As I grew up in the French countryside, this drink conjures great memories of spending sunny days in fields, taking in the fresh air and smells of nature in its rawest form," Bouvignies explains. "The structure of the complex drink represents three different stages of plant and flower growth, namely earth, grass and flowers, to highlight the importance of ingredient origins. Firstly, to illustrate earth, we use soil distillate which provides the base for all other flavors, and a strong layer of minerality. To demonstrate grass, we add our very own Scarfes Bar-developed dry vermouth infused with dried hay, which depicts the aromas of farms and the countryside, and finally the floral stage is brought to life with flower liqueur. This is created using four different types of flowers, a combination of Scottish heather, rose, hibiscus and elderflower, which contributes a lovely sweetness to help balance the drink as a whole."
"The storytelling behind the cocktail is an aspect I am really fond of," he continues, "as well as the little details which tie in with the concept, such as the tulip glass in which the drink is served, and the fresh flower garnish. Due to the unusual ingredients within the drink, our guests are often hesitant to give it a try, which leads them to ask questions. This gives us a chance to interact, and I find it extremely rewarding when they are pleasantly surprised upon tasting."
Originally from the South of France, Yann first worked at Hotel Le Kaïla in Meribel before moving on to La Résidence de la Pinède Hotel. Returning to Meribel, he started crafting cocktails at The Savoy Hotel, before making the move to London and finding a place at renowned cocktail bar Purl where he had the opportunity to focus on creating theatrical and molecular cocktails.
In 2016 he started at the Coburg Bar at The Connaught Hotel then joined Scarfes Bar where he reveled in the chance to combine contemporary cocktail creations with a luxury hotel ambience. He has been coming up with innovative drinks here ever since and now as the head bartender is set to roll out a new cocktail menu in 2019.
Unique in its décor and ambience, Scarfes Bar is inspired by traditional drawing rooms, with a roaring fire, cozy velvet armchairs and over 1,000 antique books collected by a Portobello antique dealer. The walls are then adorned with artworks by the artist and caricaturist Gerald Scarfe.
More than 70 caricatures can be seen in the bar, ranging from politicians and the Queen to David Beckham – one corner's artworks are updated by the artist according to current political events. These eclectic surroundings with live music each night create just the right setting for savoring this unique floral cocktail.