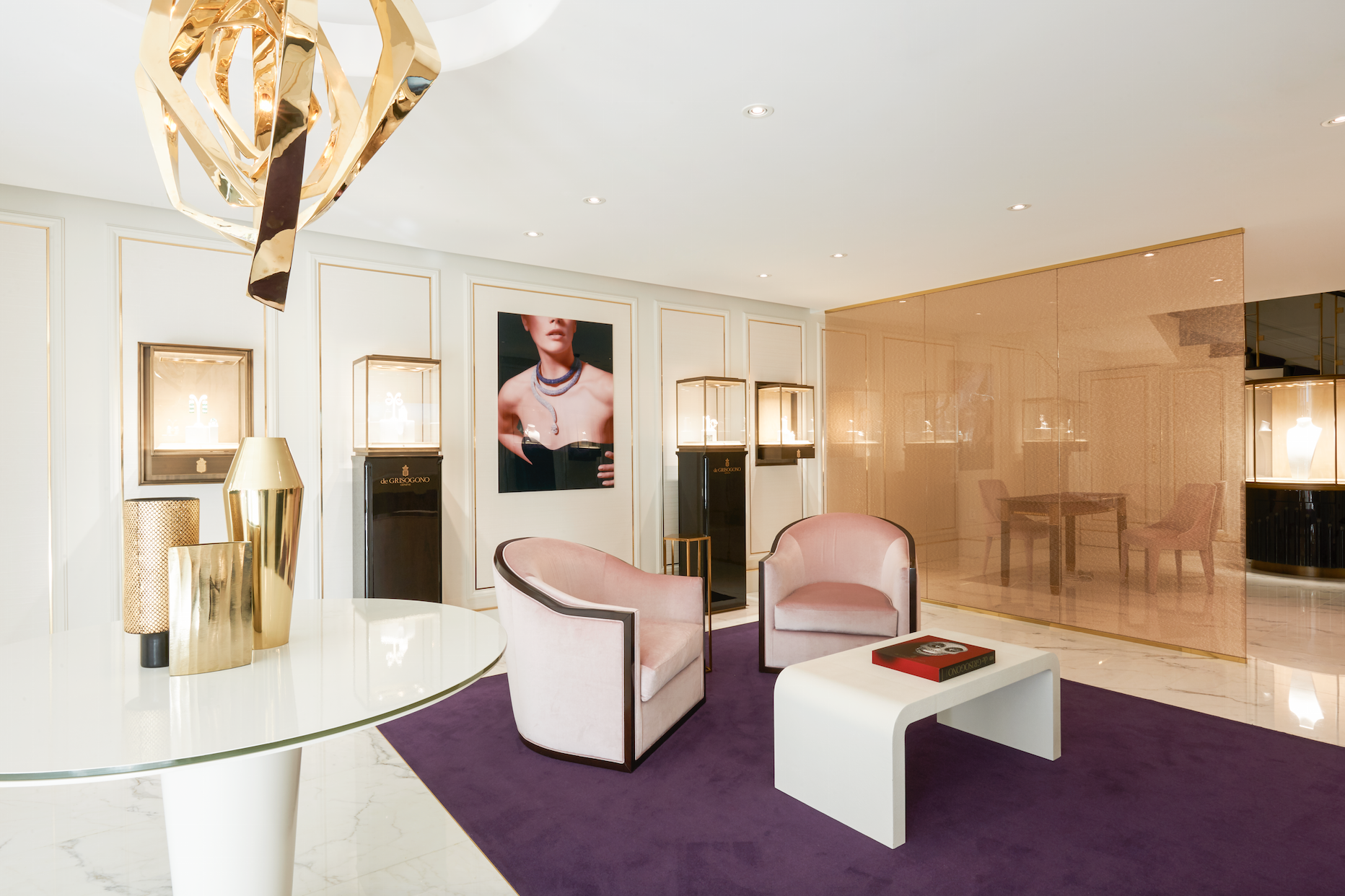 Just in time for the holiday season, Swiss luxury jeweler de Grisogono has opened a new boutique in New York City. The expanded Madison Avenue location will feature several fine and high-jewelry collections from the brand as well as exquisite de Grisogono timepieces.
De Grisogono once again partnered with design firm David Collins studio to achieve the same opulent ambience as the London flagship in the new 1,614 sq ft space. Through a Carrara-marble entrance, the two-story boutique is both elegant and simple, featuring traditional paneling and dark walnut displays with brass detailing to complement a brass chandelier.
For an exclusive retail experience, the upper level is home to a private salon adorned in plum-colored silk and dark purple velvet. Guests can enjoy an intimate shopping experience in the white-walled setting with custom Turkish lilac marble fireplace and plush sofas.
De Grisogono recently showcased a stunning necklace with the largest D color, flawless diamond ever to come to auction. The 163.41 carat stone, (cut from a 404 carats rough) was discovered last February in Angola's Lulo mine and is set be auctioned at Christie's in Geneva in late November.
The new de Grisogono boutique is located at 700 Madison Avenue, New York, NY 10065. For more information, please visit degrisogono.com.
See a few of the high jewels available at the de Grisogono boutique below.
De Grisogono Heart Cut Diamond Ring with heart-cut white diamond, marquise-cut white diamonds, white diamonds and emeralds set in white gold, price on request, de Grisogono in New York, +1 212 439 4220
De Grisogono diamond earrings with marquise-cut white diamond, pear-cut white diamond, briolette-cut white diamonds and white diamonds set in white gold, price on request, de Grisogono in New York, +1 212 439 4220
De Grisogono fancy vivid pink ring with rectangular-cut pink diamond (fancy vivid pink), pear-cut emeralds, and white diamonds set in white gold, price on request, de Grisogono in New York, +1 212 439 4220
De Grisogono Melody of Diamonds earrings with emerald-cut white diamonds and white diamonds set in white gold, price on request, de Grisogono in New York, +1 212 439 4220