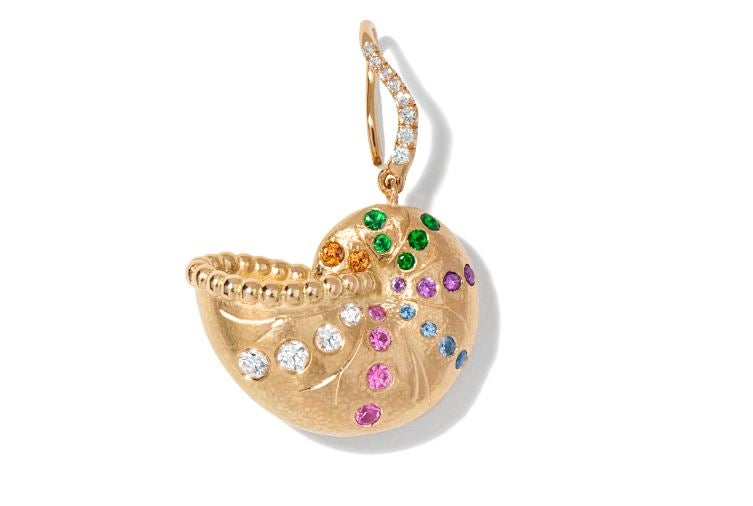 This story originally appeared in the January/February 2018 issue of Elite Traveler.
Whether it's a playful octopus swimming in the ocean's depths or a palm tree swaying gently on the beach, the marine world offers plenty of inspiration for designers. In a recent addition to his beloved Crazymals series, de Grisogono founder Fawaz Gruosi rendered an endearing octopus called Buddy in pink and purple sapphires, with bulging eyes made from pink opals and black diamonds. French designer Yvonne Léon's palm tree earrings, in sunny yellow gold, fit underneath the earlobe for a unique take on the motif that allows for mixing and matching with other designs. Aurélie Bidermann's enchanting nautilus shell earrings feature a kaleidoscope of multicolored stones. Lydia Courteille is known for her collections that passionately explore one concept. In her ocean collection, Deep Sea, she takes on seahorses, crabs, octopuses and marine plants. Her incredible necklace features two embracing seahorses and marine plants,with a playful crab scuttling up one side. No ordinary seahorses, each belly is made of a show-stopping
blue opal and three amethysts hang from their curled tails. In a stately atelier in Milan, jeweler Giampiero Bodino creates incredible one-of-a-kind pieces. His ocean-inspired bracelet uses pearls,multicolored stones and diamonds to conjure a dazzling undersea world teeming with life.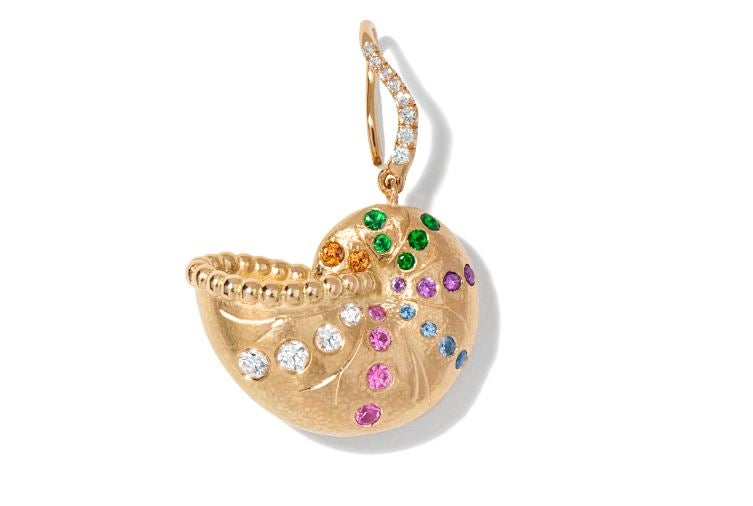 Aurélie Bidermann Nautilus mini earring in 18K yellow gold with .07 carats multicolored sapphires, .02 carats tsavorites, .02 carats amethysts and .04 carats diamonds, $2,975, available online at aureliebidermann.com
de Grisogono Crazymals necklace in 18K pink gold with 4.90 carats purple sapphire, 8.20 carats pink sapphire, .50 carats black diamond and 2.20 carats pink opal, $29,000, available at de Grisogono
Yvonne Léon Dalia earring in 18K yellow gold with .5 carats diamonds and .23 carats turquoise, approximately $5,600, available online at yvonneleon.com
Lydia Courteille necklace in 18K black rhodium gold with 1.58 carats white diamond, 1.41 carats black diamond, 18.42 carats fancy-colored sapphire, 5.91 carats amethyst, 51.19 carats sapphire, 20.4 grams blue opal, price on request, available at Lydia Courteille in Paris, contact@lydiacourteille.com, lydiacourteille.com
Giampiero Bodino Tesori Del Mare bracelet in 18K white gold and titanium with .6 carats diamonds, 3.7 carats yellow, blue and pink sapphire, .7 carats ruby, 1.1 carats red and pink spinel, .6 carats paraíba tourmaline, 2.1 carats spessartite garnet, .5 carats tsavorite, 14.3 carats pearl, price on request, available at Giampiero Bodino in Milan, giampiero.bodino@giampierobodino.com, +39 023 031 4777, giampierobodino.com