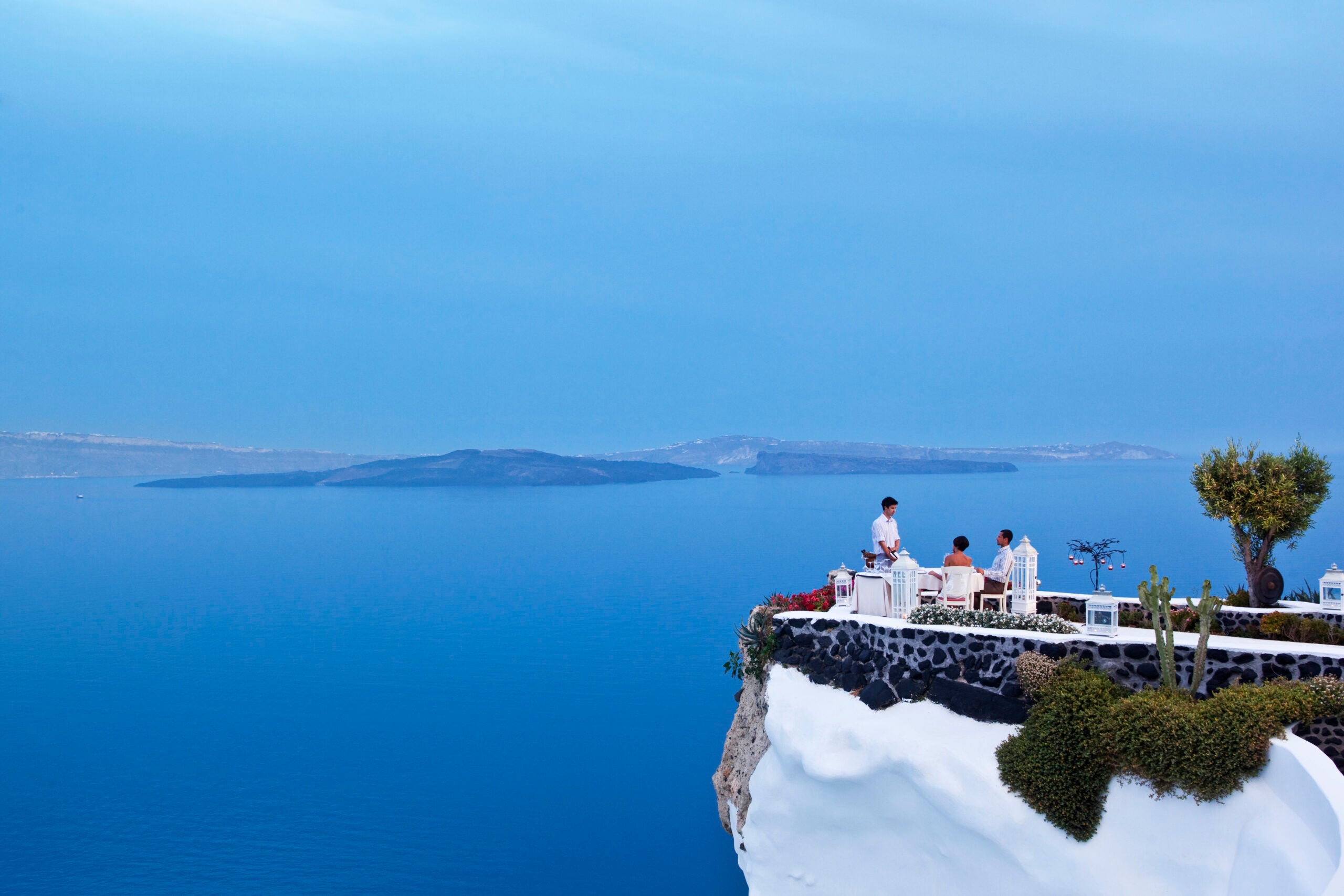 We've delved into the dining scene of cities and extraordinarily scenic locations across the globe to bring you our selection of the world's most romantic restaurants for Valentine's Day.
Lycabettus Restaurant SANTORINI, GREECE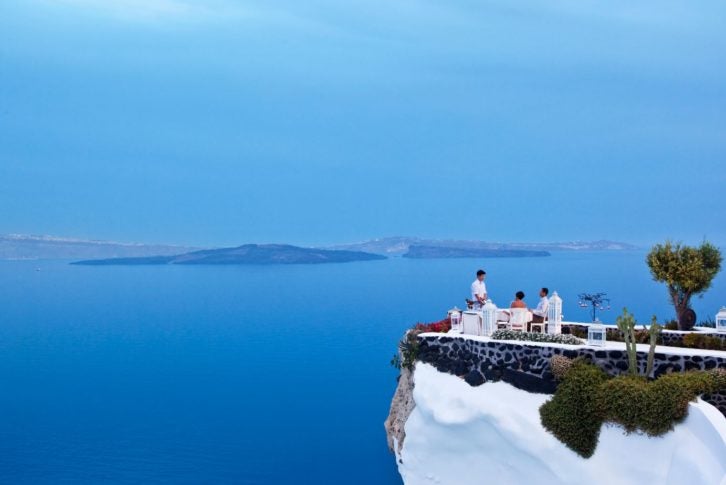 The Greek island that's so often associated with romance, Santorini draws loved up couples from across the globe for its cliff-top hotels boasting infinity pools and panoramic dining venues. Lycabettus in Oia is no exception, with its edge-of-the-cliff terrace where you can see the sun go down over the sea before dining under the stars. The restaurant has won a number of awards for the exceptionally high standard of its creative cuisine. Each of the dishes on the menu is strikingly plated, but the discovery menu creates the biggest impression with a series of tempting culinary creations.
Clos Maggiore LONDON, UK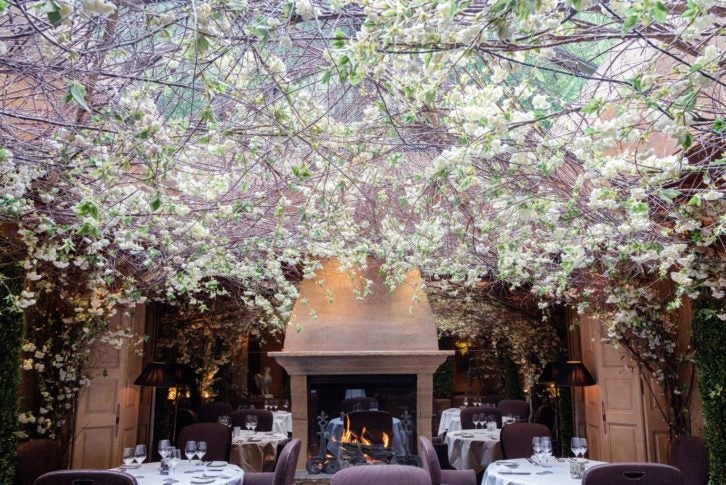 Continually named London's most romantic restaurant, Clos Maggiore ticks all the boxes for an intimate meal for two, from its flower-filled conservatory complete with log fire to its French-influenced fine dining plates and noteworthy wine collection. While sitting beneath the flowering branches that create a canopy over the elegant dining space, order indulgent dishes such as slow roasted Dorset char, roasted vermicelli with native lobster, and Windsor Royal Park venison. The tasting menu brings together a selection of seasonal dishes and the dessert menu proves particularly tempting; try the Clos Maggiore caramelized Valrhona chocolate sensation for two, which is accompanied by burnt honey ice cream and Armagnac jelly.
La Pergola ROME, ITALY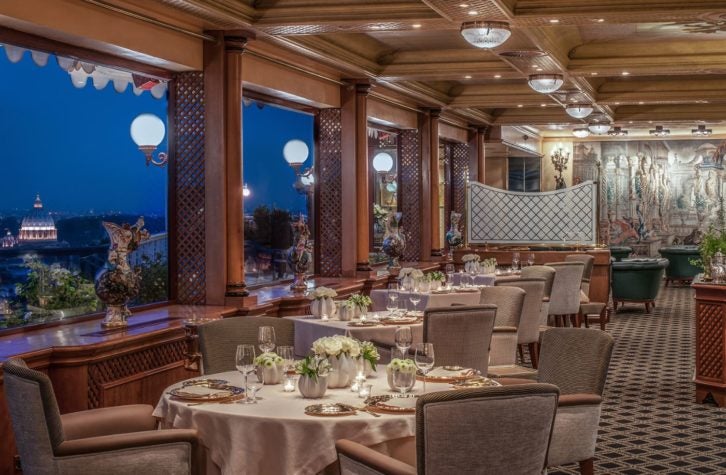 Showcasing the accomplished cuisine of prominent chef Heinz Beck and holding an impressive three Michelin stars, La Pergola is justifiably placed among the world's greatest fine dining spots. But more than just excelling in gastronomy, the restaurant provides the ideal setting for dinner for two. Located within Rome Cavalieri, a Waldorf Astoria Resort, the restaurant has the same ornate décor and sumptuous furnishings seen throughout the hotel with a breath-taking view over Rome. Through Italian and Mediterranean flavors, combining creativity with simplicity in the ingredients used, Heinz Beck introduces diners to new tastes while striving to evoke emotions. The tasting menu includes dishes such as duck foie gras with apple and chestnut. Pair each dish with wines selected by the award-winning sommelier Marco Reitano.
Images courtesy of Rome Cavalieri
Club del Doge VENICE, ITALY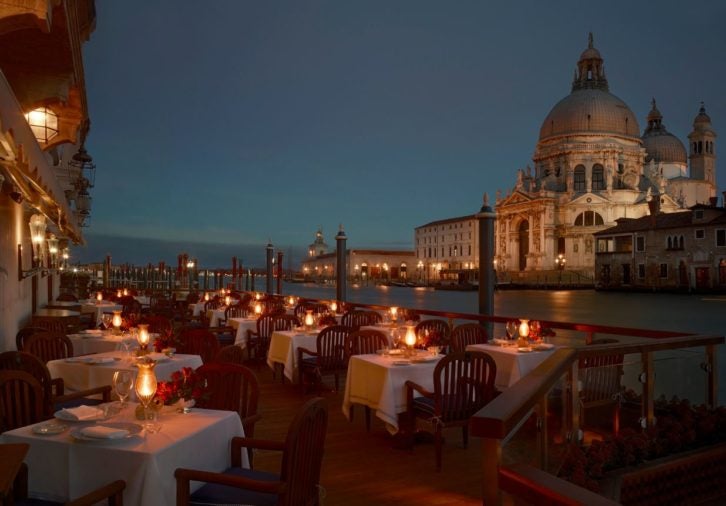 There aren't many places more closely associated with romance than Venice and the Grand Canal is undoubtedly among the city's most iconic locations. This places the candlelit terrace of luxury hotel The Gritti Palace's restaurant Club del Doge high on the list of the world's most romantic dining spots. Here you can dine on the Venetian gourmet cuisine of chef Daniele Turco whose culinary style is deeply rooted in Venice's culture and traditions while taking inspiration from the places he spent time working in, such as Malta, Sicily, Turkey and Morocco. While the menu is changed according to the season, a meal here could begin with caviar and Venetian cicchetti before going on to dishes such as Hemingway-style risotto and veal cheek and chestnuts puntarelle with polenta foam. Top this off with a dessert such as tiramisu.
Image courtesy of The Gritti Palace/Club del Doge Restaurant
Alain Ducasse at the Dorchester London, UK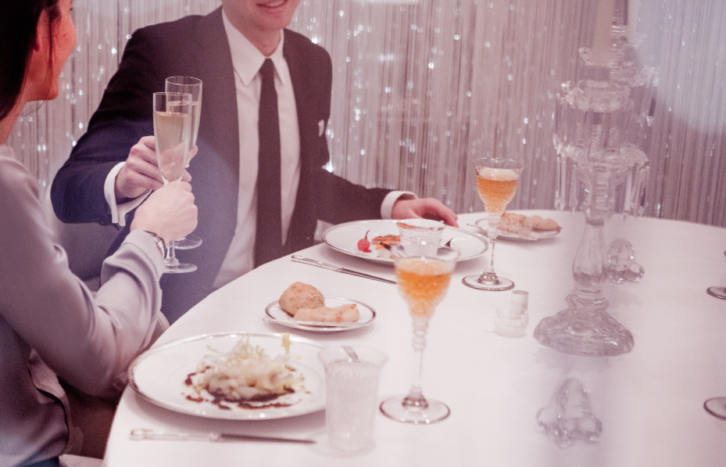 One of the most romantic tables in London is the private Table Lumière within three-Michelin-starred restaurant, Alain Ducasse at the Dorchester. Placed at the heart of the restaurant, but cocooned by a luminescent curtain encompassing 4,500 shimmering lights, the coveted table allows you to enjoy the buzz of the restaurant while also enjoying the privilege of having your own private dining space. On Valentine's Day, indulge in a five-course meal created by executive chef Jean-Philippe Blondet with a glass of rosé champagne. Tuck into dishes like hand-dived sea scallop with bergamot and seaweed, native lobster with heritage beetroot and salsify, and a special Valentine's dessert for two.
The Little Door LOS ANGELES, USA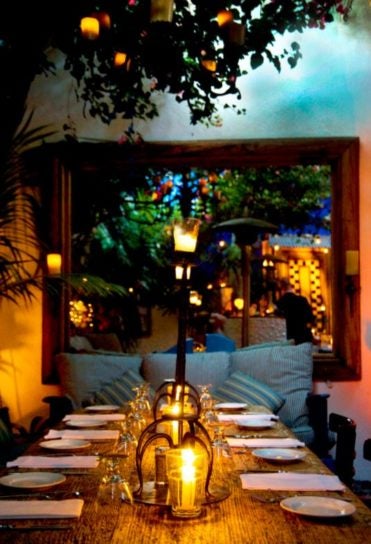 This Parisian-style West Hollywood brasserie serving French-fusion cuisine is deservedly considered one of LA's most romantic restaurants. Intimate and full of character, the Little Door is made up of atmospheric Mediterranean-inspired dining areas including a candlelit piano room and a courtyard filled with bougainvillea, ferns and exotic foliage. The kitchen places the focus on French-Moroccan cuisine, with a menu including starters such as shucked oysters and charcuterie, appetizers like sear sea scallop with lobster Espelette sauce, and entrees such as roasted duo of duck breast and leg confit with orange marmalade sauce. The global wine list has an excellent selection of champagnes.
Image © Instagram @thelittledoorla
Cress on Oak Creek at L'Auberge de Sedona ARIZONA, USA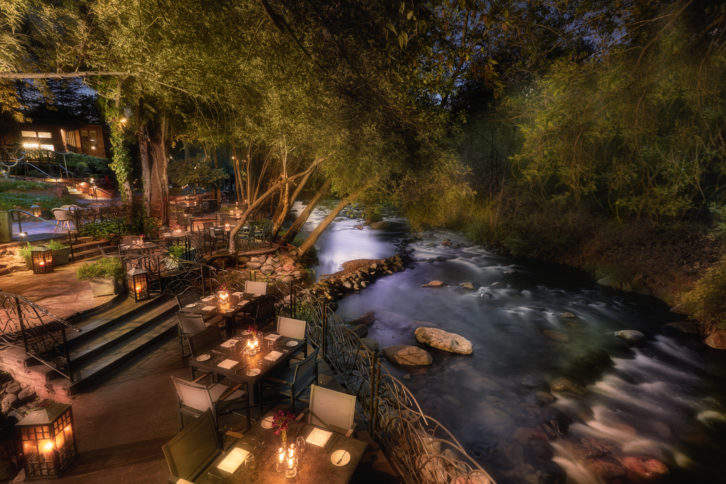 Extraordinarily idyllic, Cress on Oak Creek lies on the banks of the pristine creek it takes its name from. The lantern-adorned, candlelit fine dining setting is a part of L'Auberge de Sedona in the heart of Red Rock Country, ensuring both gastronomy and service are of the highest level. Dishes like escargots fricassee with prosciutto, Catalane aioli and roasted sunchoke show the chefs' international influence and creativity, as well as the use of locally foraged ingredients. Classic plates also feature on the menu, finishing with desserts like pumpkin cheesecake mousse.
Samabe Bali BALI, INDONESIA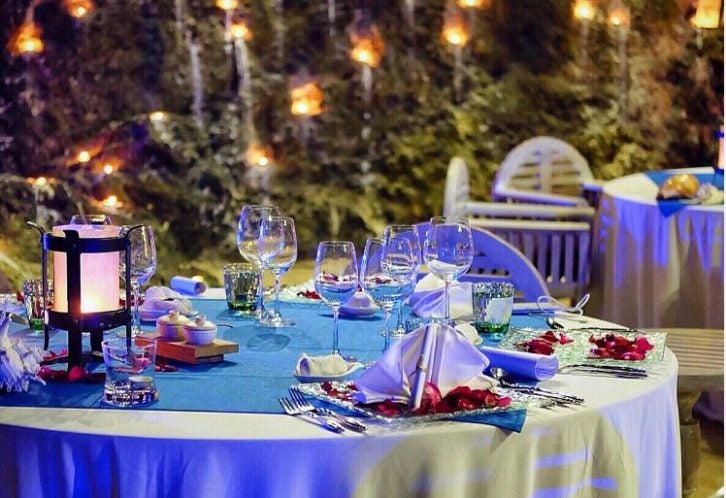 With its location on Bali's secluded coastal stretch, Nusa Dua, Samabe Bali Suites & Villas boasts a tranquil spot on the island's southern coast. This setting provides the resort with especially scenic dining settings, of which the most famous is its fine dining set-up in a cave lit with hundreds of twinkling candles and lanterns. With your feet in the white sand and the roof of the cave overhead you can dine at candlelit tables while looking out to sea. Four-course seafood and barbecue menus are on the cards here, starting with a welcome cocktail and finishing with an indulgent dessert. Romantic gestures such as flowers can also be arranged.
One if by Land, Two if by Sea NEW YORK, USA
While a number of New York's restaurants take your breath away with their city views, others steal your heart with their warm ambiance. One if by Land, Two if by Sea is among the restaurants noted for particularly appealing décor and character. Often named New York's most romantic restaurant, this dining spot combines a historic brick façade, original fireplaces and hanging candelabras with candlelit tables and the American fine dining plates of executive chef Gary Volkov and pastry chef Vera Elezovik. The seven-course chef's tasting menu, which can come with wine pairing, consists of dishes like Ahi tuna with avocado tempura, seaweed, sunflower seeds and ponzu, and rack of venison with plum hoisin sauce. The dessert menu proves tempting too, with sweet plates like chocolate soufflé.
Image © Instagram @oneifbylandnyc
Flagstaff House COLORADO, USA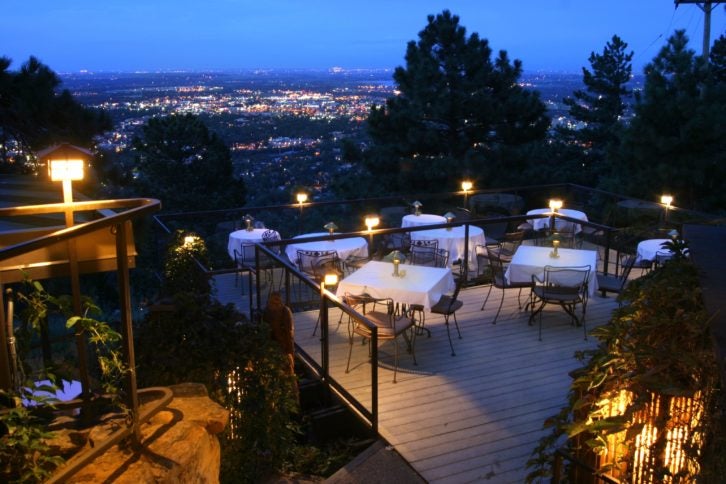 High up on Flagstaff Mountain, this Colorado dining spot comes with far reaching views over Boulder – a sight that takes your breath away in winter and summer. But the views through the dining room's floor-to-ceiling windows aren't the only reason people come here. The restaurant has a 15,000-bottle award-winning wine collection, a highly regarded menu of French-American cuisine and the personalized service that comes from being a family-owned and run venue. While sitting on a terrace or by the fire, dine on delicacies such as Royal Ossetra caviar with Krug champagne and a selection of oysters with lime and Tanqueray gin, and fusion plates such as Loup de Mer blue crab with potato confit, Hon Shimeji mushrooms and sherry onion jam.
Sierra Mar at Post Ranch Inn CALIFORNIA, USA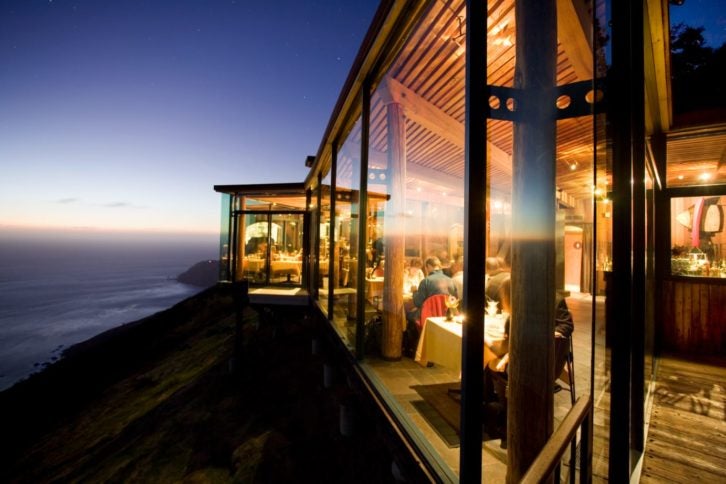 Big Sur's clifftop Post Ranch Inn has become famous worldwide for its contemporary architecture incorporating floor-to-ceiling windows and for its dramatic position overlooking the sea. The hotel's restaurant Sierra Mar makes the most of these views and has won awards for its wine cellar, which further enhances the dining experience. Innovative fine dining plates are the focus here as the chefs strive to instill a sense of place through the ingredients used. A four-course dinner can consist of dishes such as Black River Oscietra caviar with egg, crème fraîche, acorn blini and lemon, and Bay Laurel roasted venison with Forbidden Rice, local shitake, miso and kaffir lime. Finish the meal with a creative dessert like Choco-Passion-Pop with Rice Crispies, meringue, passion fruit and hazelnut chocolate crémeux.
Image © Kodiak Greenwood
Treepod Dining at Soneva Kiri KOH KOOD, THAILAND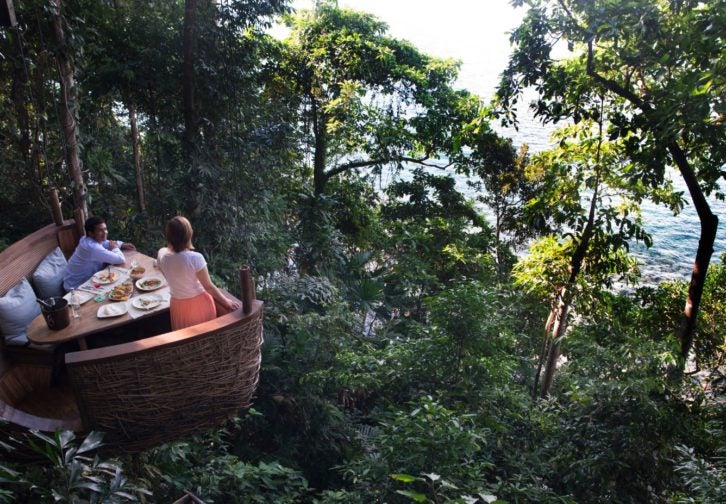 Set on the edge of the rainforest from the oceanfront of Koh Kood island, Soneva Kiri stands out for the natural beauty of its surroundings, which also provide exceptional seclusion. Within the resort's collection of idyllically situated restaurants and bars, perhaps the most memorable dining spot is its treepod, which is hoisted up into the treetops once diners have settled in. Fine dining plates are then delivered by a waiter who reaches you by zipline. Here, unrivaled privacy and panoramic sea and forest views come with the comfort of this elevated pod and your choice of gourmet food and fine wine from the restaurant menu.
Ristorante Il Refettorio AMALFI COAST, ITALY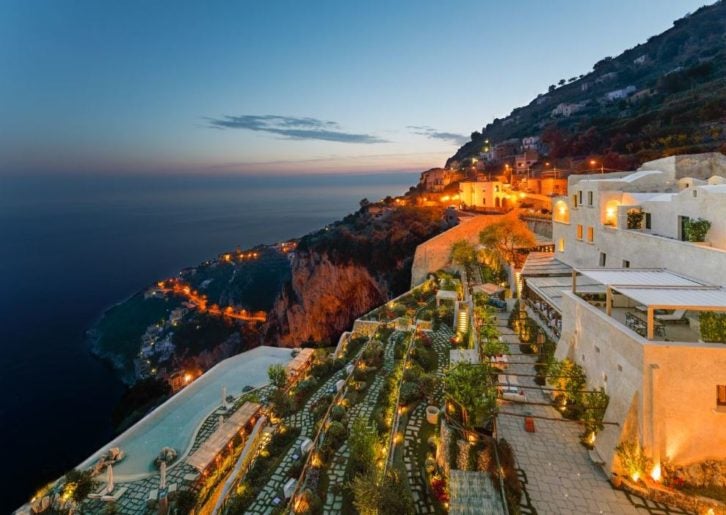 The Michelin starred Ristorante Il Refettorio is a part of the cliffside 17th-century convent turned luxury hotel, Monastero Santa Rosa Resort & Spa. Positioned on the famously picturesque Amalfi Coast, the hotel boasts terraced organic gardens where produce for the restaurant is cultivated. With an outdoor terrace and view over the coastline, the restaurant is the perfect place to take these surroundings in. While savoring the uninterrupted view of the open sky and sea, dine on chef Christoph Bob's Mediterranean cuisine, which encompasses ingredients from the Campania region. Expect dishes like homemade potato gnocchi with a slow-cooked ragu of quail, asparagus tips and thyme, scampi carpaccio with kuquat jam, and degustation of local fish bringing together bonito, mackerel and paddlefish. The sommelier is on hand to pair each dish with the ideal wine.
Grotta Palazzese PUGLIA, ITALY
One of the world's most famous cave dining concepts, Grotto Palazzese gives you the rare opportunity to dine in an atmospheric cave inlet on Puglia's dramatic coastline. Whether dining with the sunlight streaming in or by the moon and candlelight, this is one of the world's most romantic settings for a meal. Go for a four-, five- or six-course tasting menu of classic Italian plates encompassing ingredients from the region.