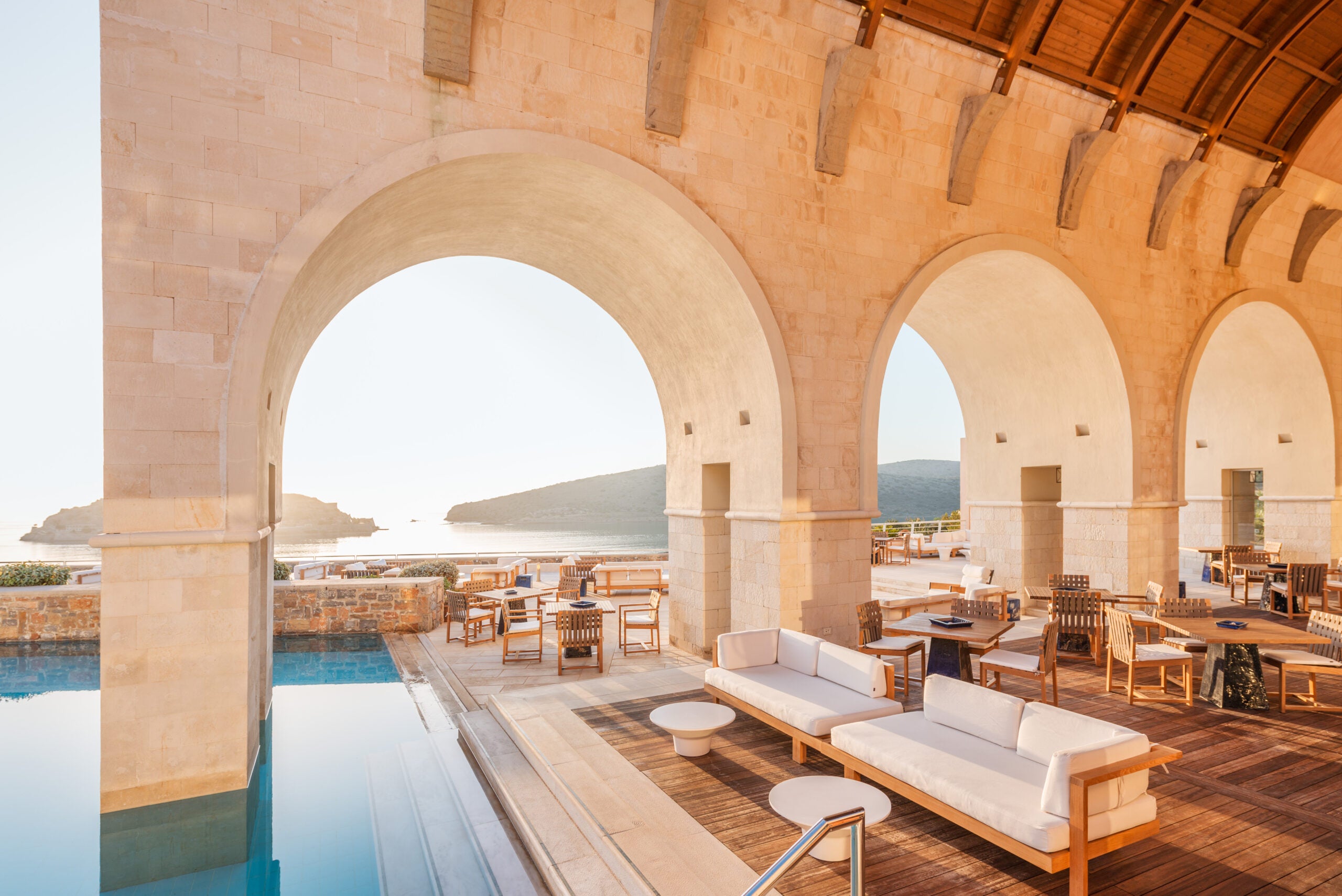 Greece is often associated with its two most ubiquitous colors, blue and white, from the nation's flag to the color of the Aegean Sea and the houses built into the islands' volcanic hillsides. From its interior accents to its ocean-side pools, Blue Palace Resort & Spa is distinguished by this profusion of blue, along with its far reaching views over the glimmering sea.
The resort's dramatic architecture is representative of its Cretan identity, reflecting the island's Arab, Ottoman and Venetian history through its light-filled interiors. The high-ceilinged lobby was inspired by a Venetian shipyard's sweeping arsenal; glass-fronted suites with plunge pools stagger the hillside; and a funicular transports people up and down the volcanic slopes between the private pebble beach backed by saltwater pools, restaurants and spa. Olive and fig trees, foliage and flowers ramble through the sun-baked estate and mountains rise up from behind.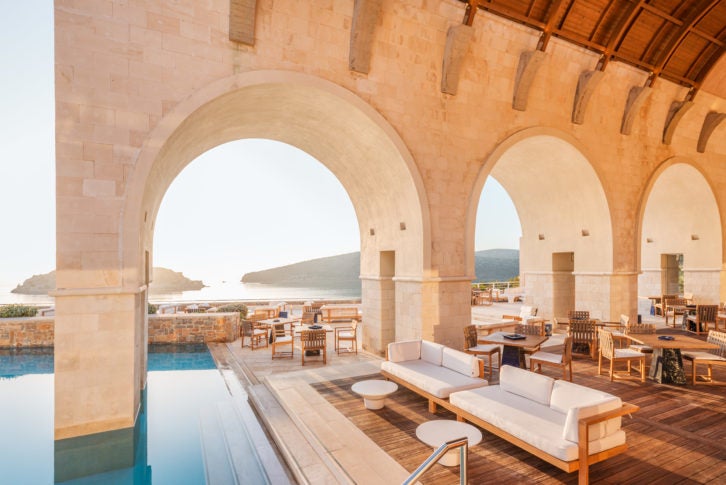 Crete is a long mountainous island with different micro-climates in the north and south. Blue Palace sits on the northeast coast of the island with the coastline curving round to each side and the historic islet Spinalonga directly opposite. This setting means you can easily stroll along the coast to the blue and white artist village and harbor of Plaka, clamber up the rocky slopes between ancient ruins on Spinalonga, and set out from the resort's jetty for Cretan wine tasting on board a traditional Greek caïque.
STAY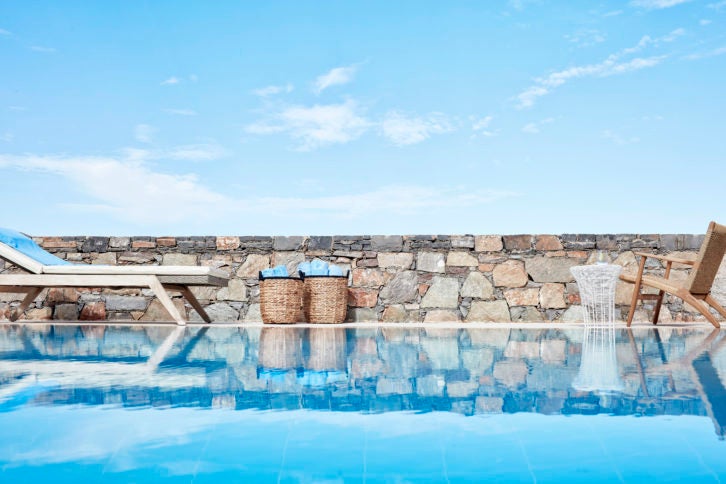 Each of the resorts 52 suites and four private villas pairs a wood and white design scheme with blue accents, pieces of art and floor-to-ceiling glass for views of its private plunge pool and the ocean beyond. The Island Luxury Suites, which are all named after Greek islands, stand out above the rest with private infinity pools and space to dine on your private terrace. Alternatively, stay in the three-bedroom Royal Blue Villa for your own living room with fireplace and separate dining area, full kitchen and private garden with patio, outdoor dining space and heated infinity pool.
DINE

Tuck into authentic Cretan cuisine in a restored fisherman's house and savor fresh seafood on the beachfront at Isola, dine on Japanese plates at Asia Deep Blue and enjoy grilled farm-to-table plates at Cretan-produce-led restaurant Flame. A highlight for many is the authentic Cretan tavern, Blue Door, which spills out onto the ocean-facing terrace of a renovated fishermen's hut overlooking the sea. With its blue painted chairs, checked tablecloths, live Greek music and Cretan food and wine, this is the place to get a taste of the island while enjoying the convivial atmosphere – you'll probably find yourself trying the local raki with the jovial waitstaff.
RELAX
With pools glittering in the sun and open-air spots to eat, drink and lounge, this is the ideal place to unwind, but more relaxation can be found at The Elounda Spa. Treatments rooms come with a view of the gulf and wellness facilities include a thalassotherapy retreat. Thalassotherapy sessions guide you through a sequence of sea water experiences, from hydro massage to cyclical jet sessions. These sessions are recommended prior to spa treatments to heighten how beneficial they are.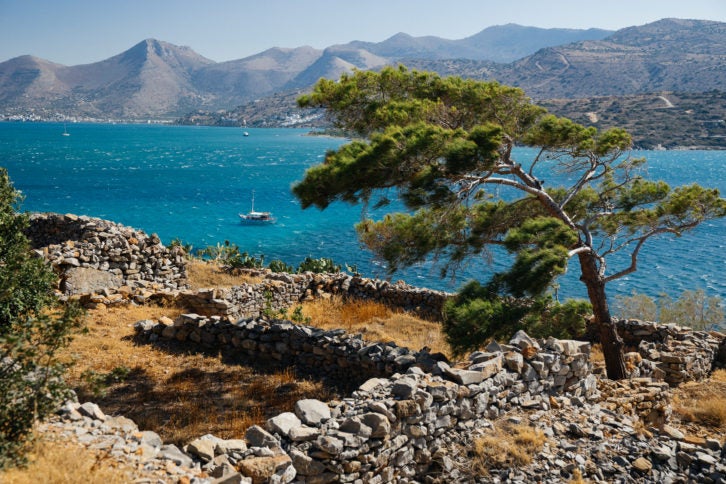 From the extensive spa menu, sign up for a made-to-measure massage ritual, Valmont detox therapy, or vitality of the glaciers collagen mask treatment. Comprehensive spa packages include the Mindfulness program, which runs over three days, and the four-day Thalasso Slimming program.
EXPLORE
Ride the funicular down to the saltwater pools and private beach, meander along the waterfront to the picture-postcard artist village and harbor, Plaka, and zip across to Spinalonga on the hotel's speedboat. For insight into the island's viticulture, taste Cretan wines paired with local fruits and cheeses on Blue Palace's traditional wooden caïque.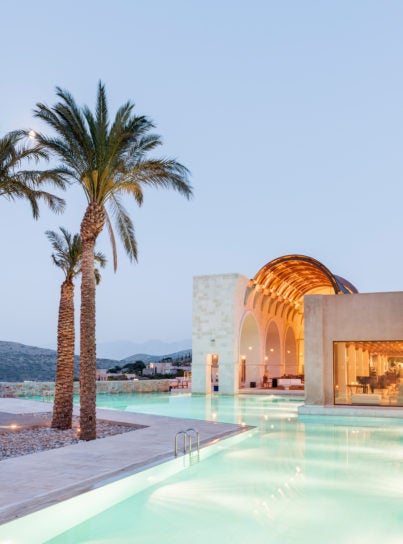 It's in a sheltered cove that the hotel's F&B manager George hosts our Cretan wine tasting on board this traditional wooden fishing boat. With the wind blowing off the water, George brings out three different Cretan wines and lays out a spread of Cretan cheeses and local fruits to pair with the wines based on their flavor, intensity and acidity. Explaining what distinguishes Cretan wine from other varieties, George explains: "Crete is volcanic but it's the sun and soil that really make the difference in wine-making. We have a lot of days of sunshine each year and we have water at just the right time. The more sun you have the more aromas you have in the wine." As George takes us through the different wines, he tells us the story of each winery and what gives the wines their particular characteristics.
While this is a novel way to get a taste for Crete's viticulture, you don't have to come on one of Blue Palace's boat trips to discover what wineries are here. Every month a different producer is invited to the resort to host their own tasting, and opportunities abound to get out and explore further afield. Whether you're in search of local wineries or delving into the island's history, there's plenty to discover while you're here.