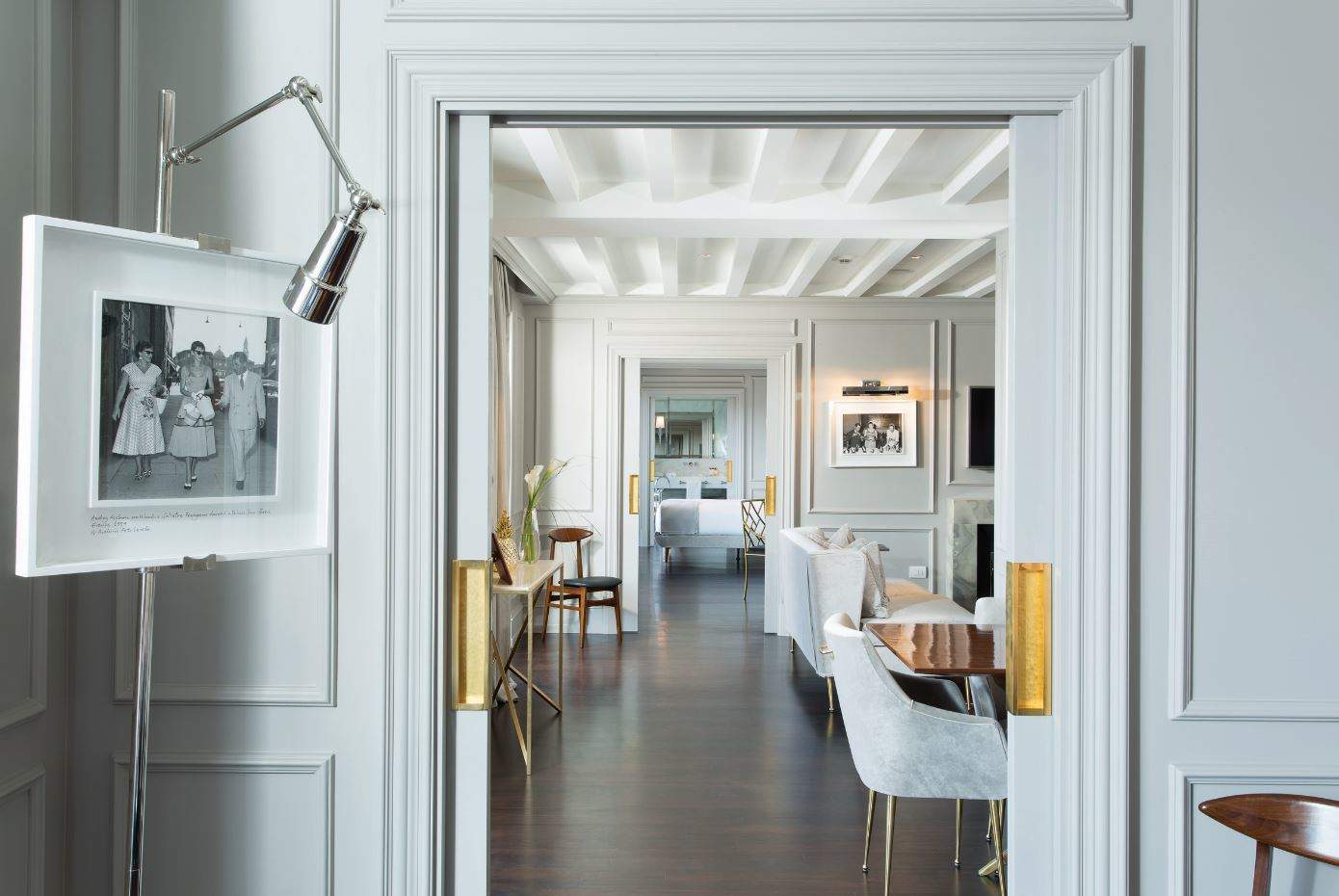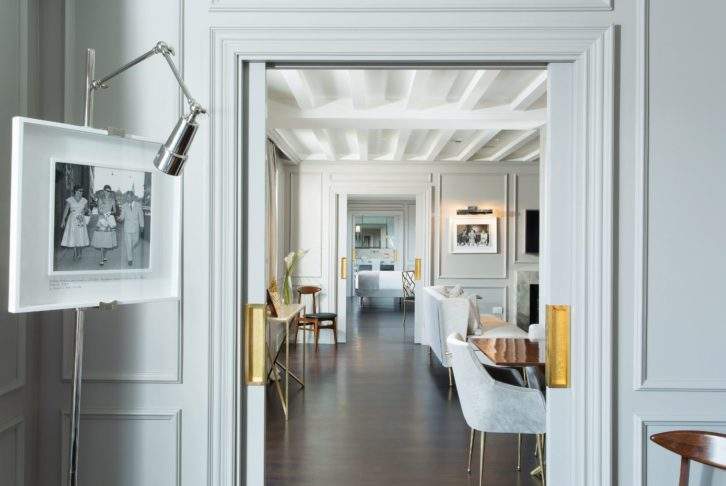 Fitting seamlessly in with the Renaissance city, Portrait Firenze is a stylishly executed celebration of the arts, taking on the concept of being another of Florence's great masterpieces; while Florence commands the world stage for its ancient monuments and Renaissance art, this hotel has an international following for its appealingly chic modern design and prolific contemporary artwork collection.
In fact, art and design plays a key role in each hotel in the Lungarno Collection, reflecting the passion the Ferragamo family (who famously own the hotels) have for Florentine artistry. In its privileged position on the riverside by Ponte Vecchio, the hotel boasts uniterrupted views over the River Arno and Renaissance architecture of the enclave it's backed by – it's here that you'll find two of the other hotels in the Lungarno Collection, Gallery Hotel Art and Continental, along with its partner Leica store and White Iris Beauty Spa. All the way from the lounge on the first floor up to the hotel's penthouse suite, Michele Bönan-designed interiors of warm gray, black and gold are the backdrop for an array of paintings, black-and-white photos, sculptures and installations, with personalization seen in every detail.
STAY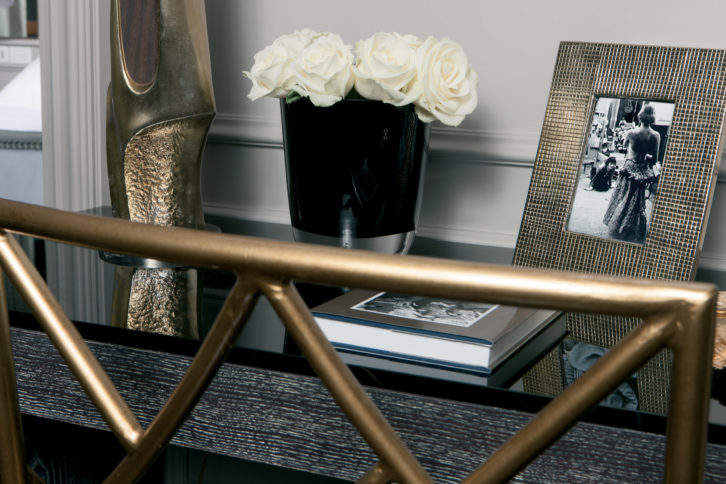 By asking guests to fill out a survey before their arrival, Portrait Firenze manages to tailor every guests stay, ensuring all bases of the experience are covered, from breakfast preferences to the type of pillow you sleep best with and whether you'd prefer Egyptian cotton sheets or linen. Each of these elements in then integrated into your stay from the moment you arrive to be greeted with your favorite drink.
In each of the rooms and suites, warm gray and white paneled walls and dark wood floors are complemented by glossy cabinetry with gold detail and silvery gray velvet seating, with design details such as black and gold Chinese folding screens, splashes of aquamarine, navy and gold, and a carefully curated selection of design books and black-and-white photography. The entire sixth story can be taken over as the Penthouse Floor, combining the floor's Ponte Vecchio, Timeless, Family and Superior River View suites, all together offering four lounging and dining areas with a wraparound terrace that affords far reaching views in every direction.
DINE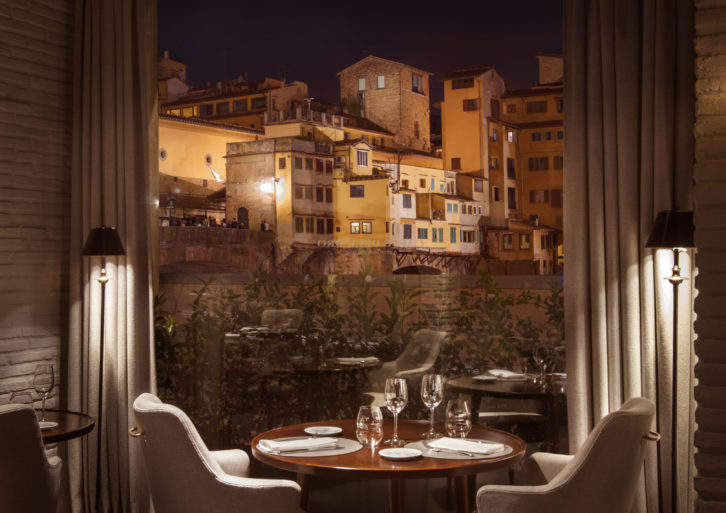 An advantage of being so close to a number of other hotels in the Lungarno Collection (Hotel Lungarno is also just across the river) is the fact it brings together each of their entirely different restaurants and bars. Stroll out to the courtyard backing the hotel to pair Asian tapas with cocktails on the terrace of Fusion Bar & Restaurant at Gallery Hotel Art, head up to the rooftop of Continental for cocktails with a view at La Terrazza, and cross the iconic bridge Ponte Vecchio to try out Hotel Lungarno's Picteau Lounge Bar and Michelin-starred restaurant Borgo San Jacopo.
Within Portrait you'll dine at the bistro-style Caffé dell'Oro, which takes up a stretch of the riverfront on the ground floor, commanding uninterrupted over the water and this city's legendary bridge. Arrive early for a breakfast of pastries, fruit, Italian coffee and classic brunch plates (from eggs Florentine to crepes and waffles), then return for the Italian and Tuscan cuisine of Executive chef Peter Brunel that's served into the evening. Championing local artisan producers, Brunel uses seasonal and organic Italian ingredients in dishes like Trofie pasta with Genovese pesto, flat beans and sheep's cheese, rice with reduced veal juice and pure gold, and Piedmont fassona beef with Barolo lettuce and piquillo peppers.
RELAX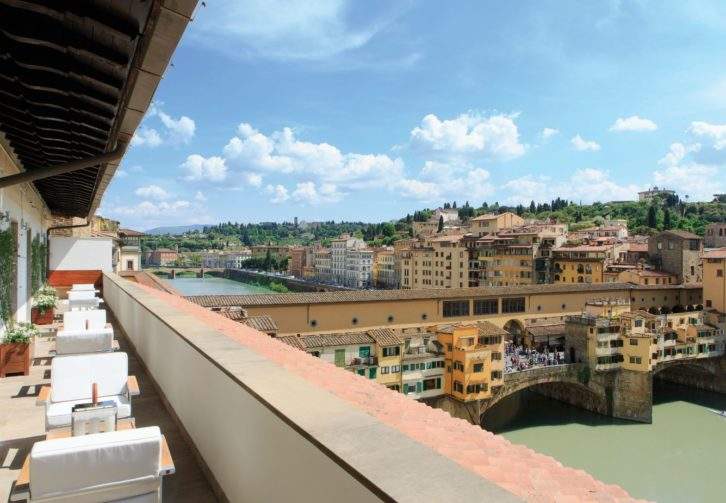 With Portrait's close proximity to sister hotel Continentale, it's easy to drop by White Iris Beauty Spa by Comfort Zone. In a tranquil space of Tuscan wood and stone, you can indulge in treatments like the Tibetan Sound Massage using traditional Tibetan singing bowls, a detoxifying Bagni di Pisa mud treatment using thermal waters and essential oils and the Grotto Giusti Mud body wrap, which promises to purify the body while warming tired muscles. If you'd rather not venture from the hotel, you can request an in-suite massage.
EXPLORE
Throughout its history, the cult camera manufacturer Leica has succeeded in combining the technological advancements of modern photography with the art and emotion behind capturing the moment. As one of the Lungarno Collection's partners, Leica offers each hotels' guests an exclusive experience in which they're guided through Florence on a photography tour with a Leica camera in-hand and renowned photographer leading the way. And this is just one of the exclusive experiences afforded by the collection's partnerships; gain access to the historic atelier of Fratelli Piccini to see the brand's jewelers at work, set out on a private Vespa tour and tee off at the legendary Ugolino Golf Course. And if you're feeling inspired by the artwork around you, join a painting lesson at the hotel with Florentine artist Roberto Guarnieri.