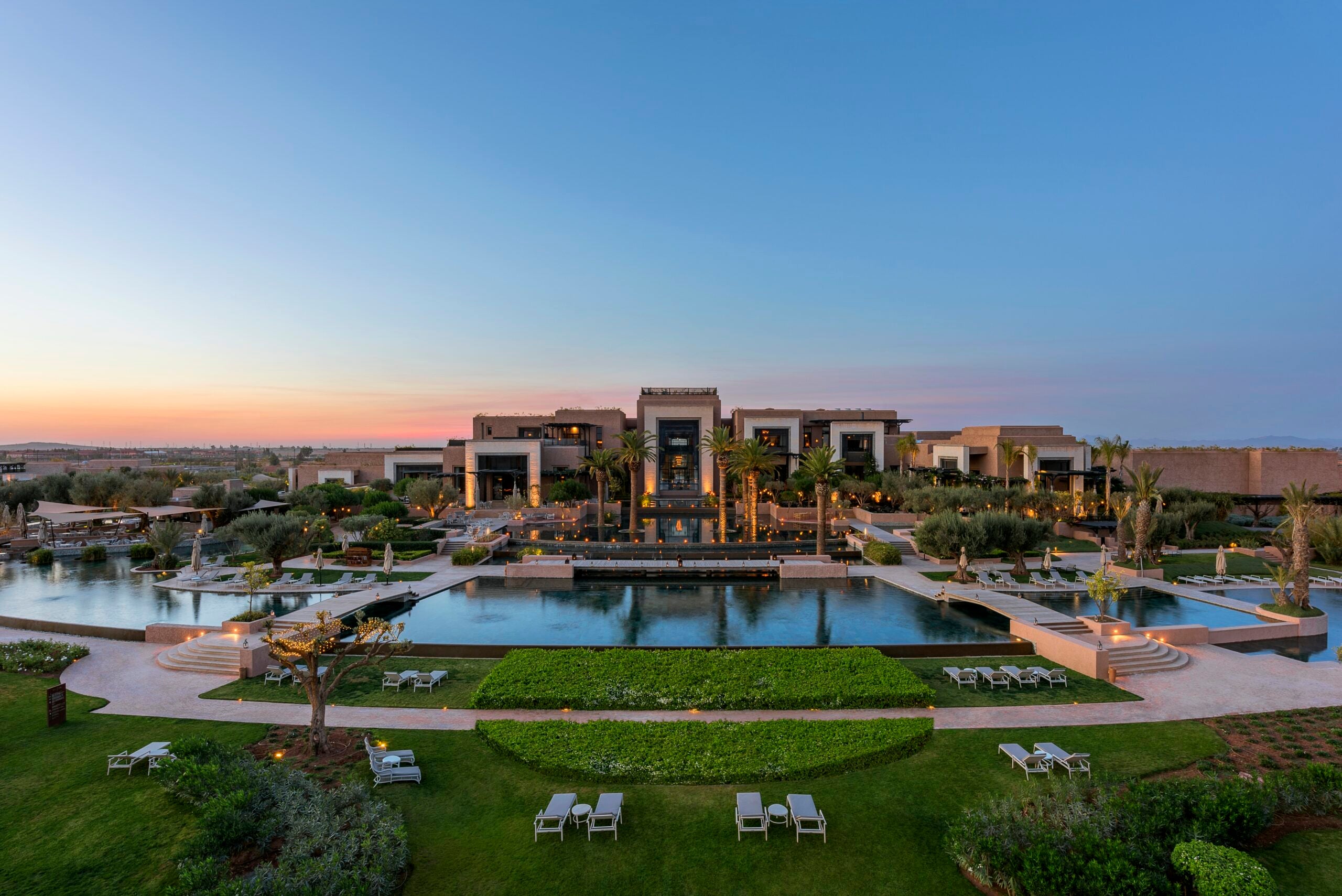 Overlooked by the Atlas Mountains and nestled in 231 hectares of olive, orange and palm trees, the Fairmont Royal Palm Marrakech is a holiday of two tales. Capable of offering guests enough space to relax and unwind while being only a short drive from the bustling Medina, this hotel really can offer guests the best of both worlds.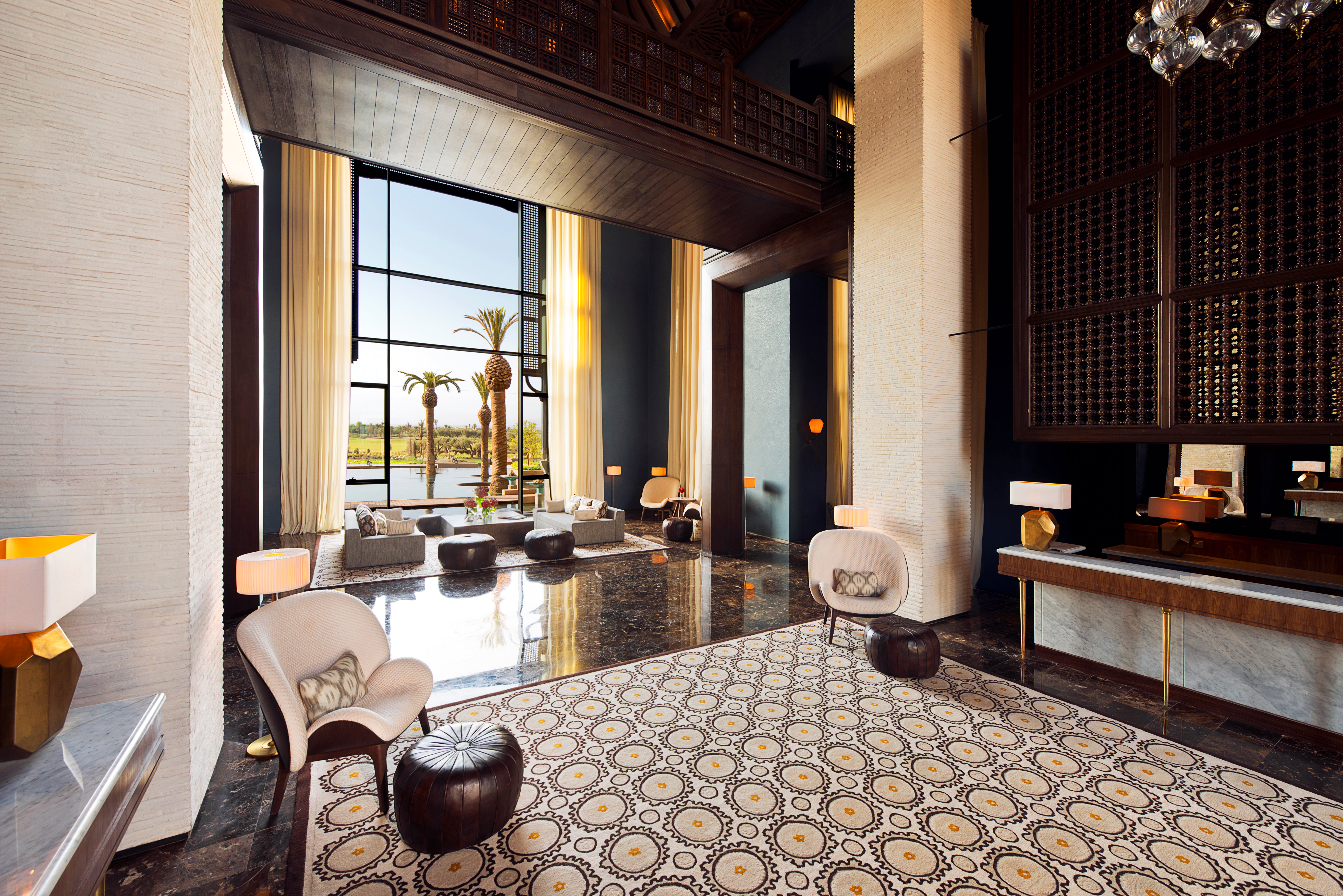 When you arrive one of the first things you will notice is how the interior blends a decidedly modern design with traditional Morroccan furnishings, giving the hotel a warm and welcoming feel that shows the luxury nature expected from a Fairmont, while ensuring it doesn't fall foul to the bland modernity seen in a lot of high-end hotels.
The rooms offer a similar experience, with the pared back exterior playing host to an interior that is as unpretentious as it is expansive. With a separate living area, huge bedroom and a bathroom featuring an enormous walk-in shower and an equally large bath, the amenities available to guests in even the most basic of rooms are second to none (the smallest Deluxe Suites are still a huge 72 square meters). All of which is topped off by the hotel staff bringing guests mid-afternoon snacks (a massive tick for any hotel in Elite Traveler's book).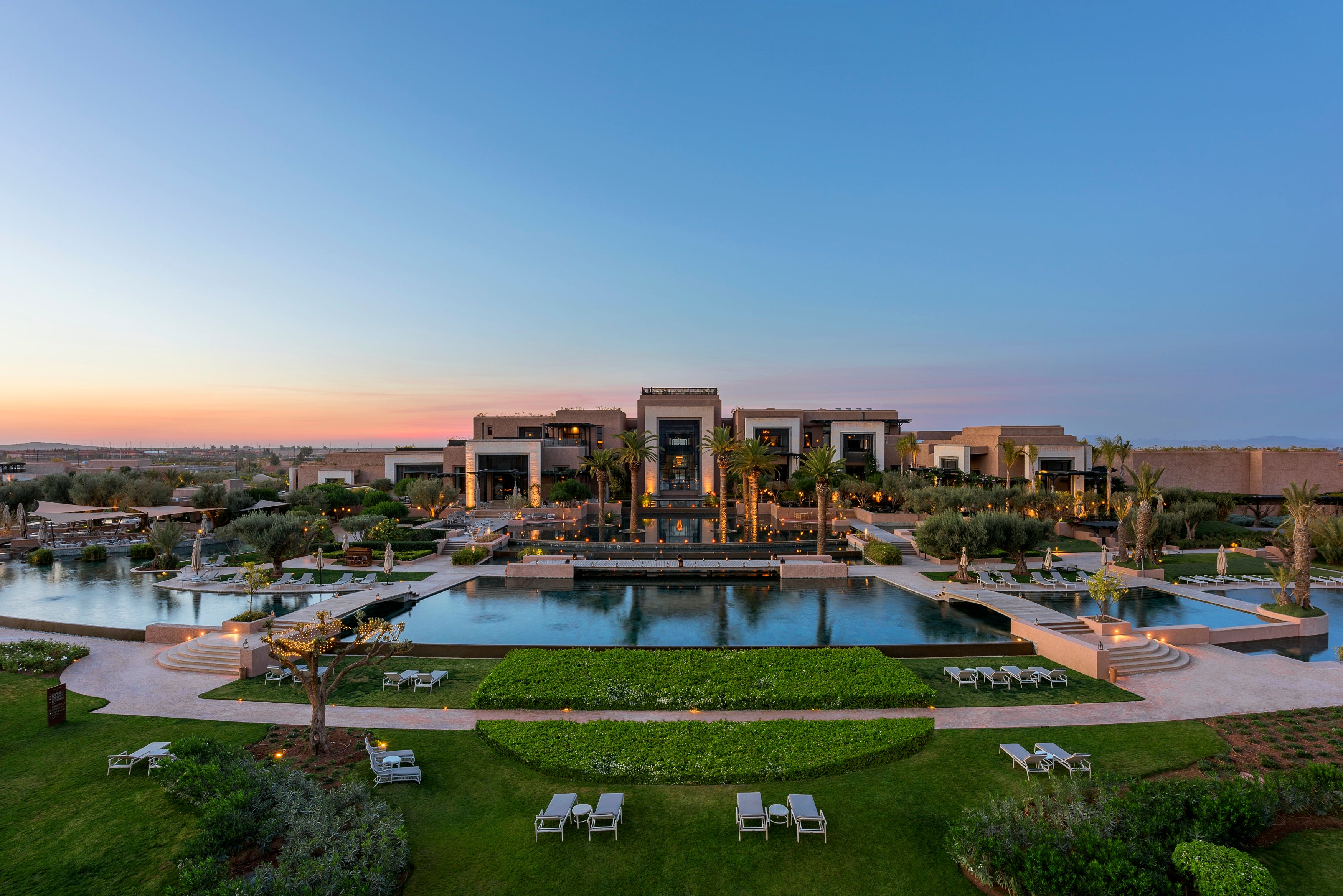 On top of this the Fairmont Royal Palm also offers a number of luxury rooms including a 310 square meter Presidential Suite with a private dining room, valet service and a roof-top solarium. While their top tier Prince Villas offer an enormous 741 square meters with a private pool and hammam, personalized butler service, fully equipped kitchen and a completely complimentary mini-bar.
When it comes to food and drink, the Fairmont Royal Palm offers enough variance to keep even the pickiest of eaters happy. The hotel has three restaurants, one offering poolside dining with a Mediterranean inspired menu, the Sabra restaurant offering a more relaxed bar snack menu, while their flagship Al Ain serves authentic Moroccan food accompanied by the beautiful sounds of live traditional Arabic music.
The food at Al Ain was the standout meal during Elite Traveler's stay, with the meal focusing on pairing traditional Moroccan dishes such as harira, pastilla and mechoui alongside some of the region's finest wines (the grey wine being a particular highlight, especially as it is scarcely available outside of Morocco).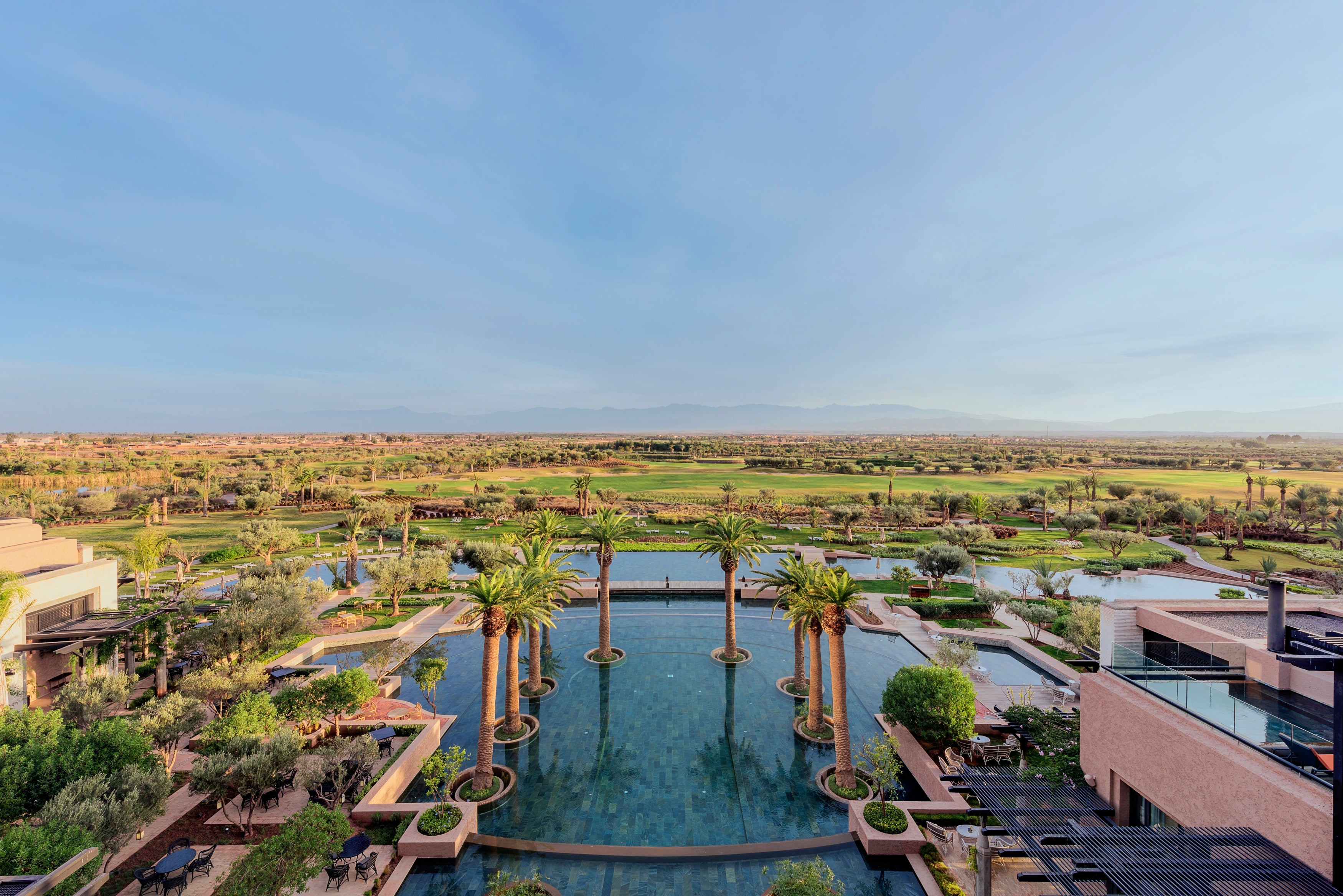 For those of you who are keen golfers, the hotel also offers a beautiful 18-hole golf course spread across 75 hectares of greenery with all 18 holes dipping and weaving between the hotel's fields of olive trees. The course is challenging enough for even the most experienced of golfers while maintaining a certain level of accessibility to ensure beginners are able to play a round or two.
Alongside the course the hotel also offers all the extras you'd expect from a hotel of this calibre, including a country club-esque club house, sports bar, massage rooms, fitness center, yoga room, swimming pool and of course driving range, putting green and short game area.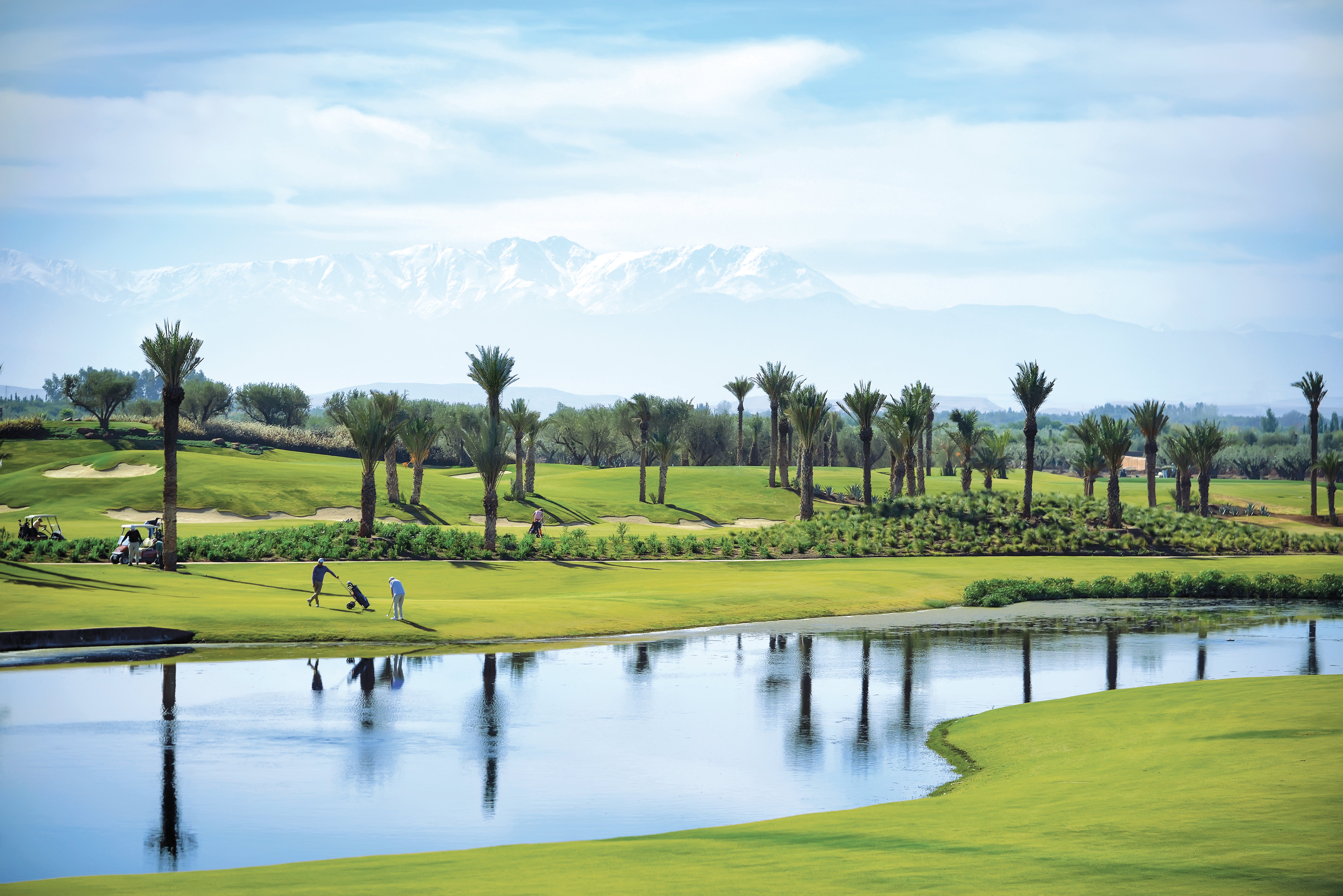 One of the hotel's most spectacular areas is their Elemis spa. Designed like a modern Riad, the spa utilises the region's resources, focusing on offering guests treatments using traditional Moroccan Argan oil, hot stone therapy and hamman rituals.
As any regular traveler will know, all of these amazing features and amenities aren't worth a thing if the hotel's service isn't up to scratch, and that is perhaps where the Fairmont Royal Palm excels the most. The staff's attention to detail and desire to offer guests the stay of a lifetime is phenomenal, so much so that Souda Benha from the hotel's front desk was awarded the Golden Keys (the top award for concierge services worldwide).
All in all you'd be hard pushed to find a hotel more suitable for any type of trip, with the Fairmont Royal Palm Marrakech really showing off the high level of luxury you'd expect from a Fairmont while giving guests a truly authentic Moroccan experience.
For more information please visit Fairmont.com