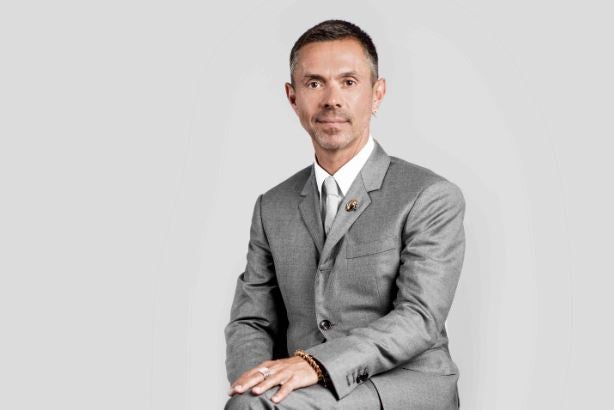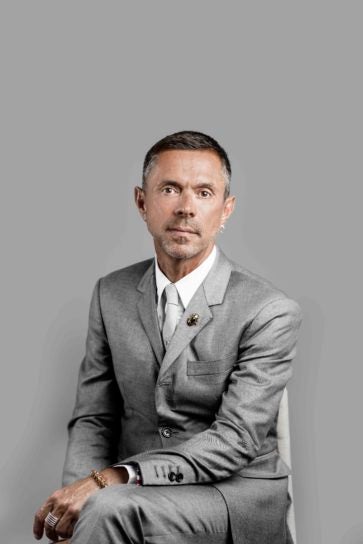 The internationally acclaimed jewelry designer Shaun Leane has long had prominence in the world of fashion and fine jeweler but this month marks the jeweler's first foray into architecture with the opening of 21 Young Street luxury apartments in London featuring a façade created by the designer – the largest scale commission in the UK to be undertaken by a jeweler.
Having previously spent almost two decades working alongside Alexander McQueen, Leane is accustomed to pushing the boundaries in medium and innovation but this project saw the designer working on a greater scale than ever before as he applied his creativity to an entirely new canvas.
Leane was commissioned by the developer Grainger Plc to design and realize the exterior metalwork of the new luxury apartment building just off Kensington Square, encompassing 36 balcony railings and the two gates leading into the residential development designed by Assael Architecture.
Proving this project's success, some of the metalwork Shaun Leane created is now due to go on permanent display at London's iconic V&A Museum, adding to the presence his work already has in the museum's jewelry and fashion collections.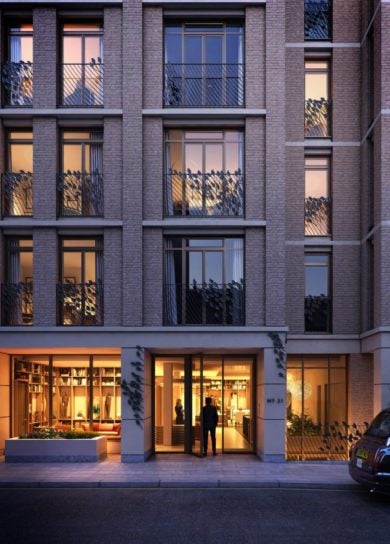 In his studio in West London, the designer talks to Elite Traveler about this ground-breaking project and the new journey of creativity it has sent him on.
"Grainger approached me through FutureCity, a company that marries artists with projects in the public realm," he begins. "It was FutureCity who suggested to Grainger that the metalwork for this building should be done by a jeweler. Lalique and other jewelers have decorated buildings for years – it's just metalwork that's taken to a different scale. The advantage of using a jeweler is the intricacy of design and different attention to detail."
"I come from a classical world and I am classically trained," he continues, "but by working with McQueen for 17 years, applying my skills to different mediums in fashion, I went from making tiaras to making skeleton corsets, totally breaking my comfort zone. Now I like applying my skills to new materials to collaborate with people in a different arena with different rules and regulations, and with different boundaries. And I'm always about pushing the boundaries. When I'm approached by a company (Leane's work has been used in product designer and he collaborated with Shiseido), I want to take them somewhere they've never been before. I loved working with Grainger because they were open to my ideas and completely trusted the vision."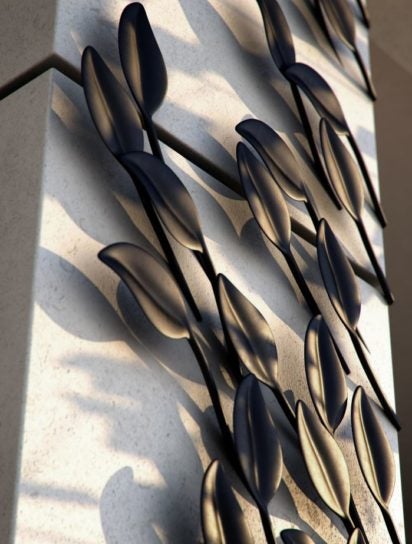 Talking about the process he goes through to create new work, Leane explains: "I've always worked the opposite way to other jewelers. For hundreds of years pieces of jewelry have been created around gemstones. Instead, I create a concept or motif first, then apply the materials that will portray it best. For me it's about creating the perfect object. I don't let myself be restricted by the stone or other materials. With this project, I knew I what I wanted to achieve with the piece, then the design just evolved."
Leane's final design takes inspiration from the old trees and dappled light of neighboring Kensington Square, incorporating thousands of different leaves. "The concept is inspired by the balance between nature and the architecture with wisteria growing across it," he says. "The project is bringing this inspiration into the street. It's really tactile. You want to touch it. And when the sun hits the building you get the pattern of the leaves and vines in the shadows on the floor inside. The piece has beautiful movement. With everything I create, I want it to inspire and take people on a positive journey. The way this piece moves across the building is so organic. There's a pattern of swirls in the leaves and vines, and every single one is handmade. When you look at it your eyes follow the way it climbs up the building. This fluid line runs throughout all of my work. It can be romantic, poetic, powerful and strong, but also challenging."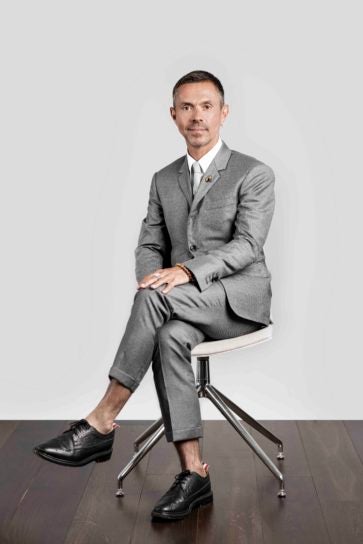 To bring a design of this scale to fruition, Leane worked with the award-winning metalwork foundry Chris Brammall who Leane says executed his design to perfection, soldering each of the individual leaves seamlessly. Testament to this sentiment is Leane's inspired plans for future design projects.
"I still create high-end jewelry but I like to apply the same skills to other arenas," he says, "I did it in fashion and achieved a lot. I was able to push the boundaries and question what jewelry is, how it's perceived, what materials it should be made of and how people should wear it. Now it's about evolving and moving on. Doing this one project has opened that up in architecture. I've been approached by a developer in China to do the artwork on 160 villas. And I've been approached by some galleries interested in representing me as a sculptor. My mind is filling with endless possibilities and now I have an amazing foundry who can execute my ideas perfectly."
"This is one of the largest scale projects a jeweler has done in the city," Leane enthuses before concluding: "To sit alongside companies like Lalique who apply their skills outside their usual medium is very rewarding and for it to be an accolade the V&A Museum decided to put on permanent display is a real honor."
shaunleane.com; 21youngstreet.com
Images of Shaun Leane © Ian Winstanley