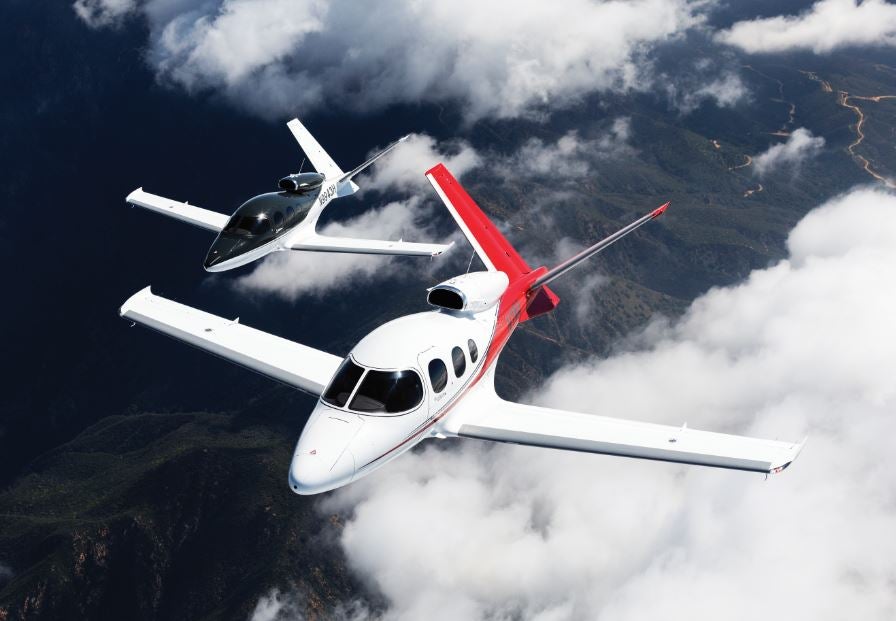 Forget piston engines, the world's first single turbine-engine jet is set to revolutionize personal aviation. And it's not a prototype with deliveries still years away—the first jets have already been delivered, and there is a waiting list of over 600. Walking onto the tarmac at Westchester County Airport, New York, there was no question which plane we were going to fly; the Cirrus Vision Jet looks like nothing else out there.
Once inside, I started the jet as easily as starting many of today's cars: with the push of a button. The flight deck looks radically different; it's more akin to a car's dashboard. Easy-to-read screens with the user-friendly Cirrus Perspective Touch system by Garmin make flying more simple by automating many of the plane's systems, and they include many safety features that prevent dangerous flying. The 14in-wide hi-res flight displays with three touchscreen controllers offer a wealth of information about the plane at a glance, and Synthetic Vision Technology shows what's up ahead—even if visibility is bad—so you're always aware of hazards.
If you're nervous about flying your family without a copilot and with only a single turbofan Williams International FJ33-5A jet engine, don't be. Every Cirrus plane comes with the added security of a CAPS parachute, which, in case of emergency, will safely stop the plane and gently float it to the ground at a speed of 25ft per second once deployed.
The goal of the Cirrus Vision Jet is to make flying in a personal aircraft a comfortable experience, and it's not just for those obsessed with aviation. To this end, you'll find USB chargers, headphone plug-ins for Sirius radio, optional entertainment system, cup holders and more. Thanks to its monocoque carbon fiber fuselage, which is ultra light and incredibly strong, Cirrus was able to use large windows on both the sides and front of the plane, providing outstanding visibility and making the cabin feel light and airy. It comfortably sits five adults and two children in luxurious leather seats that recline and are easy to move.
It's best suited for regional transportation, so whether you're flying between offices, on a golfing weekend hitting multiple courses, or flying to your second home, the Vision Jet—and you—can handle it.
The Cirrus Vision Jet in Numbers
6,000 lbs maximum take off weight
1,800 lb thrust
38.7 ft wingspan
4.1 ft cabin height
5.1 ft cabin width
300 KTAS max cruise speed
1,380 miles max range
Approximately $700 per hour operating costs
From $2.95m, contact Cirrus Aircraft, +1-218-529-7200, cirrusaircraft.com