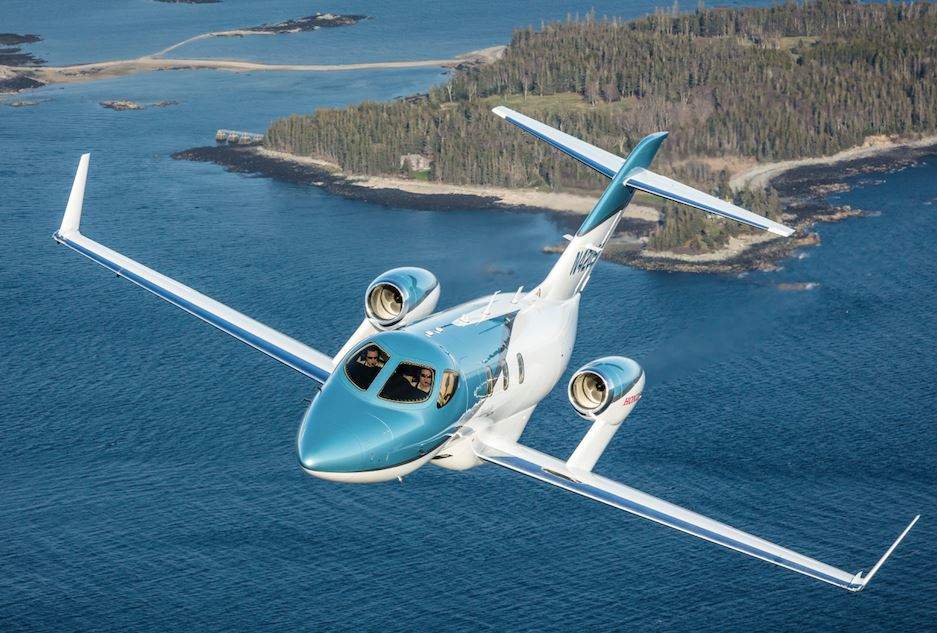 As the holiday season is fast approaching, there's no better time to invest in one of these family-friendly jets. Whether you're flying between states to visit relatives or going on a further-flung vacation, these aircraft can get you there.
HondaJet Elite
At this year's EBACE in Geneva, HondaJet (pictured above) revealed significant upgrades to its HA-420 HondaJet, just 30 months after the jet was first unveiled. Perfect for short-range flights, the HondaJet Elite has an auxiliary fuel tank, meaning its range has increased by 17 percent, allowing a range of 1,437 nautical miles—the furthest-flying aircraft in its class—but it's still fuel-efficient and emits fewer greenhouse gases than similarly sized aircraft. There are also a number of improvements to the cabin: a new engine inlet (for reduced high-frequency noise), a belted lavatory and a small galley with coffee machine. The jet is available in three new color schemes: Monarch Orange, Ruby Red and Ice Blue.
From $5.25m, hondajet.com
Gulfstream G500
If you're heading further afield, the Gulfstream G500 combines incredible speed with significant range —it can travel 4,400 nautical miles at Mach 0.85. With more time in the air, cabin comfort is a necessity. The G500 is large enough to carry 19 passengers and can sleep up to eight, and the 41-ft interior cabin can be designed to your specifications. There's also ample baggage space with fold-down shelving and space that can be configured for your ski gear, golf clubs or full-to-the-brim suitcases. The interior is pressurized to no more than 4,850ft, even at a maximum altitude of 51,000ft, and 100 percent fresh air is replenished every two minutes, meaning the dreaded effects of jet lag will be lessened so you and your family arrive feeling refreshed. The G500 was succeeded by the G750 in 2019.
From $75.7m, gulfstream.com
This story originally appeared in the September/October 2018 issue of Elite Traveler and was updated in November 2020.