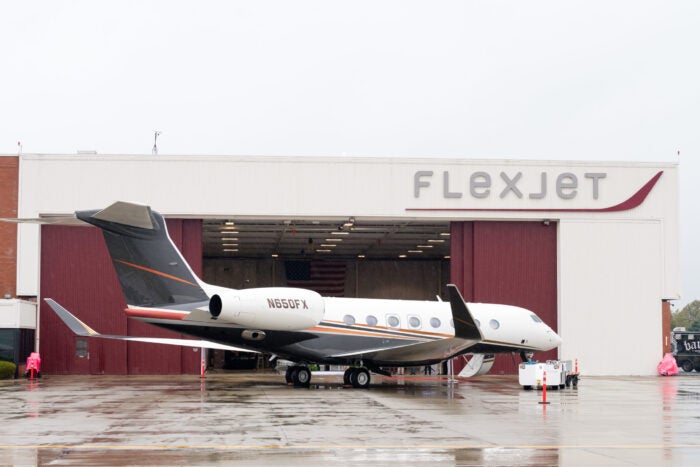 By Olivia Cuccaro
Friday marked an important occasion in Cleveland as Elite Traveler stood alongside members of the press and Flexjet employees to watch the stunning Gulfstream G650 land at Flexjet's corporate headquarters. As Gulfstream's exclusive North American partner for fractional ownership, the company unveiled the newest member of its private aircraft collection, and after being on board we can speak to its grandeur.
Designed for distance — an 8,056 statute mile range to be exact — the Gulfstream G650 will join the the ultra-long-range Global Express and large G450 in Flexjet's jet collection. Even from the outside, it's easy to see how it is the ideal aircraft for a far-flung journey. The G650's strikingly large windows are immediately noticeable, allowing for maximum natural light in the cabin. Its wings are designed to eliminate any interruptions in natural airflow, and Rolls-Royce BR725 AI-12 engines power it to its nonstop global range at impressive 561-mph cruising speed.
Stepping inside, the 8ft, 6in-wide cabin is spacious enough for 15 passengers to ride comfortably at a steady, low-altitude pressure. The elegant interior details of the G650 are more evocative of a hotel suite than a plane, with ergonomic seats in plush grey leather complementing inlaid wood accents, granite counters and lavish carpeting. Catering is served in Waterford crystal with Christofle silver from a full refreshment center, so you can dine while watching Satellite TV from the jet's plush couch.
As part of Flexjet's Red Label program, the G650 will fly with a dedicated crew who have a thorough knowledge of both the aircraft and its regular fliers. The fourth zone of the G650 is uniquely configured as the crew rest area to take full advantage of the jet's range.
The G650 arrives as one in a 50-aircraft order Flexjet has placed with Gulfstream, set to include the large-cabin G500 in 2018 as well. Having recently celebrated its 22nd anniversary, Flexjet continues to pride itself on providing members with some of the youngest aircrafts in the fractional ownership industry as well as access to nearly 5,000 airports across the US in as little as 10 hours' call out time.
"The capabilities of this aircraft are second to none," said Michael J Silvestro, CEO of Flexjet, when introducing the G650. "It's able to circumvent the globe with only one stop and really [serve] our customers in the comfort and convenience that they've come to expect in what we envisioned in our Red Label program."
For more information, please visit flexjet.com.
Image Credit: Jason Miller/AP Images for Flexjet
To stay up to date on the latest in aviation, be sure to read our story on the Cirrus Vision Jet from the July/August issue of Elite Traveler here.