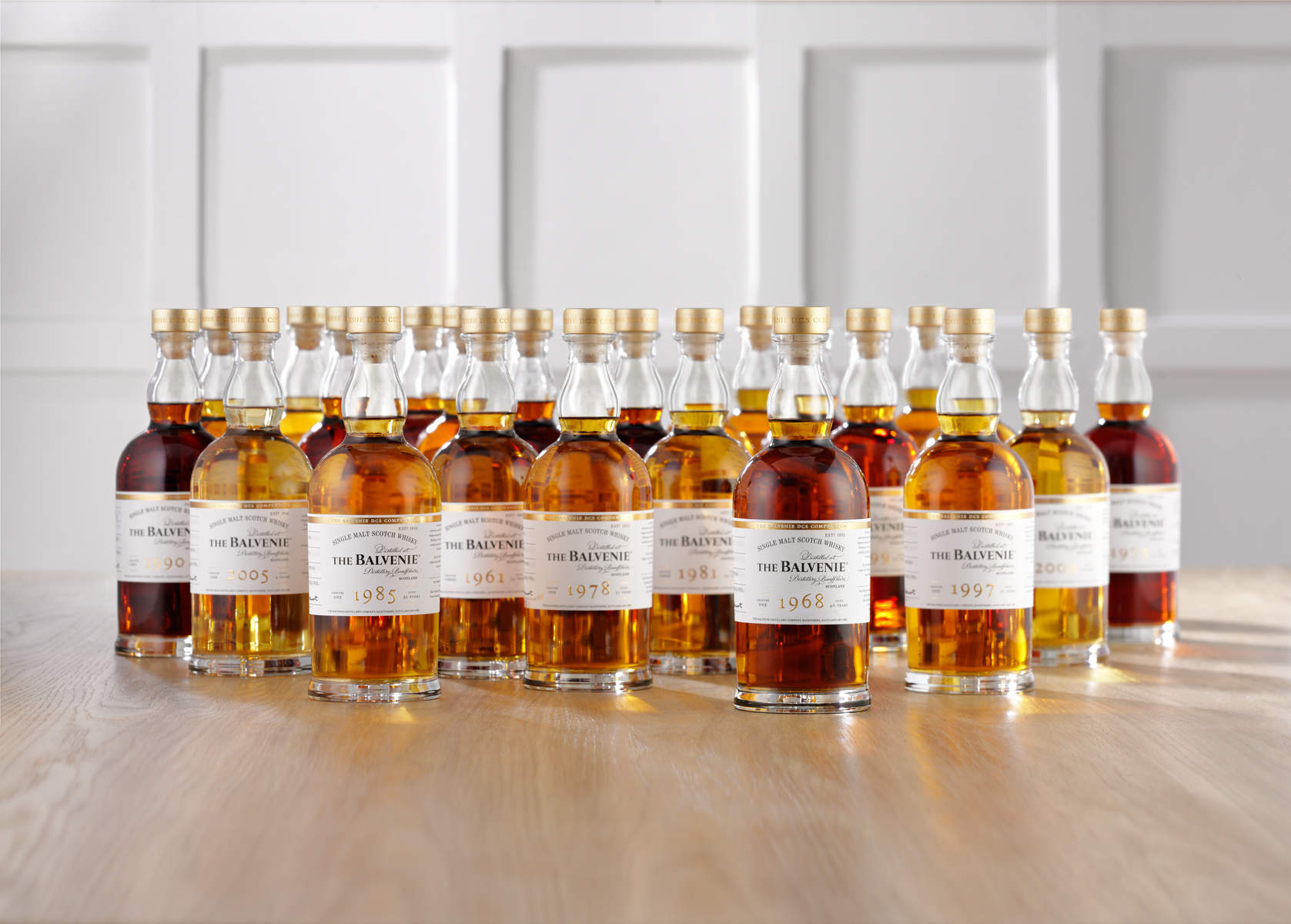 What's the story behind the exclusive $5,000 flight of whisky served at Four Seasons Hotel New York? By now, you may have heard the buzz from collectors and enthusiasts about The Balvenie DCS Compendium Chapter 3, a range of vintage single malts available to sample only at Manhattan's chic Ty Bar for $1,000 a Glencairn-glass sample. Produced by William Grant & Sons Ltd, The Balvenie was created by malt master David C Stewart (hence, the 'DCS') as a handcrafted whisky made with home-grown barley spread across a traditional malting floor which yields a rich, smooth and honeyed character. In honor of International Women's Day, Elite Traveler spoke to Gemma Paterson, East Coast ambassador for The Balvenie, who has traveled from Speyside to New York on her whisky journey with the luxury Scotch brand.
What's it like to be a woman working in the whisky industry?
When I was hired, I was the first woman to come on to The Balvenie ambassador team. We have a team of 11 globally, so it's a shift in the industry. For me, I think it makes things a bit more accessible to people and can be received better. It's easier to connect with people and build relationships sometimes. You're just one of the team. There are so many industries where it's very hard to be a woman, like politics or big corporations. We're lucky being in this one.
What do you love most about your job as an ambassador for The Balvenie?
My job is primarily making it accessible. I help people realize that they're not doing anything wrong. I can give tips on the best way to get the full range of flavor from your glass. It's just like anything. If you slow down and take your time, you'll appreciate it more and it will taste better. Whenever I do tastings, I tell people to block out my voice and think about all the different sensations and textures that you feel. It's like eating a meal and really tasting everything you're trying. It's being mindful about it, meditative. I used to be on the nosing panel at the distillery and doing that just takes you out of your head. You really focus on it. I like that aspect of it. It's so hard to say what I love the most, because the reason I love whisky is that you've got everything. You've got the nosing and tasting component, you've got all the history and heritage, the production. It's just everything.
Is there a common misconception you find when teaching people about whisky?
I think the biggest mistake people make is thinking that you have to drink whisky a certain way. I might suggest adding water, but guaranteed someone says, "I'm not going to add water to my 21-year-old Balvenie." If you spend time with [David C Stewart, The Balvenie malt master] in his lab, he's pretty much drinking two parts whisky and one part water, because water does help to open it up. It's the same with ice. I would never have ice with Scotch if I was nosing it and tasting it to get the complexity of the aroma and flavor. If you chill a good wine, you're not going to appreciate it because you just can't taste as much. It does have to be at the right temperature for you to get the full range and full experience. But, I appreciate that sometimes you just want whisky on ice. If it's 90 degrees outside, I'm not going to lie, I've definitely had it.
What has surprised you most in your career so far?
The thing that has surprised me the most is hearing people say they hate Scotch, and then having them try it and say it's good. I worked at the distillery for a few years where I had the job of introducing lots of people to our whiskies and to our distilleries. One of my favorite things is breaking down people's misconceptions of what they think they don't like. They don't come in with an open mind, but then you get through to them. It's the most rewarding part of the job, converting people to whisky drinkers. When people say, "I don't like Scotch," at Speyside alone there are more than 1,000 different variants from our distilleries. You've got everything from very light to super rich and heavy.
Do you have a favorite whisky cocktail?
If I was going to make a cocktail, I'd probably use The Balvenie 14 Year Old Caribbean Cask. It was finished in rum, which gives it a bit more sweetness and makes it more versatile. Keeping it simple with an old fashioned works well. I also like the 14 as a highball with soda and a little bit of orange citrus. I don't have a particularly sweet tooth, but drinking a highball is crisp and refreshing. It brings out something different in the whisky.
What's next for The Balvenie?
We recently launched a peated whisky called The Balvenie Peat Week that is 14 years old. Back in 2002 was the first year that we started processing a batch of peated malt at the distillery. We've done it every year since for one week of the year. It's really experimental. We had saved that stock and not done anything with it, so this is the first release and we'll be releasing it annually. It will be interesting to see how that liquid has progressed over time. We're also celebrating 25 years of The Balvenie DoubleWood 12 which is really exciting. We first launched this whisky on our centenary year. The hard thing with Scotch is consistency because every single cask is unique with its own flavor profile. The main role of the malt master is taking that unique product and creating a consistent one. It's definitely special to have 25 years of that.
For more information on The Balvenie and its latest expressions, please visit thebalvenie.com.