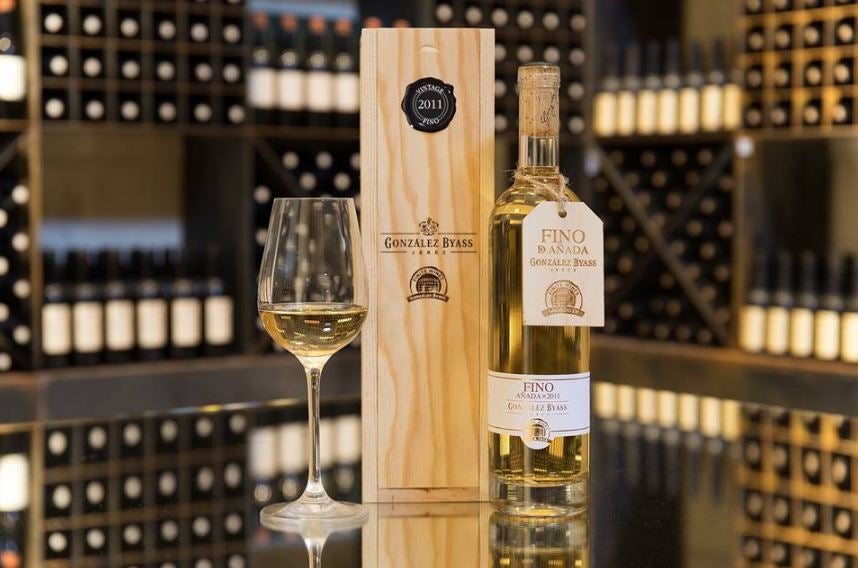 Tucked into Spain's Cadiz province, Jerez is a major draw for its rich history and cuisine, and a mecca for Andalusian culture—from flamenco dancing to equestrian sport—but one of the region's greatest hallmarks is its claim to Spain's celebrated fortified wine, sherry. Step into atmospheric bodegas, stroll through vineyards and pair some of these local wines with tapas.
It's the region's hot dry summers and chalky white soil that give Jerez such ideal terroir for Palamino grapes, resulting in the successful production of this unique wine. Each vineyard's microclimate then gives the sherry its unique characteristics.
Not only do local tours give you the chance to taste these fortified wines, they also provide insight into the culture and customs surrounding sherry's production. Easily accessible, many of the wineries offering tours are located within Jerez de la Frontera, the region's historic and culturally rich city. This means you can go from peering up at the domed ceiling of Jerez de la Frontera Cathedral to sipping sherry from the barrel in cavernous wineries, known as bodegas, that date back centuries.
Gonzales Byass, dubbed the cathedral of wine, is one of the most prominent. It was established in 1835 and has since established legendary status here, remaining with the same family it was founded by. The bodega's most famous creation is its fino sherry Tío Pepe, which has taken the world by storm. There are now Gonzales Byass wineries across Spain, but the Tío Pepe bodega in Jerez de la Frontera is the famous sherry's home. The bodega offers winery tours with five or nine sherry tastings, tastings of five wines with tapas pairing, bicycle tours, and winery tours with lunch or dinner. The deluxe tour gives you access to the company's 16th-century archives, too, giving insight into the origins of sherry with tastings directly from the cask.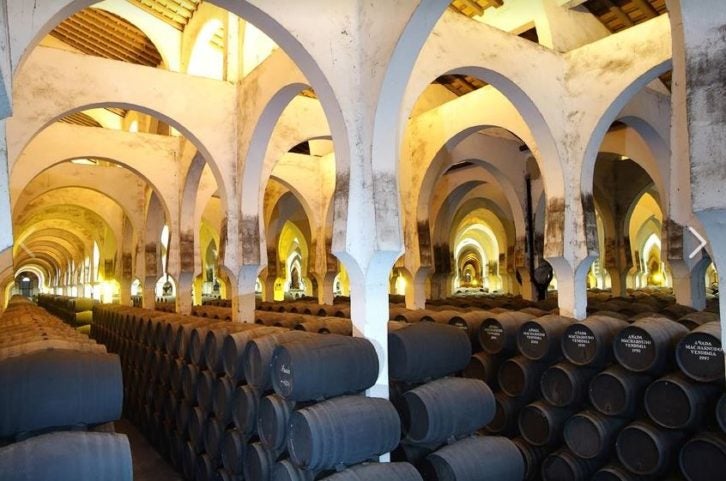 The city's oldest bodega, which has a number of sites, was established in 1730; Fundador Wineries feature some of the city's most impressive architecture, with a collection of buildings reflecting the winery's storied past. Step inside a 16th-century former convent to see barrels stacked beneath sweeping arches, sit out on the patio that was once the cloister of the convent and be a part of a series of tours. Go for a sherry and brandy tasting (while sherry is fortified wine, brand is distilled and aged), pair sherry with chocolate and cheese, or arrange a visit to the vineyard, El Majuelo.
To pair your sherry with tapas and live flamenco, call into one of the town's many tabancos. Among the best known is Tabanco San Pablo. Founded in 1934, this is one of the town's oldest tabancos and one that still manages to draw in a crowd. The 1925-founded sherry and tapas spot Tabanco El Pasaje is also legendary. Come for the lively flamenco shows.
With this wealth of bodegas and tabancos, and surrounding vineyards, you can get a taste of sherry in Jerez at any time of the year, but if you really want to see Jerez de la Frontera at its most vibrant, visit during the annual harvest festival, Fiestas de la Vendimia. You can be a part of this celebration of sherry, horses and flamenco as it unfolds each year in September.
Images: Top © Turismo Jerez; Middle © Tio Pepe; Bottom © Turismo Jerez