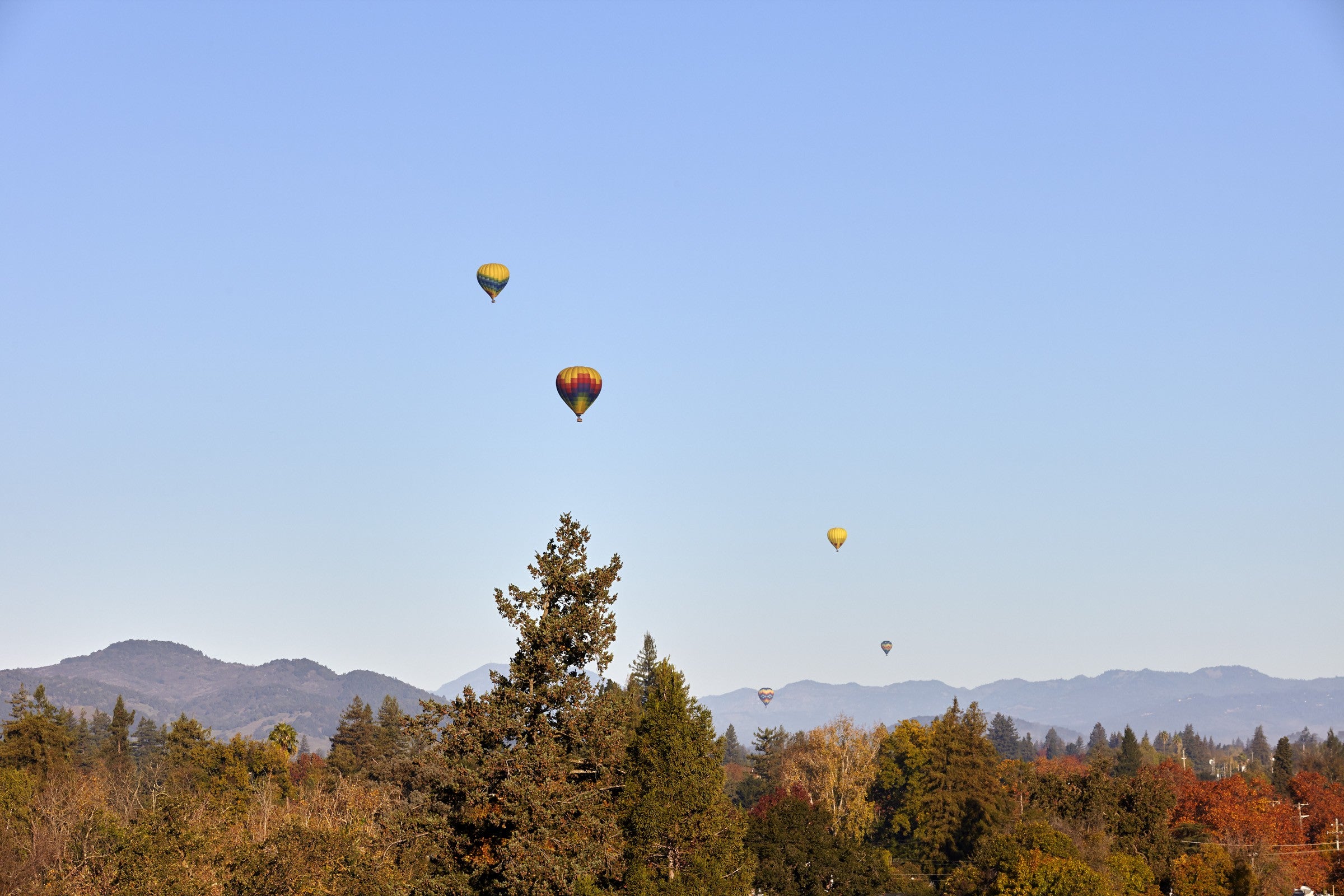 By Olivia Cuccaro
Just north of bustling San Francisco, California's premier wine region awaits ready to present world-class reds and alluring outdoor activities for the discerning traveler. Grapes ripen on the vine and temperatures are mild as the harvest sets in from late August to October, but Napa Valley is so much more than its 400 wineries. A glass of full-bodied regional Cabernet Sauvignon is just the beginning of what it has to offer — luxury hotels, decadent spas and Michelin-starred restaurants are all part of the true Napa Valley experience. Whether it's savoring the Yountville cuisine scene, exploring charming downtown St Helena or admiring the natural beauty of Calistoga, Elite Traveler has the guide for a perfect Napa Valley getaway.
Where to Stay
Calistoga Ranch, Auberge Resorts Collection
Secluded in a private canyon, Calistoga Ranch is an Upper Napa Valley sanctuary on 157 acres of picturesque hiking trails crisscrossed by flowing creeks. The 50-room luxury resort is family- and pet-friendly while maintaining the luxurious amenities associated with the region, such as fitness classes and tailor made mud treatments at the Calistoga Ranch Spa. While the on-property vineyard and farm-to-table cuisine at The Lakehouse beckon you to stay, guests can explore Napa Valley outside the resort with complimentary use of a Mercedes-Benz.
Top Suite: Estate Lodge
For complete privacy, pick the the 2,400 sq ft Estate Lodge, which sits peacefully within the natural brush of the Napa forest. Against a mountain backdrop, the lodge features two king-size beds, one queen sofa bed, two full bathrooms, private outdoor hot tub and concierge service. From $3,255 per night.
Calistoga Ranch, Auberge Resorts Collection is located at 580 Lommel Rd, Calistoga, CA 94515. For booking and more information, please visit calistogaranch.aubergeresorts.com or contact +1 855 942 4220.
Bardessono
In Yountville, Bardessono puts environmental initiatives at the forefront of the hotel experience without compromising on luxury. From the use of salvaged trees in the hotel's decor to the organic products incorporated into treatments at B Spa, a stay here is as green as it is sumptuous. Savor seasonal (and eco-conscious) fare at Bardessono's own Lucy Restaurant & Bar, or venture to Yountville's myriad fine dining establishments in a complimentary 2015 Lexus RX 450H or 2015 Lexus GS 450H Sedan.
Top Suite: Tufa Suite
At 750 sq ft, the Tufa Suite is an ultimate relaxation haven designed to serve as both a lavish accommodation and a private spa. The suite comprises a king-size bed with organic linens, 200 sq ft bathroom with indoor dual shower-steam rooms, outdoor shower, fireplace and private courtyard. With a massage table and soaking tub also included, guests can enjoy personalized spa treatments in the comfort of their suite. From $1,200 per night.
Bardessono is located at 6526 Yount St, Yountville, CA 94599. For booking and more information, please visit bardessono.com or contact guestservices@bardessono.com, +1 707 204 6000.
Auberge du Soleil
Auberge du Soleil sits within a sun-soaked, 33-acre olive grove in Rutherford Hill. It encapsulates casual Californian elegance with a touch of Provencal charm. The Restaurant at Auberge du Soleil is a Michelin-starred destination in itself, with Executive Chef Robert Curry offering an exquisite six-course tasting menu accompanied by a 15,000-bottle wine list. Auberge's Bistro Bar & Grill offers a more laid-back approach to dining with breathtaking views from a wraparound deck, perfect for sunset cocktails before tomorrow's Purification Ritual at Auberge du Soleil Spa.
Top Suite: Private Maison Loire
Spread out over 1,800 sq ft is the expansive and exclusive Private Maison Loire. With panoramic views of Napa Valley, the Maison includes a king-size master bedroom with fireplace and sitting area, master bathroom with sculptural tub, steam shower for two, double sink, dressing vanity, walk-in closet, living room and dining area. Get in shape with your private fitness studio, or look out over the resort from a trellised terrace with French doors. Price on request.
Auberge du Soleil is located at 180 Rutherford Hill Rd, Rutherford, CA 94573. For booking and more information, please visit aubergedusoleil.aubergeresorts.com or contact +1 707 963 1211.
Castello di Marco
If you'd prefer your own elegant chateau to a top suite, Luxury Retreats offers Castello di Marco as the ideal Napa Valley rental home. Boasting five bedrooms and five bathrooms, this generously-sized property is tucked into Napa's rolling hills and offers a taste of Tuscany. Castello di Marco also features a grand terrace, saltwater infinity pool, hot tub, barbecue, outdoor fireplace, living room, gourmet kitchen with breakfast nook and formal dining area for eight. From $3,500 per night.
For more booking and more information, please visit luxuryretreats.com or contact +1 877 475 4183.
Coming Soon
If you can't make the trip to Napa Valley for this year's harvest, be sure to look out for these new luxury properties opening soon for your next trip.
Vintage House at The Estate Yountville
Set to open in late summer 2017, Vintage House at The Estate Yountville will be a modern retreat for elite Napa Valley visitors. Styled in a contemporary fashion, Vintage House overlooks the stunning Mayacama Mountain range and offers luxury accommodations like king-size Loft Suites with private balconies as well as ESPA treatments from The Spa at The Estate.
Vintage House at The Estate Yountville is located at 6539 Washington Street, Yountville, CA 94599. For booking and more information, please visit vintagehouse.com or contact 707-944-1112.
Archer Hotel Napa
In Downtown Napa, Archer Hotel will begin accepting reservations for November 1, 2017. With just 183 guest rooms, the luxury boutique hotel will include refined Archer's Dens with private balconies, fireplaces, massage tables and sleek wood accents. Dining on the property will be done at a Charlie Palmer Steak outpost, though the property is just is a stone's throw from the area's many restaurants, shops and live entertainment venues.
Archer Hotel Napa is located at 1230 1st Street, Napa, CA 94559. For booking and more information, please visit archerhotel.com or contact napa@archerhotel.com, +1 707 690 9800.
Four Seasons Resort & Private Residences
Looking ahead to 2019, Four Seasons will open a Four Seasons Calistoga Resort and Private Residences on the northern end of Napa Valley off Silverado Trail. Plans reveal a winery and vineyard producing Cabernet Sauvignon onsite as well as 20 private villas with two full master bedrooms and private terraces overlooking California wine country.
Four Seasons Resort & Private Residences Napa Valley is located at 1334-B Lincoln Avenue, Calistoga, CA 94515. For booking and more information, please visit napaluxuryliving.com or contact +1 707 637 6123.
Next: Where to Dine in Napa Valley
Where to Dine
The Restaurant at Meadowood
Landing the eighth spot in the Elite Traveler Top 100 Restaurants in the World for 2017, The Restaurant at Meadowood in St Helena is one the Napa Valley's most revered restaurants. The restaurant has earned three Michelin stars for its modern American cuisine paired with wines from the Napa region and beyond. Ingredients are sourced from the restaurant's on-site culinary garden which grows seasonal produce that Chef Christopher Kostow incorporates into his award-winning dishes like the signature borage and oyster leaf in a mignonette of fermented turnip and turnip juice. While its culinary finesse is certainly a highlight, Meadowood is also a luxury hotel with lavish lodgings including the Estate Suite, which was recognized in the Elite Traveler Top 100 Suites Gourmand category, as well as Meadowood Spa which features a culinary menu inspired by the natural treatments. Guests can savor cress, romaine and kale with dungeness crab, meyer lemon and ginseng in the comfort of their spa suite to bring a fine-dining experience to their relaxing day.
The Restaurant at Meadowood is located at 900 Meadowood Lane, St Helena, CA 94574. For booking and more information, please visit therestaurantatmeadowood.com or contact reservations@therestaurantatmeadowood.com, +1 707 967 1205.
The French Laundry
From renowned Chef Thomas Keller, The French Laundry in Yountville is another Elite Traveler reader favorite, ranking twenty-fifth in this year's Top 100 Restaurants in the World. Perhaps best known for its Jacobsen Orchard mulberries dish, the three-Michelin-starred French Laundry offers two tasting menus: chef's tasting menu and tasting of vegetables. To keep guests on their toes, the menus change daily and no single ingredient is ever repeated throughout the meal, making the sommeliers on hand essential to creating the perfect wine pairing for your meal. For exceptional French bistro fare, be sure to check out The French Laundry's one-Michelin-starred sister restaurant, Bouchon, just down the street. Dine on the patio for a beautiful view of Yountville complemented by a raw bar, seasonal dishes and staples like roast chicken or trout amandine.
The French Laundry is located at 6640 Washington Street, Yountville, CA 94599. For booking and more information, please visit thomaskeller.com or contact +1 707 944 2380.
Morimoto Napa
If sushi is your speed, Morimoto Napa is the epitome of fine Japanese dining in the region. Its namesake, Chef Masaharu Morimoto, gained prominence as a contestant on the TV show Iron Chef after working as part of the original Nobu restaurant team. At Morimoto Napa, neutral colors and white oak accents create a zen-like atmosphere for enjoying the comprehensive Morimoto Omakase tasting menu. Entrées include innovative versions of classic Japanese dishes such as duck meatball soup with duck confit fried riced in gooseberry compote, seafood toban yaki, as well as a variety of steaks, sushi, sashimi and maki. Try the chef's sushi combination or take your pick from the caviar portion of the sushi/sashimi menu. For a break from the wine focus of Napa Valley, Morimoto offers Momosan Sake Bar where guests can sample a flight of the spirit accompanied by a Japanese history lesson.
Morimoto Napa is located at 610 Main Street, Napa, CA 94559. For booking and more information, please morimotonapa.com or contact info@morimotonapa.com, +1 707 252 1600.
Press
Warm and inviting, Press marries agricultural tradition with understated luxury in this farmhouse-style restaurant. Enveloped in natural light from the custom greenhouse paneling, guests can sit back in sumptuous leather chairs as sommeliers retrieve wines — exclusively from Napa Valley — on library ladders. A standout bottle of California red will be paired with comfort cuisine sourced from Press's two private gardens as well as from local farmers and markets. The menu includes steaks from the almond and cherry wood grill as well as the favorite Fulton Farms whole organic free range chicken for two. For a bit of everything, order the chef's tasting menu with wine pairing to enjoy by the crackling fireplace.
Press is located at 587 St Helena Highway, St Helena, CA 94574. For booking and more information, please visit pressnapavalley.com or contact reservations@pressnapavalley.com, +1 707 967 0550.
La Toque
Sophisticated La Toque restaurant holds a Michelin star for its three nightly menus and expert wine pairings. The core menu offers a selection of dishes with a wine selection, such as prime New York stip loin with 2004 Cabernet Sauvignon from Neal Family Vineyards, and pan-seared sea scallop with 2013 Meursault from Christian Bellang & Fils. Create your own four- or five-course tasting menu, or opt for the chef's table tasting menu for nine courses of savory meat, seafood and cheese. For the herbivores, a vegetable tasting menu serves six courses including dessert.
La Toque is located at 1314 McKinstry Street, Napa, CA 94559. For booking and more information, please visit latoque.com or contact megan@latoque.com, +1 707 257 5157.
Next: Where to Relax in Napa Valley
Where to Relax
Meritage Spa Terra
Head 40ft underground to access the tranquil Estate Cave at The Meritage Resort and Spa. Using ESPA products, the 22,000 sq ft spa offers massages, body treatments and skin care that incorporate Napa's  elements. For a bit of wine country-inspired relaxation, the 50-minute Uncork treatment begins with a grape seed scrub followed by a mineral and antioxidant rich wine and rosehip mud wrap, and ending with cabernet grapeseed lotion. A romantic choice is the Couple's Escape that features a soothing soak for two in a candlelit treatment room followed by a full-body massage using the organic aromatherapy body oil. When you're through, enjoy champagne and chocolates tubside with your loved one. Make a day of it and rent a cabana by the heated swimming pool or take a refreshing hike through the resort's nine acres of hillside vineyards.
Meritage Resort & Spa is located at 875 Bordeaux Way, Napa, CA 94558. For booking and more information, please visit meritagecollection.com or contact spaconcierge@meritageresort.com, +1 707 251 1900.
Carneros Spa
Set in the serenity of a Napa Valley vineyard, Carneros Spa focuses on healing through nature to offer revitalizing treatments to guests. Of the many massages available, the signature Lavender & Vine Swedish massage most perfectly defines Napa: organic lavender is integrated into a medium-pressure massage for a result of overall balance. You can customize your manicure and pedicure by choosing from a range of organic essential oils to blend for a personalized service, then sweat it out at the 3,000 sq ft fitness center — complete with strength training, yoga and boot camps. Outside, guests can embark on a 60-minute vineyard run with Carneros instructors before finding their center with a guided meditation class. To combine the best of the spa with an exclusive Carneros experience for six, book the Wine Country Home Package which includes a stay in a private 2,400 sq ft three-bedroom home with amenities including an exclusive caviar and champagne tasting on your sundeck, a cooking class and a couple's massage
Carneros Resort & Spa is located at 4048 Sonoma Highway, Napa, CA 94559. For booking and more information, please visit carnerosresort.com or contact +1 707 299 4850.
Spa Solage
The eco-friendly Spa Solage is the ideal place to get in touch with the area's natural beauty through Calistoga mud and mineral water therapies. The Starlight at the Bathhouse treatment lets couples spend an evening under the stars with the spa's bathhouse all to themselves, soaking in the geothermal pool that is warmed to body temperature with a sparkling wine toast and dessert to share. The Solage Signature Mudslide comprises a three-part detoxifying treatment — mud, waters, and rest — to restore guests' state of wellness with mineral-enriched mud, heated soaking tubs and state-of-the-art sound chairs. An exclusive just for him menu caters to male guests with services like a gentleman's facial and Stressless massage. The spa also features an array of massages, body treatments, skin care, fitness classes and wellness packages for you to enjoy before reserving a table at the property's Michelin-starred Solbar restaurant.
Solage, Auberge Resorts Collection is located at 755 Silverado Trail, Calistoga, CA 94515. For booking and more information, please visit solage.aubergeresorts.com or contact sol.spa@aubergeresorts.com, +1 855 790 6023.
Atrio at Las Alcobas
Unveiled in April 2017, Atrio at Las Alcobas provides intimate tranquility in its 3,500 sq ft setting. The cleverly-named Un Wine ritual begins with a full body exfoliation featuring Naturopathica espresso coffee scrub before a vigorous massage designed to ease the symptoms of a day at the vineyards. While Napa Valley details are present, the spa menu here ultimately draws on ancient Asian therapies, some dating back as far as 2,000 years. Massages inspired by traditions from India, China and Thailand relax the muscles, with reflexology and facials also available to enhance your wellness experience. The spa welcomes guests with an apothecary-style blending bar to create a personalized aromatherapy system for each guest to use during a massage and to take home as a gift. In-suite cocoons allow you to immerse yourself fully in relaxation with a hideaway of private yoga, bath, fresh scrub, in-suite massage and three-course meal with wine pairing. If you're staying for the weekend, the customized weekend retreat includes a daily foot massage as well as daily massage of choice, custom daily bath, evening meditation and optional food and beverage pairing.
Las Alcobas is located at 1915 Main Street, St Helena, CA, 94574. For booking and more information, please visit lasalcobasnapavalley.com or contact +1 707 963 7000.
Next: Vineyards to Visit in Napa Valley
Vineyards to Visit
B Cellars
In 2003, B Cellars was born from a desire to create artisan wines with distinct flavors achieved by blending complementary varietals. The B Cellars name and logo represent "brix," a viticultural term defining the optimal sugar/alcohol content in grape juice indicative of a wine's potential. Napa's B Cellars winery invites guests on an Oakville Trek consisting of a tour through the gardens, production facilities and wine caves before enjoying a wine and food pairing prepared by the chef de cuisine.
B Cellars is located at 703 Oakville Cross Road, Oakville, CA 94562. For more information, please visit bcellars.com or contact +1 707 709 8787.
Caldwell Vineyard
Caldwell Vineyard in Napa is unique for its on-site barrel cooperage — only seven other wineries in the world have one. Known for introducing the Bordeaux root stock and grapevine clones to California, the vineyard currently makes more than 23 wines for the Caldwell Signature Collection, Varietal Collection, Rocket Science and the Society of Smugglers. Caldwell hosts a small number of private tastings by appointment inside the property's 20,000 sq ft cave, which offer a chance to meet founder John Caldwell himself.
Caldwell Vineyard is located at 270 Kruezer Lane, Napa, CA 94559. For more information, please visit caldwellvineyard.com or contact +1 707 255 1294.
Opus One
In St Helena, Opus One winery was founded by Baron Philippe de Rothschild of Chateau Mouton Rothschild in Bordeaux and Napa Valley vintner Robert Mondavi. Surrounded by greenery, the estate is formed from four vineyard parcels of five traditional Bordeaux grape varietals. The Library Tour & Tasting is the most in-depth exploration that Opus One has to offer, taking guests through the winery before a formal seated tasting of two Opus One vintages.
Opus One is located at 1144 Oakville Cross Road, Oakville, CA 94562. For more information, please visit opusonewinery.com or contact +1 707 944 9442.
Palmaz Vineyards
For two generations, Palmaz Vineyards has been producing modern vintages on its 600-acre estate with 64 acres of vineyards. The winery is built into an 18-story cavern in the flank of picturesque Mount George and utilizes sustainable techniques to bring a farming approach to the winemaking process. On three different elevations, the vineyards yield Cabernet Sauvignon, Riesling and Chardonnay, among other wines. Private tours include a walk through of the cave and look into Palmaz Vineyards' winemaking methods, while a tasting consists of wines paired with small hors d'oeuvres.
Palmaz Vineyards is located at 4029 Hagen Road, Napa, CA 94558. For more information, please visit palmazvineyards.com or contact contactus@palmazvineyards.com, +1 707 226 5587.
Inglenook
Purchased by Francis and Eleanor Coppola in 1975, Inglenook provides a variety of private experiences for wine enthusiasts. The Private Elevage Experience delves into the terroir and vineyard-to-bottle experience to include a barrel tasting in a private cellar and personal blending session as well as a vintage Rubicon and cheese pairing. The Private Salon Tasting Experience takes this a step further with a menu created by Chef Alex in the estate's Daniel Salon.
Inglenook is located at 1991 St Helena Highway, Rutherford, CA 94573. For more information, please visit inglenook.com or contact reservations@inglenook.com, +1 707 968 1100.
Off the Vine
Beer Breweries
When you're just about wined out, opt for a different kind of tasting at one of Napa Valley's many breweries. At Calistoga Inn, Napa Valley Brewing Company serves four principal beers as well as seasonal brews like its Belgian Pale Ale. In Escondido, Stone Brewing boasts a gorgeous open-air patio and organic beer garden, while Napa's Fieldwork Brewing is located in the heart of the trendy Oxbow Public Market.
Golf
With California's warm climate and bountiful greenery, golf is a popular activity in the Napa Valley area. At Silverado Resort & Spa, guests and members can enjoy access to two championship golf courses and work on their game with the Johnny Miller Golf Academy. The 150-acre Chardonnay Golf Club winds through Chardonnay and Merlot vineyards, and Eagle Vines' 18-hole, par 72 golf course offers a beautiful, uninterrupted landscape.
Cooking Classes
You've tried the wine, now learn to cook the food that pairs with it. The CIA at Copia offers interactive demonstrations on how food interacts with wine, hands-on cooking and baking classes, and can arrange private courses as well.
Hot Air Balloon Rides
Located in Yountville, Napa Valley Aloft takes visitors up up and away in a whimsical hot air balloon. Gain a stunning new perspective on Napa Valley with a private flight for two or four passengers, complete with a champagne breakfast post-flight.
Tours & Luxury Car Rentals
Take a classic car for a spin around wine country with Vintage Auto Rentals. Cruise with the top down in a 1979 Mercedes-Benz 450SL or opt for old school with a beautiful 1969 Jaguar E-Type, an Elite Traveler Top Cars pick in the July/August 2017 issue.
If you'd prefer sit back and let someone else take the wheel, Magnum Wine Tours has an impressive fleet of high-end cars and limos to chauffeur you around the region. Friendly guides will ensure you get the full Napa Valley experience, whether in a Bentley Flying Spur or Mercedes Sprinter.
See the sights and get in a workout with a bike tour of Napa and nearby Sonoma from DuVine Cycling + Adventure Co. You'll meet the producers of Napa's best local beer and olive oil, picnic on Tomales Bay oysters and dine in Healdsburg, all while biking past the spectacular Mayacamas Mountains and California redwood forests.