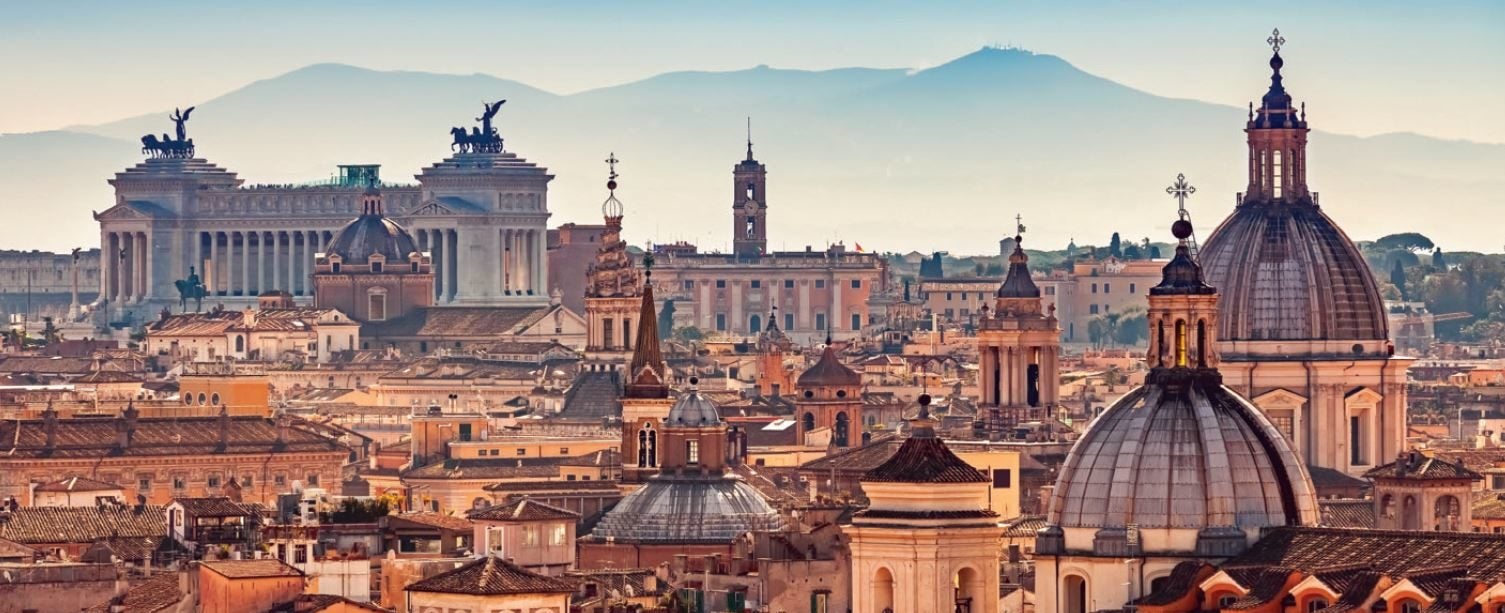 By Alix O'Neill
This story originally appeared in the July/August 2017 issue of Elite Traveler.
Crumbling ancient ruins and immaculately preserved Renaissance masterpieces, quiet cobbled piazzas and Vespa drivers spewing out colorful insults, hot asphalt and cold gelato — few places are as inherently contradictory as Rome. The Italian capital is a great, big, all-consuming love affair. There are times when you'll need space, but it won't be long before you're under its spell again. But that's the charm of the city—there's a harmony to its chaos. Aside from Rome's obvious historic attractions, a cool contemporary art and gastronomy scene is emerging. From speakeasy joints serving up potent vermouth and gin concoctions to the ultra-modern MAXXI (National Museum of 21st Century Arts) designed by the late Zaha Hadid, the Eternal City is certainly living up to its name.
Top Restaurants
Chef Giulio Terrinoni's first restaurant Per Me (giulioterrinoni.it) gained a Michelin star in 2016, less than a year after opening, for his creative approach to fish. Sebastiano Lombardi, the head concierge at Hotel de Russie, recommends the seafood carbonara.
Celebrity photos cover the walls at Antica Pesa (anticapesa.it) and this Trastevere favorite has been open since 1922. Everyone from Gwyneth Paltrow to Daniel Craig has tucked into the moreish signature dishes, which include cacio e pepe pasta and roast pork and mozzarella mille-feuille.
Rome's only three-Michelin-starred restaurant,the Cavalieri hotel's crowning jewel, La Pergola (romecavalieri.com/la-pergola), offers a gastronomic experience like no other, from the lavishly decorated dining room overlooking the Vatican to the inventive reimagining of classic Mediterranean dishes by culinary genius Heinz Beck.
Top Suites
JK Master Room
JK Place Roma

There are larger suites in Rome, but only a handful are as chic as this top hotel's finest offering, just a short stroll from the Spanish Steps. Beautifully crafted furniture, including a canopied rosewood bed, an eclectic mix of antique and contemporary pieces and Italian marble bathrooms sit happily alongside modern comforts such as iPad/iPod docking stations and LED satellite TV in this elegant space.
From $1,538 per night, contact Samuel Porreca, manager, +39 069 826 34, jkroma.com
Nijinsky Suite
Hotel de Russie
Overlooking the Villa Borghese gardens, this capacious and contemporary residence boasts a library, powder room, sitting room, kitchen, bar and dining room seating 10 guests. The striking Carrara marble bathroom decorated with Bisazza mosaics comes with a steam bath and generous tub. Included in your stay is a personalized experience—choose from a walking or street-food tour, restorative massage or the services of a personal shopper.
From $8,430 per night, contact Sebastiano Lombardi, head concierge, slombardi@roccofortehotels.com, roccofortehotels.com
[See also: Top suites in the world – Suite de la Ville, Hotel de la Ville, Rome]
Hassler Penthouse
Hassler
You'll find every manner of luxury in this three-bedroom 4,300 sq ft suite, from a personal butler and private elevator access to a grand piano, cocktail bar and a kitchen equipped with custom-designed fine bone china. But it's the views that set the Hassler Penthouse apart from its rivals. Two panoramic terraces in Travertine marble overlook Rome's majestic skyline, from the Spanish Steps to the famed Via dei Condotti.
$16,000 per night, contact Daniele Fabrizi, concierge, concierge@hotelhassler.it, hotelhasslerroma.com
Bellavista Penthouse Suite
Hotel Eden

Full of classic Italian style, the Hotel Eden has recently undergone a 17-month long renovation and maintains a homey yet luxurious ambiance. Located in the Old City of Rome, the hotel is a stroll away from the Spanish Steps and Villa Borghese, and the Bellavista Penthouse offers marvelous views over these famous sites with floor-to-ceiling windows, or enjoy the view from the oversize circular bath that overlooks Rome and the private gardens of Villa Aurora.
From $13,000 per night, contact Alessandro Arciola, chief concierge, info.her@dorchestercollection.com, +390 647 8121, dorchestercollection.com
Take Three/// Must Sees
Domus Aurea
The emperor Nero's villa reopened to the public in 2014, following extensive restorations. Fully guided tours are recommended and are available on weekends.
Auditorium Parco Della Musica
A grand architectural feat, this striking formation of three armadillo-shaped auditoriums play host to concerts and other performances. There's also an archaeological museum, art gallery and an open-air amphitheatre. auditorium.com
Monti
One of most charming neighborhoods in the centro storico district,bohemian Monti is where you'll find Rome's creative set. It's all about gourmet street food, one-of-a-kind stores and alfresco cafe culture here. Monti's epicenter is Via del Boschetto, a cobbled lane lined with vintage boutiques, alternative fashion labels and laid-back wine bars. Perfect for whiling away a lazy afternoon.
Where to Get…
The drink Try the Tea Jinzu Fizz at Le Asiatique. It's a remake of the classic gin fizz with Jinzu gin, lemon juice, white tea, orange flowers, cardamom, karkadé and soda. leasiatique.it
The dish Benito e Gilberto is a great, informal trattoria on Via del Falco 19, in the heart of the Borgo Pio area. Fish is its specialty, and you'll fall in love with the pasta with beans and seafood.
The look Antica Manifattura Cappelli, on Via degli Scipioni 46, is one of the oldest hat shops in Rome, and the reason for its lasting appeal is clear from a single visit. If you're looking to purchase a piece of headwear that will last for years and never risk going out of style, this is the place to go. Each and every hat is handmade by master milliners, who use age-old methods to create a range of modern, historic and custom headwear for a variety of occasions.