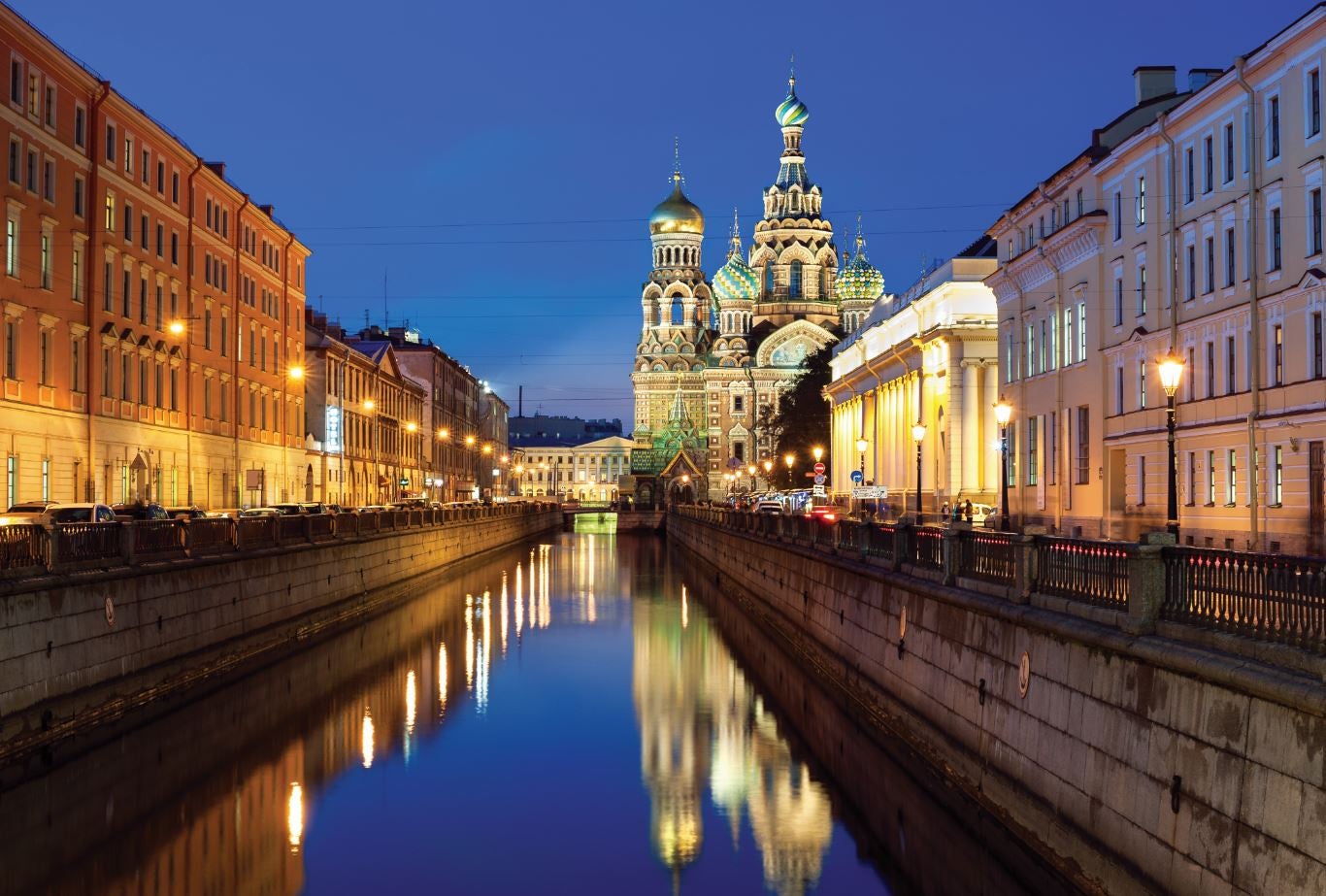 By Kristen Shirley
This story originally appeared in the September/October 2017 issue of Elite Traveler.
Peter the Great was so enamored with the elegance of European cities and Venice's graceful waterways that, by sheer force of will, he transformed a marshland into one of the most beautiful cities on earth. In doing so, he did more than create a city that would be the imperial capital for 200 years and serve as the cultural center of Russia; he introduced Russia to the western world and opened it to the modern era. In his quest, he succeeded in designing what Unesco calls "the greatest urban creation of the 18th century" (the historic center is a UnescoWorld Heritage site).
In the so-called Venice of the North, colorful baroque and neoclassical buildings lie in perfect harmony among 42 islands, nearly 400 bridges, numerous canals and the Neva River. The low-rise architecture allows landmark buildings such as St Isaac's Cathedral to soar above the imperial palaces, dramatically punctuating the skyline.
The spirit of Peter and the city's painful past—most notably the revolution of 1917 and the 900-day siege during World War II—are heavy presences throughout St Petersburg, and everywhere you turn there is something to learn. It's best to hire a guide to navigate the city and fully understand its history, as well as to help you avoid "Soviet service." You might think that Russians would be closed to visitors in the current political climate, but on the contrary, you'll find warm and welcoming people, eager to speak with you and tell you about their lives, and even the lives of their parents and grandparents who experienced some of the 20th century's most significant events.
While the White Nights of the summer might emit a siren call to visitors, it's best to avoid high season and go in late spring or early fall when the weather is still nice but the city isn't overrun. As Russia continues to push forward—see the controversial Lakhta Center, with what will be Europe's tallest building being constructed in the north-west of the city—we can only hope St Petersburg retains its magic and is protected for future generations to enjoy.
CULTURAL COLLECTION
Orthodox Cathedrals

There's no shortage of magnificent cathedrals in the city. Of course there's the famous St Isaac's Cathedral, which cuts an imposing figure in the city's skyline, offers superb city views from its colonnade, and inside boasts nearly every type of decorative art, including columns covered in malachite and lapis lazuli. But don't just stop there. The Cathedrals of Saints Peter and Paul, burial place of many members of the imperial family, date back to the city's founding in the early 1700s and its iconic needle spire can be seen throughout much of the city. Church of the Resurrection of Christ is a superb example of traditional Russian-style churches, with an elaborate facade, more than 80,000 sq ft of colorful mosaics and iconic onion domes. And beautiful Smolny Cathedral could appear atop a wedding cake with its pale blue-and white walls and delicate domes.
Bridges at Night
Every night at 1:30am, the bridges on the Neva River open to allow large ships to pass, effectively cutting off the two sides of the city. Before the construction of the ring road around the city, you had to closely watch the clock to be sure you didn't get stuck on the wrong side of the river. Stay up late one night to see the bridges in action. As it's one of the city's most well-loved activities, the riverbanks are thronged with people, so it's best to have your driver pull over for a quick photo or to enjoy an evening cruise and see the bridges open from the water.
Mariinsky Theatre
The Mariinsky Theatre has been an epicenter for Russian opera and ballet for more than two centuries, and launched the careers of many world-renowned dancers including Anna Pavlova and Mikhail Baryshnikov. Now in its 234th season, the theater shows both opera and ballet performances, including Giselle and Swan Lake. Hotel Astoria has a close relationship with the theater and can arrange private behind-the-scenes tours before a performance, allowing you to walk across the raked stage, which slopes upwards to allow a view for the audience. As for the performance? The best seat in the house is the Tsar's Box. Be sure to enjoy a glass of champagne and caviar on toast during the intermission for a fully Russian experience.
The Museum of the Imperial Porcelain Factory
The museum boasts a collection of more than 4,000 pieces of porcelain, including important imperial tea sets, dinner services, sculptures and vases. You can also tour the inner workings of the factory and see firsthand how its masterpieces are made. Unless you are an artist yourself, skip the decorating class and visit the gift shop instead—it's the best place to purchase porcelain in the city.
Nevsky Prospekt
The boulevard runs through the historic center of the city, and strolling along it offers a lovely view into city life.Wander through shops and high-end boutiques, admire the facade of Kazan Cathedral, and when you've had enough, enjoy lunch or tea at Cafe Singer, located on the second floor of the Singer Building (now the Dom Knigi book store), and watch the city pass you by.
Rivers and Canals
See the city as Peter the Great intended—from the water. Initially, he forbade nobility from traveling by land and going by boat was the only way to get around. Spend a leisurely afternoon slowly cruising through the city on a small boat and enjoy the unique vantage point. Have your concierge book a classic speedboat and pack some champagne for a truly magical trip.
TAKE THREE/// MUSEUMS
The Winter Palace
Part of the State Hermitage Museum, the Winter Palace was the imperial home for nearly 200 years, beginning with Catherine the Great.With more than 120 rooms and three million objects, it's one of the largest museums in the world. The State Rooms are staggering in their opulence and grandeur, with baroque and rococo architecture, gilt throughout, ornate decorations and moldings, frescoes and fine materials, including malachite columns, incredible mosaics and enormous chandeliers. Other highlights include the dramatic Jordan staircase, treasure gallery, peacock clock, Kolyvan Vase—carved from a single 19.2ton piece of jasper—and works from Leonardo da Vinci, Michelangelo and Raphael. Also inside Palace Square are the General Staff Building and the Great Hermitage,which house temporary exhibitions and Italian Renaissance, 19th and 20th-century European art. During regular opening hours, especially during the White Nights, the Winter Palace is absolutely jam-packed, so have your guide arrange for early admission or a visit after hours to enjoy the palace in relative peace.
Peterhof
Dubbed 'Russian Versailles,' after which Peter the Great modeled his amazing summer palaces, Peterhof is an incredible complex with extensive grounds, several palaces, cathedrals and the world-famous Grand Cascade fountains. Much of the estate was razed by German troops during World War II, but has been meticulously rebuilt and restored. Take a hydrofoil from the city center to enjoy views of from the water before wandering through the gardens and admiring the astonishingly ornate imperial palaces.
Fabergé
Find the world's largest collection of Fabergé objects, including nine of the famous Easter eggs, at Shuvalov Palace, a spectacular space in its own right. The collection unfolds through a series of grand rooms and showcases all of its métiers d'art, including figurines, special objects, dining sets, jewelry and clocks. Be sure to book a private guided tour with one of the on-staff experts to hear about the many secrets of the pieces and the incredible design techniques of Carl Fabergé.
THE GRAND DAME
Hotel Astoria
The iconic Hotel Astoria has been a St Petersburg landmark since 1912, serving as a hotel, government office, hospital and finally a hotel again. It holds such an alluring place in the city's history that it was the chosen location for Germany's victory celebration after conquering the city in World War II, which of course never happened as St Petersburg was able to hold off the invading army. With a prime location in a wide plaza, it boasts incredible views of Nicholas I statue, Mariinsky Palace and St Isaac's Square and Cathedral. Over the years it has hosted innumerable celebrities, foreign dignitaries and royalty, many of whose names are engraved on gold plaques in the lobby. Pick between two top suites during your stay. The Tsar Suite is one of the largest in the city with two bedrooms, dining room with butler's kitchen and separate entrance, living room, small office and fabulous marble master bathroom. The modern decor by Olga Polizzi features Volga linen, exuberant printed fabrics and antiques from the original hotel. For a more traditional Russian feeling, stay in the Tchaikovsky Royal Suite. It's also two bedrooms with living room and dining room, but it is filled with antiques and books from Russian authors. Best of all, it has an unbelievable private terrace overlooking the square. Have Chef Fery prepare a fantastic traditional Russian feast for you to enjoy with these special views, and you'll truly feel like Russian royalty.
Tsar Suite, $10,000 per night, Tchaikovsky Suite, $4,700 per night, contact Kirill Lobashev, front office manager, klobashev@roccofortehotels.com, +7 812 494 5757, roccofortehotels.com
TOP SUITES
PRESIDENTIAL SUITE
Belmond Grand Hotel Europe
One of the largest and most opulent suites in the city, the Presidential Suite has a residential feel and is well suited for long stays. It boasts two bedrooms (both suites), living room, dining room for eight, lounge, bar,music room with grand piano, library, fitness room, sauna and a security room. Enjoy views of Nevsky Prospekt while you entertain in high style.
From $13,000 per night
Contact Maria Malinina, reservations manager, res.ghe@belmond.com, +7 812 329 6000, belmond.com
LOBANOV PRESIDENTIAL SUITE
Four Seasons Hotel Lions Palace
Located in a beautifully restored palace, this incredibly grand suite takes you back in time to Imperial Russia. Enter through a grand marble staircase and find a luxurious and colorfully decorated space with high ceilings, including dining area for six, living room, bedroom with and a large furnished terrace overlooking the Admiralty and a park.
From $10,100 per night
Contact Olga Kachalova, head concierge, concierge.stpetersburg@fourseasons.com, +7 812 339 8014, fourseasons.com/stpetersburg
ROYAL SUITE
Corinthia Hotel
Located directly on Nevsky Prospekt, the hotel's enviable location is perfectly suited to sightseeing and feeling the pulse of the city. The three-bedroom suite has a living room, dining room and fully-equipped kitchen. Rich wood and silk-paneled walls mix with crystal and rich fabrics for a sensual and contemporary decor, while still retaining a sense of place.
From $8,300 per night
Contact Daniel Sosa, commercial director, daniel.sosa@corinthia.com, +7 812 380 2001, corinthia.com
ART SCENE
Neighborhood Watch
After winning a government contract to turn this former shipbuilding island into a public space, Roman Abramovich and Dasha Zhukova have opened the first stage of their ambitious project. It blends public art, performance spaces, a creative school for children, dining and nightlife with green areas to create a place to just hang. There are festivals, outdoor games, yoga classes on the lawn, a skating rink in winter and several more projects still under construction. An afternoon here is the perfect antidote to an overdose of sightseeing.
Gallery to Visit
Look out Moscow, the art scene in St Petersburg is on the rise. While New Holland Island is creating a lot of buzz, there are many young Russian artists who are steadily gaining international recognition. Marina Gisich has one of the leading contemporary art galleries in Russia, where she nurtures emerging artists and introduces Russian art to the international market.
Open by appointment only. Contact marina.gisich@gmail.com, gisich.com
Image above: Spend an afternoon at New Holland Island, strolling around the park and enjoying art installations such as Firebird, by Poetic Kinetics
WHERE TO DINE
Astoria Cafe
While Russian food isn't in vogue in the city, it's certainly an experience that every visitor should add to their schedule. Head to Astoria Cafe (pictured), where Chef Serge Fery presents traditional Russian cuisine in a modern way, while retaining its roots and culture. Start off with a caviar tasting paired either the French way with champagne or the Russian way with vodka, then move on to Olivier salad (a salad with king crab, vegetables, avocado and mayonnaise), Siberian pelmeni (small meat-filled dumplings served with sour cream), the best beef Stroganoff in the city, and finish with a slice of decadent medovik, a muti-layered honey cake.
+7 812 494 5815
Kvartira Kosti Kreutz
If you want to feel like you've stepped into someone's home, you might as well do it properly. More commonly called Kreutz Flat, this is a restaurant, tea room, bar and guest house all in a spectacular apartment on Nevsky Prospekt. The host designed a welcoming environment, brought his favorite dishes from around the world and put them on the menu. You'll find an excellent steak and pastas, and since you are in Russia, order your salad with sour cream dressing. As it's a "secret" restaurant, entrance requires an individual electronic key that you scan at the door of the unassuming building. Once inside, you can make yourself at home in one of the city's most expensive apartments. Sit in the tea room and work for an afternoon, dine in the restaurant, have the chef teach you a cooking class at the large open kitchen or take a selfie in the ginormous bath tub. It's open 24/7, 365 days a year.
Contact Konstantin, head waiter, kreutz@kreutzflat.com, +7 921 651 7788, kreutzflat.com
Mansarda
From restaurant group Ginza Project — from whom you're always guaranteed to have a quality meal — comes one of its most beautiful restaurants in St Petersburg, popular with both chic locals such as gallerist Marina Gisich and tourists alike. From the top floor of Quattro Corti business center, Mansarda offers a bird's-eye view of the top of St Isaac's Cathedral and the rooftops of St Petersburg. Here you'll find an extensive menu from chef Dmitriy Bogachev that mixes Russian, European and Asian cuisine. Highlights include fregola with seafood, tagliolini with black caviar and a well-edited selection of traditional Russian dishes. If you have fabulous weather and want to dine alfresco, order delivery and head to a nearby park.
+7 812 640 1616, en.ginza.ru
CHEF SPOTLIGHT
An innovative and creative spirit has filled Russia's youth. Far from being stifled by sanctions, they're looking inside to find solutions (although you're best to avoid the cheese plates as the locals bemoan the lack of quality cheese). Dmitrii Blinov and Renat Malikov are at the forefront of the exploding culinary scene. Duo Gastrobar is a must-visit restaurant, and their latest opening, TarTar Bar is always packed for both lunch and dinner. The decor features exposed brick walls, industrial lights, funky artwork and an open kitchen where you can see the chefs preparing a wide array of fish and meat tartares, as well as delightful cooked dishes with many interesting cuts available (think pig's head, veal kidneys and bone marrow).