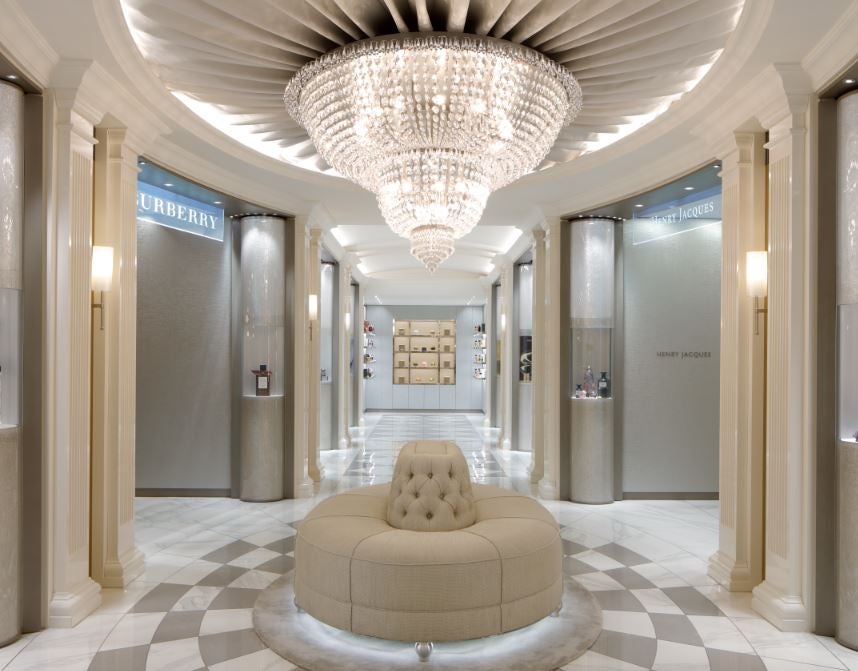 By Lauren Jade Hill
Harrods Salon de Parfums was first launched in 2014, providing a tranquil and discreet setting on the sixth floor of the department store. Within this opulent space of white marble and crystal chandeliers, contemporary boutiques are home to a collection of the world's leading perfume houses. Now, this world-renowned enclave of perfumeries has been expanded to include the boutiques of seven additional brands: Penhaligon's, Armani Privé, Burberry, Sospiro's, Frédéric Malle, Bond No.9 and Floraiku. More than just providing a serene space for discovering the fragrances of each brand, Salon de Parfums offers a series of one-to-one consultations, fragrance blending and customization to ensure the right scent is chosen for each person.
With its arrival the British perfume house Penhaligon's has launched a bespoke program in fragrance creation and customization within a custom-made boutique featuring a Penhaligon's Heritage wall with original fragrance bottles on display, a refill area for Trade Routes scents and a personalization station. Through Penhaligon's signature fragrance profiling, customers are guided through the process of discovering the perfume that best reflects their personality and lifestyle.
Penhaligon's Bespoke by Alberto Morillos program then provides the ultimate customization experience as an eight-month process encompassing a series of consultations with leading perfumer Alberto Morillas and a number of fragrance submissions after which the final product is hand-delivered in a hand-made marquetry box containing two custom-designed and engraved crystal bottles, along with a solid silver travel atomizer and funnel. The perfume formula is retained by Penhaligon's and only replicated with written permission. Debuting exclusively at Harrods Salon de Parfums, this program has an opening price of $45,820.
For the New York perfume house Bond No.9, Salon de Parfums is the setting for the brand's first ever UK store, featuring custom fragrance blending and Private Bond—the world's first mix-at-home fragrance system—as well as a Bond No.9 Swarovski station for customizing bottles with sparkling crystals of any shape and color (from $3,500 to $10,000 per bottle). And for the Japanese fragrance brand Floraiku, the opening of its ryokan-inspired boutique marks the brand's worldwide launch, with exclusive-to-Harrods fragrances such as I See the Clouds Go By combining cassis absolute, cherry blossom and white musk; One Umbrella for Two bringing together blackcurrant absolute, genmaicha tea and cedar oil; and Sleeping on the Roof incorporating lily of the valley, orange blossom oil and amber musk.
Frédéric Malle is then offering home, bath and body products as well as perfumes and personalization, plus a limited-edition travel case, which is a part of the Edition de Parfums' collaboration with French goldsmiths Goossens. One of the most unique features here is the boutique's fragrance chamber which enables customers to fully appreciate a scent's complexity. Burberry, meanwhile, is using the boutique to showcase the Burberry Bespoke collection, which is inspired by the British countryside and customized through Fragrance Discovery sessions in which the bottles can also be monogrammed.
Launching the Privé Experience, Armani Privé is combining light, music and fragrance to create an immersive atmosphere, with the addition of exclusive fragrances such as Charm, the Couture Edition inspired by the fashion house's SS17 collection, and the leather fragrance Cuir Majesté with frankincense and notes of dried fruit and vanilla (available for $695). Also launching entirely new products, Sospiro is showcasing two exclusive fragrances—Verde Accento and Diapason—within a boutique that reflects the perfume house's identity through the inclusion of a wall of butterflies, which is the Sospiro symbol.
To mark this new chapter for Salon de Parfums, the boutiques are hosting masterclasses, events and personalization from the 27 July to 31 August 2017. Then in September, Penhaligon's will be launching a new fragrance within the Portraits range, The Remarkable Success of Mr. Harrods by master perfumer Loc Dong.