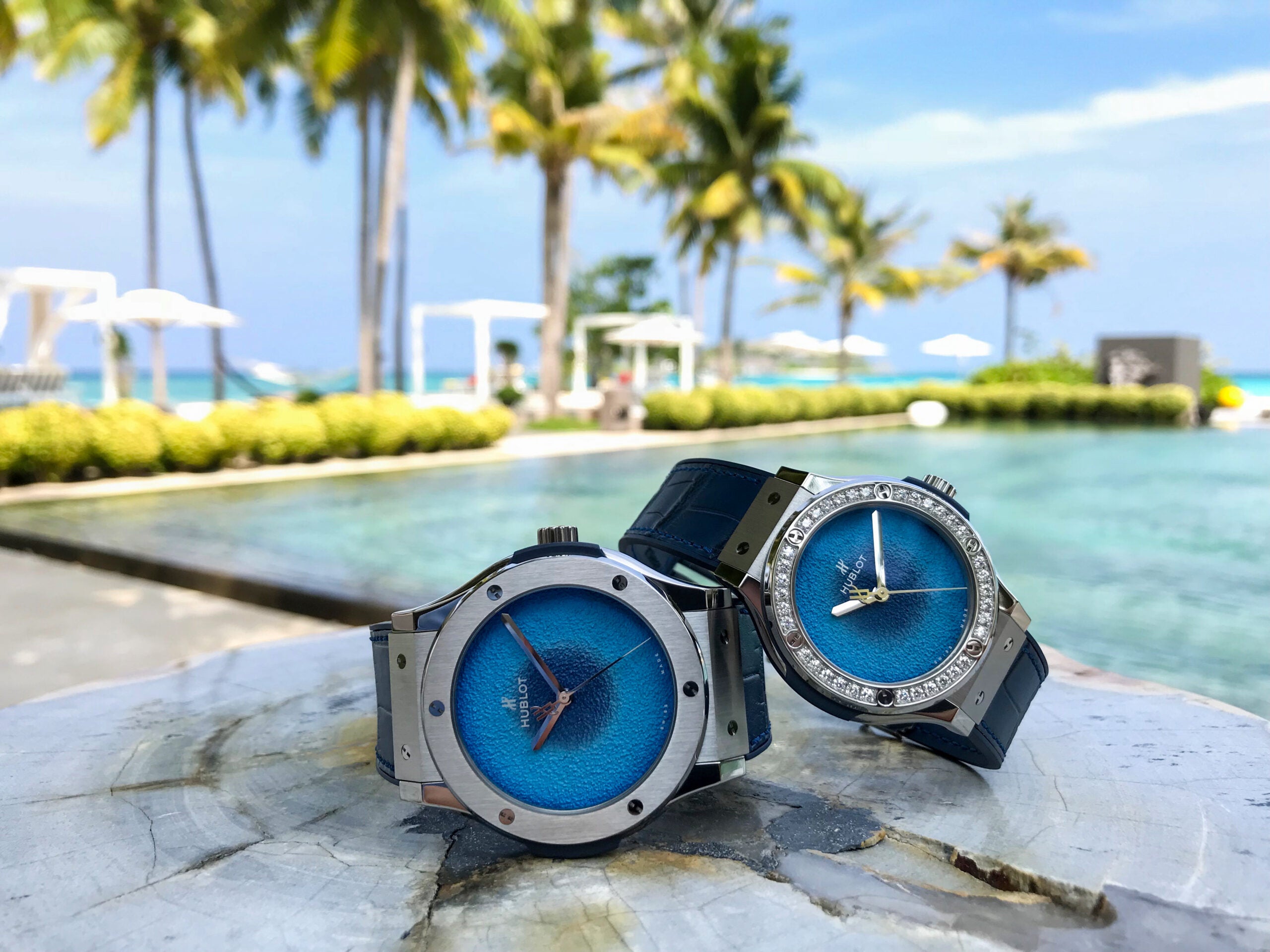 The ultra-luxurious Maldives resort Cheval Blanc Randheli and prestigious watch brand Hublot have revealed their latest collaboration, the new Classic Fusion special edition. It was the Parisian artist behind Cheval Blanc Randheli's signature artworks, Vincent Beaurin, who Hublot commissioned to conceive the new creation.
Designed to fuse time with art, the special edition timepiece reflects the art de vivre that shines through at this Cheval Blanc Maison in the Maldives' Noonu Atoll, while paying tribute to the vivid colors of the ocean and lagoon here; this can be seen in the design's use of dark blue and vivid turquoise. Hublot then created the watch's dial using sand – a first for the brand.
The creation of this collection follows on from the successful launch of the 2016 Special Edition, which was designed to express the brand's constant quest for new fusions between time, art and luxury.
Commenting on the new design, the CEO of Hublot Ricardo Guadalupe says: "Just like the blue waters surrounding Cheval Blanc Randheli, the captivating blue tones of the two new timepieces dedicated to the Maison create an appealing aura on the wrist, offering wearers a new experience with time,"
"This watch is an illustration of the art de vivre and creativity so characteristic of both brands," the head of hotel activities at LVMH Hotel Management Olivier Lefebvre adds, "This approach reflects a tailor-made dialogue between Hublot, the artist Vincent Beaurin and Randheli's unique universe. Time stops at Cheval Blanc."
The Classic Fusion 45mm Cheval Blanc Randheli Special Edition and Classic Fusion 38mm Cheval Blanc Randheli Special Edition are available on request