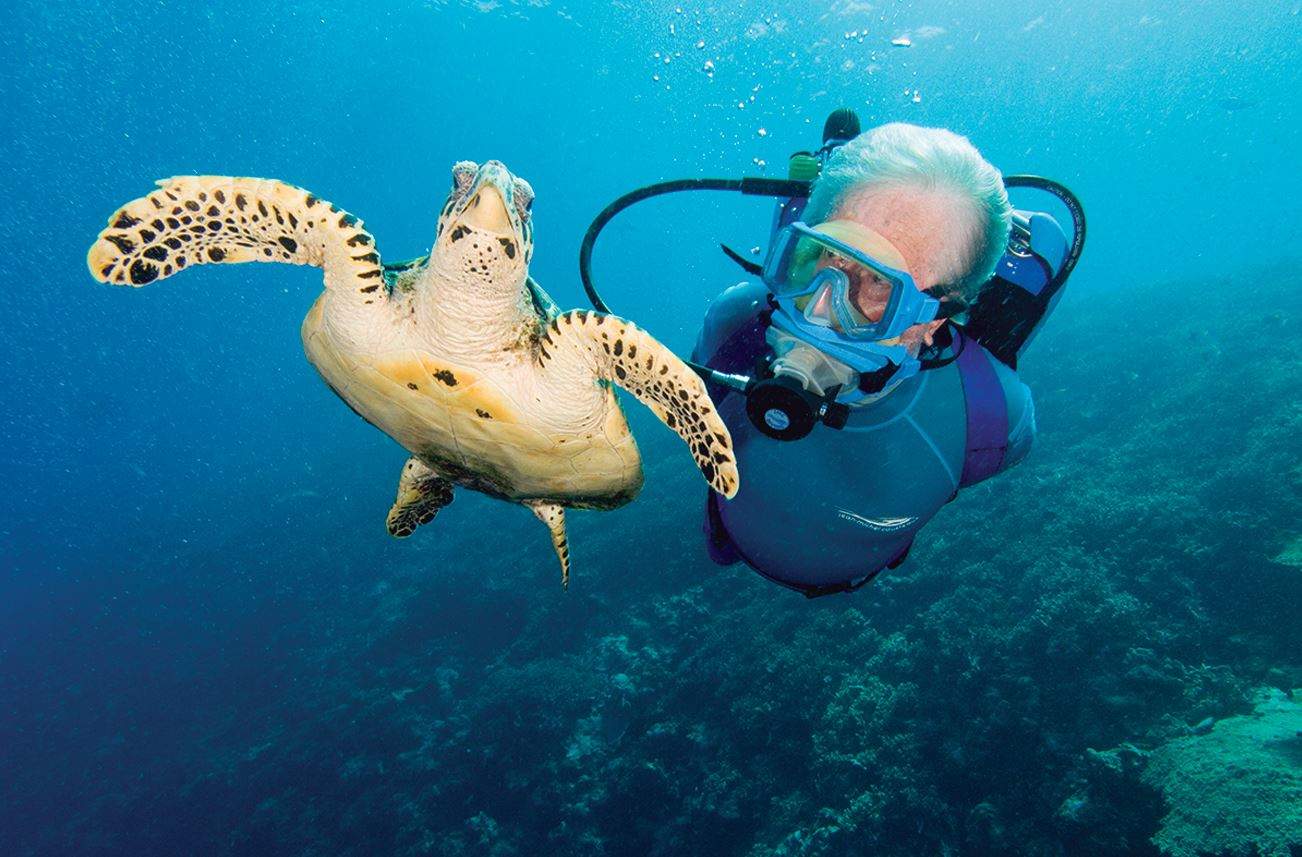 This story originally appeared in the March/April 2018 issue of Elite Traveler.
The distinguished ocean explorer, environmentalist and film producer talks to Elite Traveler about his life's mission to nurture his father's legacy.
It's not especially surprising that Jean-Michel Cousteau, the son of explorer, co-inventor of the Aqua Lung and marine-conservation pioneer Jacques Cousteau, has become such a prominent figure in the ocean-conservation world.
Jean-Michel's all-consuming passion for the ocean is palpable; he hasn't stopped exploring its depths since he first dived in 1945. It was after working alongside his father for the Cousteau Society that he branched out to produce his own environmental films, going on to open the Jean-Michel Cousteau Resort, Fiji (featured in this issue's roundup of eco-resorts) in the 1990s and write My Father, the Captain: My Life with Jacques Cousteau (published in 2010 by National Geographic), in which he gives insight into the man behind the scuba mask. "My father once said, 'You know Jean-Michel, it is you who will carry on the flame of my faith,'" he explains. "So when he passed away I decided to create the Ocean Futures Society."
"The society's message is simple," he continues. "If you protect the ocean, you protect yourself." Jean-Michel and his team communicate this by documenting the ocean on video. Increasingly, this footage is magnified, projected in slow motion and shown in 3D, revealing the behavior of creatures that cannot be seen with the naked eye. Based on the belief that people can't protect what they don't understand, the society imparts as much information as it can.
In addition to reaching out to people through education programs, the Ocean Futures Society forges bonds with key decision-makers. Connecting with then-president George W Bush resulted in the creation of the Northwestern Hawaiian Islands Marine National Monument in 2006, which protected 139,800 square miles of the Pacific. President Obama went on to quadruple the size of the reserve — now called Papahānaumokuākea Marine National Monument — and today it's the largest protected marine area on the planet.
Most recently, Jean-Michel started the Ambassadors of the Environment program to engage his Fiji resort's guests and local schoolchildren with their surroundings. Led by the resort's marine biologists, the program empowers people to promote sustainable living at home, thus becoming ambassadors themselves.
While this program targets people of all ages, educating the younger generations is a major focus of Jean-Michel's work. "Young people now have access to so much knowledge," he enthuses. "They're learning fast, and their parents are listening. These are the decision-makers of tomorrow." With such excitement in the potential young people have for making change, it's fitting that the person he's most inspired by is a 12-year-old boy from Fiji who stood up at the November 2017 UN Climate Change Conference in Bonn to speak for seven minutes on what needs to be done to protect the environment. "A 12-year-old student," he slowly reiterates. "I was very touched by that."
Despite feeling most at home in Fiji, Jean-Michel feels great affection for many marine environments. "I love diving in kelp because you feel like a bird flying through the rain forest," he says wistfully. "And diving under ice is like being in a cathedral. But I love the Mediterranean Sea for its history. When I was a teenager, I was able to drink 2,000-year-old wine my father's team had recovered from a shipwreck there. It was horrible," he says, bursting into laughter, "but I did it."
Jean-Michel is about to start work on a follow-up to his 2006–2009 PBS television series Jean-Michel Cousteau: Ocean Adventures. For the new series, he'll be collaborating with his son and daughter, Fabien and Céline, who have become successful ocean conservationists and filmmakers in their own right. And two new Cousteau films — Wonders of the Sea, which is narrated by Arnold Schwarzenegger and features Fabien and Céline onscreen, and Secret Ocean — are also set to be released worldwide. With the evolution of technology, films such as these provide greater insight into what goes on beneath the water's surface. The latest innovation to capture Jean-Michel's attention is the Exosuit, a hard-metal dive suit that enables you to dive down to 1,000ft and spend up to 10 hours there. "We're going to identify thousands of new species," he says excitedly.
Throughout our conversation, it's evident that Jean-Michel's dedication to this cause continues to grow. "I'm going to be doing this for the rest of my life," he says. "I've been diving since I was seven years old, and I want to continue until I'm 107 — there are probably tens of thousands of species yet to be discovered."