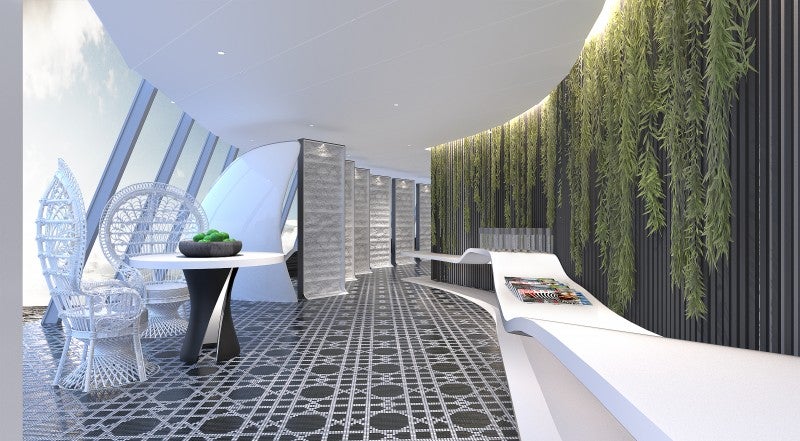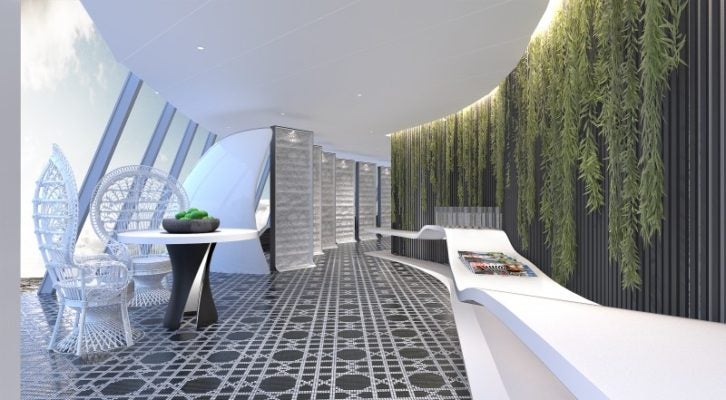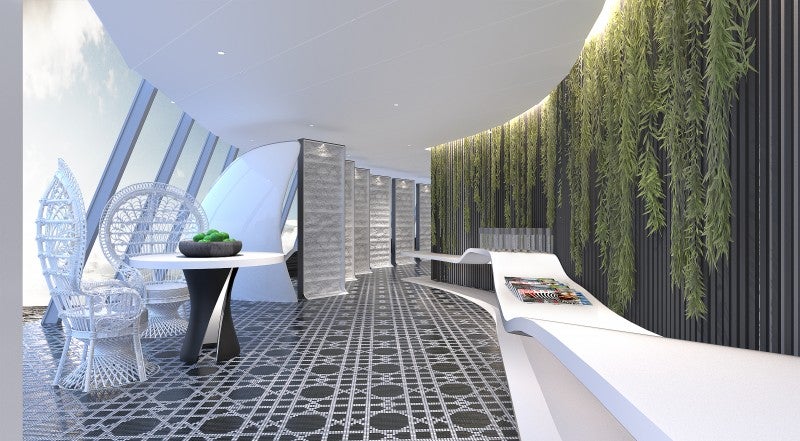 It's said that when Celebrity Edge, the latest ship to join the Celebrity Cruises fleet, is inaugurated in November it will set a new precedent in luxury modern cruising, with a series of innovations integrated into the on-board experience. Among the ship's most distinguishing features is its 22,000-sq-ft spa. With world-renowned designer Kelly Hoppen behind its breathtaking design, this is a wellness space unlike any other you'll experience at sea.
The new spa has been designed to encourage a greater connection with the ocean and world beyond, benefiting both body and mind with elements of the design and experience inspired by the sea, earth and air. To achieve this holistic concept, Kelly Hoppen set about creating a serene environment that offers a rare escape from daily life, using natural materials such as taupe wood and marble, and integrating healing crystals into the light-filled space distinguished by sweeping curves and statement design features.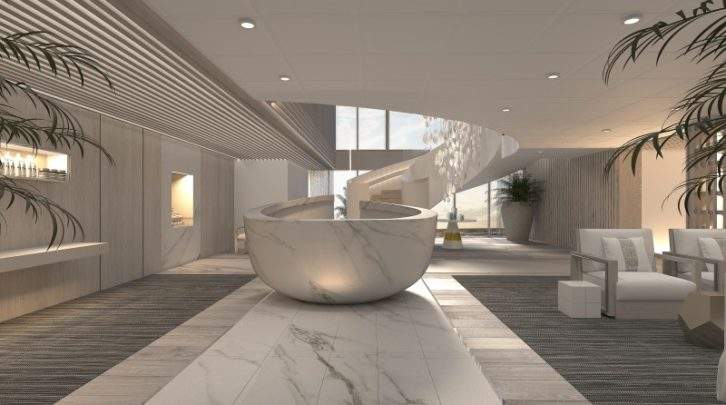 Commenting on the design of this immense space, Kelly Hoppen says: "I've designed homes for 41 years, so the task for me was to do that on a commercial beast – this massive, massive ship. When I was doing all the mood-boards and when I started creating, I didn't think of it as a ship. My design was all about layering and textures. It's about the experience. If you think about a spa, you want to go into a space that has character but not a character that overwhelms you. You want to walk in and feel happy to be there and that you can be the person you want to be in that environment. Then of course all the treatments you have there are a part of that experience."
"The entrance was very important for me," she continues, "so we made a mammoth marble reception desk with this very sculptural, organic piece of stone, and huge spiral staircase with an extraordinary light fitting and layers of stone and wood, creating somewhere you feel you can actually breathe. We wanted this space to feel like the most exquisite yacht."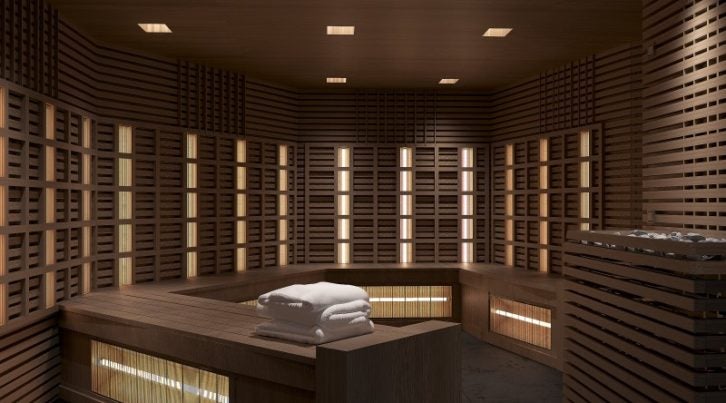 Bespoke blended essences will scent the air of this spa and treatments will draw on the restorative properties found in the natural world. This focus on nature will then be complemented by advanced wellness technology and the eight distinct therapeutic experiences encompassed within the SEA Thermal Suite: the marble and mosaic wrapped Hamman, deep healing Salt Room, aromatic Steam Room, Rainfall Water Therapy Room and Infrared Sauna, meditative Float Room where seats hang over a zen garden, panoramic relaxation area with heated tile loungers, and therapeutic Crystalarium with crystal installation.
The treatment rooms will then feature state-of-the-art technology including a WellMassage 4D table, which in the Zero Gravity Immersion Massage gives you a feeling of weightlessness; water-filled MLW Amphibia table, which comes with light therapy and is the first to be featured on any ship; and the MLX Quartz table featuring warm crystals that mold around your body to release muscle tension.
Here you'll be able to try the Elemis Thousand Flower Detox Wrap, which combines deep exfoliation and detoxification with massage, a Thai Herbal Poultice Massage aimed at re-balancing mind and body and relieving muscle tension, and technologically advanced Biotec facials. These award-winning facials combine bio-electric technology with high potency skin actives. Altogether, there will be 124 different treatments to choose between, and as an Elemis spa each person's experience is tailored to suit their needs through an initial consultation – the Biotec facials begin with an in-depth skin analysis session to determine whether you'd benefit most from one that's firming and lifting or one that gives your skin more radiance.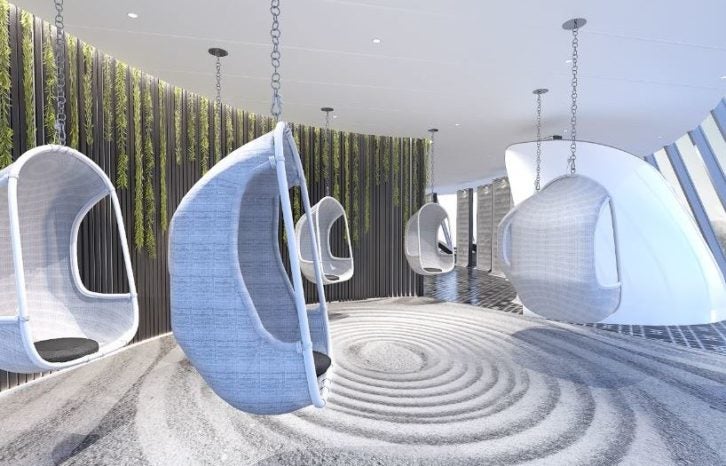 Outside the Thermal Suite, you'll find a hair salon and Kérastase Institute, nail bar, traditional barbers and Spa Café with Juice Bar, as well as state-of-the-art fitness facilities, with classes such as Hot Yoga, RYDE and Pulse Barre to take part in. The new ship will also be home to Ideal Image Ocean, The Advanced MedSpa, offering a range of cosmetic treatments such as Dermal Filler and CoolSculpting.
Celebrity Edge will be the first of four Edge-class ships to join the fleet. To find out more about the new ship and its extraordinary spa, go over to celebritycruises.co.uk/celebrity-edge.