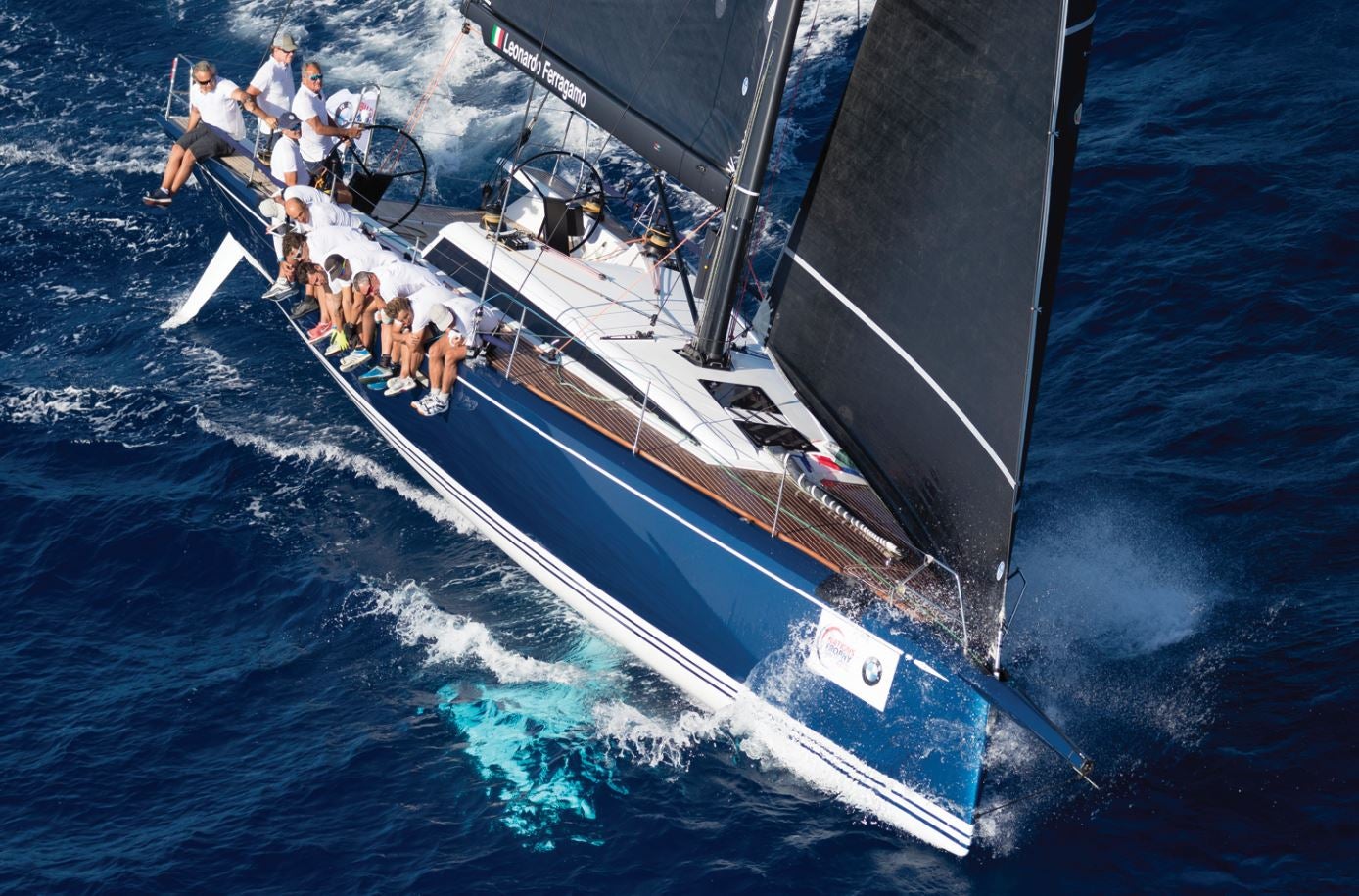 This story originally appeared in the November/December 2018 issue of Elite Traveler.
Leonardo Ferragamo, son of designer Salvatore Ferragamo, speaks to Lauren Jade Hill during the Rolex Swan Cup about how he is driving forward one of the world's leading producers of luxury sailing yachts, Nautor's Swan.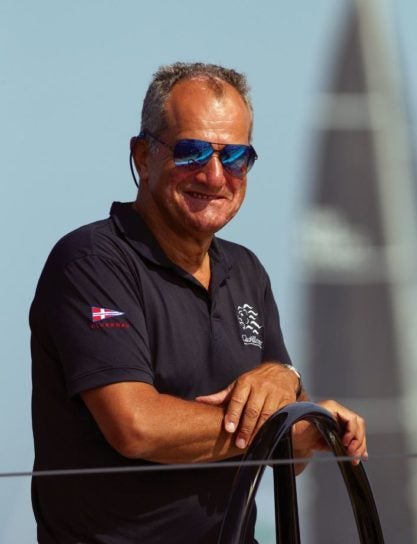 It's the penultimate day of the Rolex Swan Cup in Porto Cervo, Sardinia. Leonardo Ferragamo, the owner of Nautor's Swan, as well as a key player in the Ferragamo family's business portfolio, has just come in from a windswept day of racing one of the high-performance sailing yachts in a 31-nautical-mile race around the island's rugged limestone coast. Coming in an overall third place in the regatta so far, you can sense the exhilaration that comes from six thrilling hours on the water and the anticipation of having just one day left to secure a top position. Winding down from the excitement of the race, we're now sitting in the polished teak interior of Ferragamo's cruising yacht, the 2015-built Swan 115 Solleone, which is said to have cost around $20m.
"I am passionate about sailing," Ferragamo enthuses, eyes sparkling, as he begins to explain how he went from working with his family's legendary fashion brand, Salvatore Ferragamo, to owning Nautor's Swan. "Sailing has always been my sport. When I decided to enter into this business, it was in addition to what I do with the family, but it is a world that actually has some areas of similarity with what I did before. It is about creativity; it is about lifestyle; it is about putting the essence of the brand in the product and building something that is timeless. One thing I am very proud of is having managed to evolve Nautor's Swan, without changing its identity."
The Finnish producer of luxury sailing yachts was established in 1966 and is a brand that's long had a glowing reputation in the sailing world. "This company was 30 years old, and already an iconic brand with deeply rooted values when I bought it. It already had legendary status for combining performance with elegance and quality. Bringing these elements together was the philosophy we drew on when developing Swan's identity."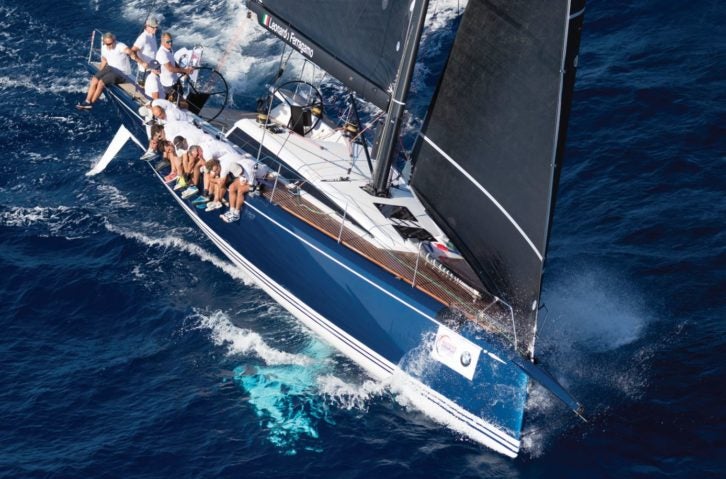 "When you see one of our yachts from a distance, you can immediately tell what it is and have admiration for it. That was something that attracted me to Swan for a number of years before buying the company. That recognizability is so precious in a product, and it doesn't happen very often. I had so much respect for the brand, I came into it with a very humble approach. I knew we had to evolve, but I did not want to change that DNA."
One of Nautor's Swan's defining characteristics is the pride surrounding the brand. Ferragamo explains that the company is based on a culture of people who are not only highly skilled, but also passionate. "The boatbuilders in Finland will sit behind what they do and never deliver the wrong product. They will always strive to be their best. This is the culture. This is the way. This is the backbone of the company and the reason it has built a worldwide reputation. And I believe this worldwide reputation has an even stronger potential than what we're doing now."
"In the last few years, we've taken a very determined approach towards the future and defined a clear strategy," he elaborates. "First, we focused on product segmentation. We have a wide range of yachts, from 36ft up to 130ft. So we divided the Swan line between the boats that are up to 78ft, the superyachts and the Club Swan line, which came out for Nautor's Swan's 50th anniversary in 2016. We wanted a project that looked forward and that was about innovation, without getting away from the roots of a typical Swan; taking advantage of advanced technology, the Club Swan line is designed for performance but also maintains the Swan DNA. These three lines each have a different vision and allow us to bring to the market with coherence everything that sits under the Nautor's Swan brand."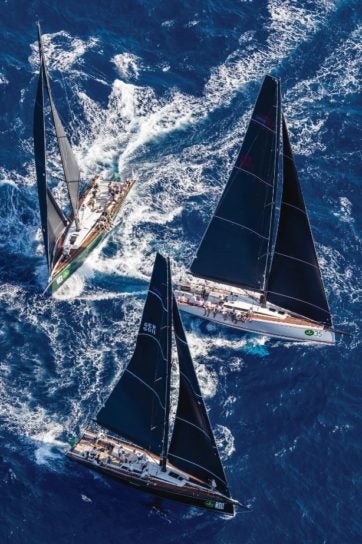 The second aspect Ferragamo focused on in his endeavor to grow the brand was gaining worldwide representation. "We believe a brand like ours needs to be in charge of its own destiny," he says, "so we knew we had to have people in each territory overlooking everything that happens with the brand. Along with the efficiency, quality and competitiveness that are the beginning of the race we're working on at the yard, these are the pillars of our evolution."
The pride surrounding Nautor's Swan is never more apparent than when you're at one of its regattas, which Ferragamo believes are integral to the company: "Racing in regattas has always been the backbone of Nautor's Swan. First of all, it's instinct that when you're sailing on the water, you want to see who's better. And with races like this, it's a way of enjoying the privilege of owning a Swan and getting together with a group of people you haven't seen since the previous race. Something incredible I see here is the pride of belonging to the Swan world. And this is so rare."
Racing has been another part of the Nautor's Swan brand that Ferragamo and his team have been keenly developing, establishing new regattas around the world, including a first-of-its-kind Nations Trophy. The inaugural event took place in October 2017 and has proven to be a success.
While much of the brand's evolution in Ferragamo's hands comes from his family-instilled business acumen, you can see it's his passion for sailing that drives him forward. "I have always loved the ability to turn an element of nature into power," he muses. "There's no other form of transportation that can utilize the forces of nature. Sailing is mental, physical and involves getting together with people while discovering different parts of the world. All of this is what makes sailing so intriguing."
The day after our meeting, Ferragamo sails in the last day of the regatta, taking the leading position in the first race, drawing a tie of overall first place with two other entries. Coming fourth in the final race, he walks away with an impressive second place in the championship, and another big win under his (presumably) Ferragamo belt.
Photos Studio Borlenghi/Francesco Ferri, Rolex/Carlo Borlenghi