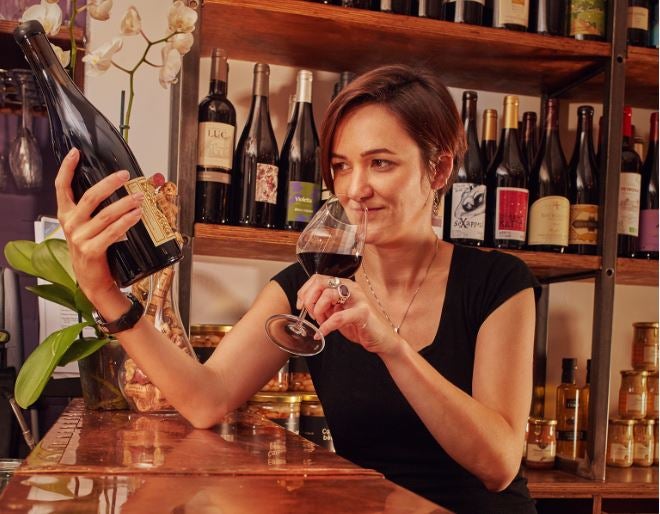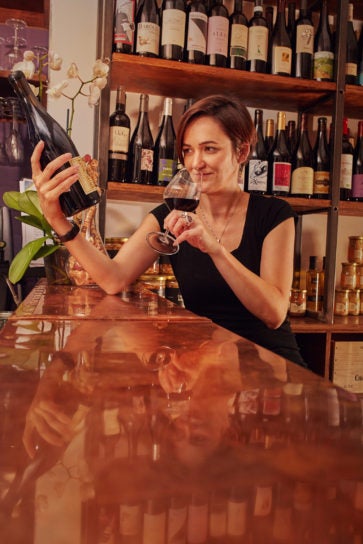 Just last month the Parisian wine expert Carole Bryon opened her first wine bar in Covent Garden, London, creating a place for wine enthusiasts to try different fine wines from the around the world, paired with small plates curated by the chef and restaurateur Victor Garvey. What really makes this new wine bar stand out though is the focus Bryon is placing on organic, biodynamic and natural wines while also championing the world's most inspiring women winemakers.
By showcasing these winemakers, Bryon hopes the epicurean bar, which she has named Lady of the Grapes, will shine a light on this under represented area of the wine industry.  "When I first started in the industry I realized there weren't a lot of women involved," she explains, "I want to support all women in wine and make them more visible through our wine list, because it's not just men who make wine."
She then goes on to explain why she's decided to focus on organic, biodynamic and natural wines. "It's important to offer transparency with what is in the wine," she says. "As there are no ingredients listed on the back of the bottle, I think certification is important. Customers can rely on this and we all know organic, biodynamic and natural wines are healthier for the people drinking it and for the producer making it."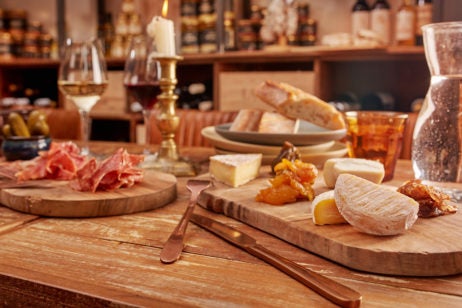 Bryon also believes that the most complex and fascinating flavors in wine cannot be achieved through conventional winemaking methods, with minimal intervention in viticulture ensuring you only taste the grapes and terroir, without the presence of any additives.
In conversation with Elite Traveler, Bryon highlights four of the women winemakers who are producing these natural wines and whose wines you can taste at Lady of the Grapes. Here, she tells us what it is that sets them apart.
Marion Grange Domaine de Beudon, Switzerland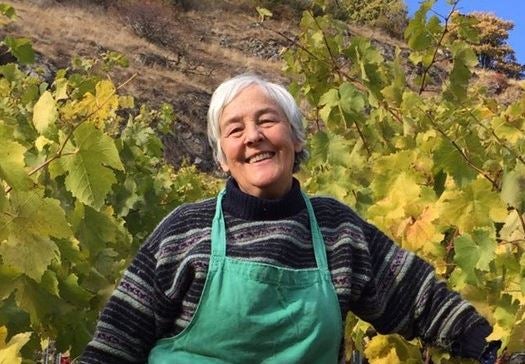 Up until 2016 Domaine de Beudon – Vigne dans le Ciel (which means vines in the sky) was run by the couple Marion and Jacques Grange but an accident on the steep slopes of the high altitude vineyard, where a cable car transports you up and down the mountainside, meant Marion was widowed and subsequently running the winery by herself. "It's a sad story but Marion really is amazing," Bryon explains. "The wine is high altitude and biodynamic, and because of its terroir, the wine is full in the mouth and unlike any other wine I've had." At Lady of the Grapes, you can try the Reisling x Sylvaner 2016.
Sandra Kelton Château Tour Blanc, France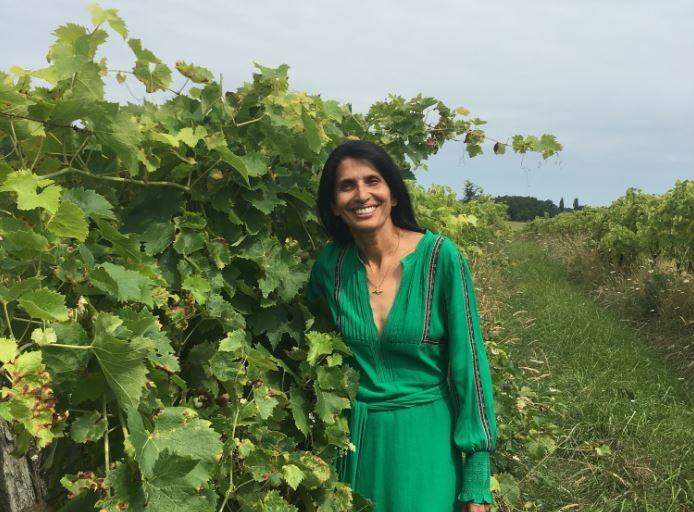 "Sandra Kelton came in to Lady of the Grapes to do a tasting and explain a bit more about the wines," Bryon says. "She's English but 20 years ago she found this place in France. She'd never made any wine before then but decided to find out how to do it by speaking to lots of people in the industry. The wine she now makes is all organic and she's passionate about making it." The wine bar now offers Château Tour Blanc's four expressions of Ugni Blanc: Sables Fauves 2013, Les Milles Fleurs 2015, Summertime 2015 and Vielles Vignes 2014.
Regine Sumeire Château La Tour de l'Évêque, France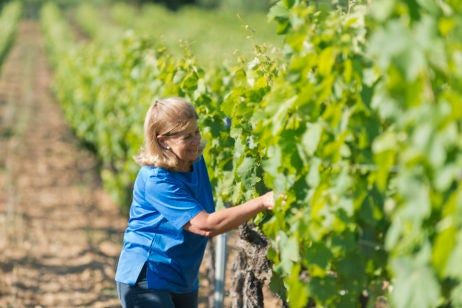 "Regine Sumeire has been working as a winemaker for a long time having begun when there weren't many women in the wine industry at all. She tried to make a different kind of wine for Provence, she succeeded and now everyone is doing it the same way." Sumeire is credited for making the paler style of rose that people enjoy today. At Lady of the Grapes you can try the Petale de Rose, which is 49 percent Cinsault, 29 percent Grenache and 11 percent Syrah.
Elisabetta Foradori Foradori, Italy
The vineyards of Foradori are tucked into Italy's Dolomites. "The wines produced here are biodynamic with amazing taste that's often surprising," Bryon says. "She grows the vines higher off the ground so the wind can blow beneath them. The wine has a great minerality, it's super complex and she's kept the elegance in the taste." Lady of the Grape offers the winery's Teroldego Rotaliano.
Lady of the Grapes currently offers 80 organic, biodynamic and natural wines, which can be paired with small plates from the organic food menu designed around the wine by Victor Garvey, the owner of Soho-based Catalan restaurant Rambla and the cheese and wine restaurant Sibarita in Covent Garden. Devoted to creating authentic simple food using seasonal, locally sourced ingredients, Garvey has come up with dishes including fried oysters with spinach, beurre blanc and almonds, and bone marrow with mussels and clams, while also offering charcuterie and cheese plates with truffle honey, bittersweet figs and dried on the vine grapes.
To find out more, go over to ladyofthegrapes.com.
Images of the bar © Elio Ruscetta