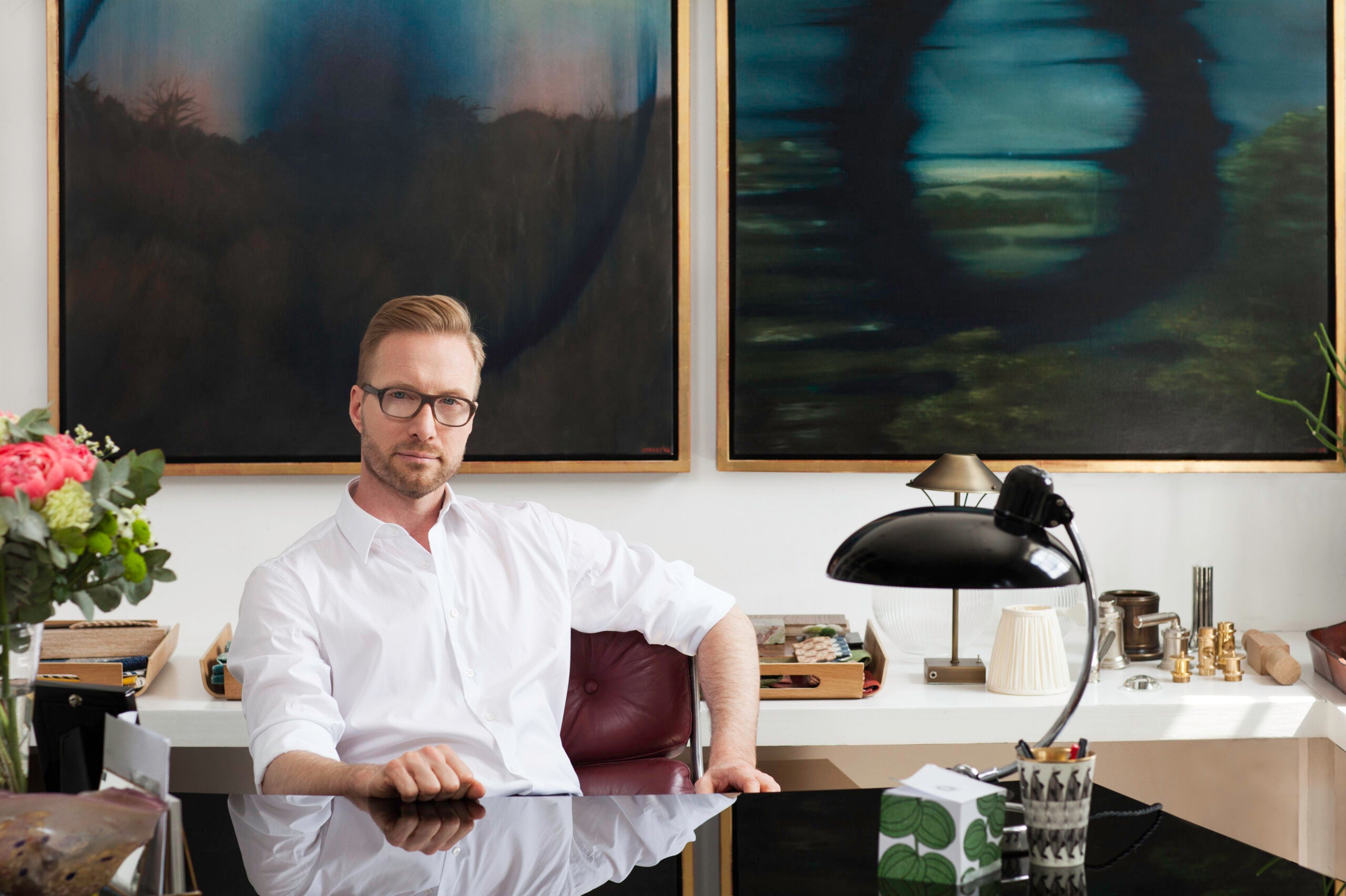 As one of the world's leading interior designers, Martin Brudnizki has worked on everything from residential properties in Jordan right through to the dazzling interior of the Sexy Fish restaurant in London.
Brudnizki is currently working on the redevelopment of the Bloomsbury hotel in central London and is in charge of completely redesigning the hotel's iconic bar. Ahead of the bar's relaunch on the 23rd November, we spoke to Brudnizki about his work and how he became a true Leader in Luxury.
How did you first get into interior design? Was it something you've always been interested in?
My mother was a stylist and my father an engineer – the combination of the two has undoubtedly influenced the way I work today and has been my inspiration. Growing up I was surrounded by beautiful objects thanks to my mother and I took a keen interest in my father's mechanical way of thinking and working out problems. Although I studied economics before studying interior architecture, I have found this to be hugely beneficial as it has taught me to be business minded as well as creative.
How did you have to approach redesigning the bar in The Bloomsbury?
We took inspiration from the beautiful original Lutyens' architecture and the surrounding area of Bloomsbury which became synonymous with the bohemian intellectual and creative group, The Bloomsbury Group, spear headed by Vanessa Bell and Duncan Grant. The property is Grade II listed so we had to be mindful of the original detailing and architecture all whilst creating a contemporary twist on the space, as well as making it functional for a hotel bar and destination spot in itself. The original Lutyens' architecture was also a big inspiration for us, not least because much of it had to be retained. As a result, we have designed a bar which feels as though it belongs and has always been there but now has a contemporary edge which appeals to a modern crowd.
Are there any little details we should keep an eye out for?
We've retained the original Lutyens' fireplaces to work as a tie to the past all whilst introducing 28 contemporary art pieces from illustrator Luke Edward Hall. The result is an interior that strikes the balance right between original features and contemporary appeal. We have also consulted original Lutyens' floor patterns; these can be found in the lobby area and provide a striking look for those entering the bar.
With The Bloomsbury being a very traditional hotel, how did you go about deciding how to compliment the rest of the hotel's interior?
As with any project, we wanted to create an interior that felt like it belonged in its surroundings but still felt fresh and relevant. The black and white marble floor pattern was taken from an original Lutyens' pattern but this was then contrasted with a contemporary heritage-inspired wallpaper in vibrant tones and a high-gloss coral lacquer for the walls. It's all about striking that balance right and being mindful of the surroundings.
Many of our readers will know you from designing Sexy Fish's interior, how did this come about and what did they commission you with? Did they ask for you to make a restaurant housing one of the world's most expensive collection of artwork, or did it just happen?
We have worked with Caprice Holdings for many years and so working on Sexy Fish was a natural step for the Studio to take. The Client wanted to create an Asian fusion restaurant inspired by the style and sophistication of a mid-century brasserie and the patterns and motifs of the ocean. With the footprint of the restaurant being so large we were able to be bold with our design; the space is flooded with green Iranian onyx and mid-century inspired booth seating and tables. To offset this, the bar's central focus is the collection of Frank Gehry Fish Lamps with a Michael Roberts printed fabric ceiling overhead. The Damien Hirst mermaid sculptures were acquired by the client and helped pulled together the final look.
Is there anything we should expect in the near future?
The new Annabel's nightclub at 46 Berkeley Square has kept the London Studio very busy this year with the project completing towards the end of 2017. Taking inspiration from the greenery of Berkeley Square, the new club encompasses an entire townhouse with each floor reminiscent of different gardens. University Arms in Cambridge opens in early 2018 and is a beautiful hotel in the heart of the university town, whose interiors hark back to college days with a contemporary twist.
Across the pond the New York Studio have completed Bullion, our first restaurant in Dallas. It's a beautiful and glamourous restaurant with mid-century design touches which will shake off any ideas about Dallas being home to cowboys and BBQs. We are also finishing Madison Square Park Tower, a 65-storey residential development that feels both classical and contemporary.
For more information on Martin Brudnizki please visit mbds.com and for more information on the Bloomsbury please visit doylecollection.com