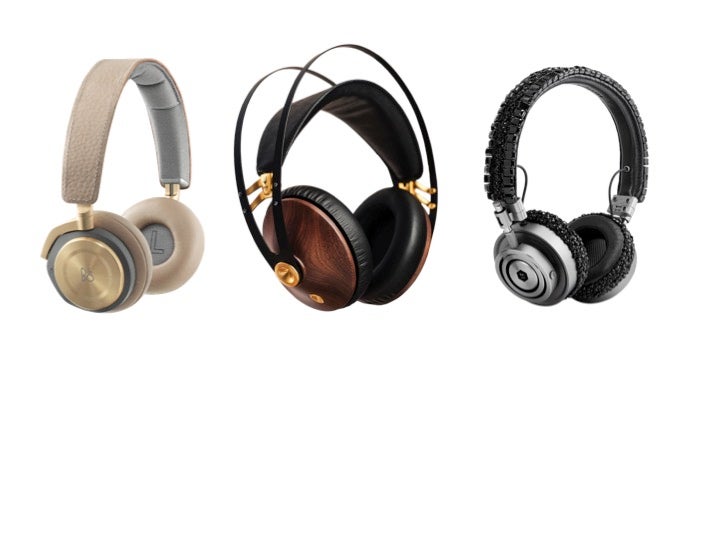 By Olivia Cuccaro
Headphones are a travel necessity and, with the right pair, a travel accessory too. A sleek and stylish design can make any outfit cooler, while keeping you entertained with high-quality sound. From designer collaborations to chic functionality, see this Elite Traveler editor's picks below for the most stylish headphones.
You may remember Dolce & Gabbana's first go at headphone design with an embellished pair that appeared on runways. While this black-and-white design is certainly more subtle, the pineapple printed headphones make for a fun beach accessory.
Dolce & Gabbana printed Nappa leather headphones, $1,495, dolcegabbana.com
For another designer collaboration, Alexander Wang teamed up with Beats by Dr Dre to create this sleek pair in dove gray. The headphones are wireless for easy listening, with a built-in rechargeable battery that lasts for 12 hours.
Beats by Dr Dre Alexander Wang special edition headphones, $599.95, apple.com
Add some sparkle with these Master & Dynamic headphones designed by Carolyn Rowan. The limited-edition set of MH30 On-Ear Headphones features jet black Swarovski crystals while maintaining the brand's signature sound quality.
Master & Dynamic Carolyn Rowan headphones, $1,000, masterdynamic.com
From Pryma, these headphones in marsala have a gorgeous premium leather headband lined with microfiber. The shells of the earcups are handcrafted in aluminum to make the headphones lightweight and durable, while tiny helmet resonators enhance bass.
Pryma 01 carbon marsala headphones, $549, pryma.com
Known for its noise-cancellation engineering, Bose boasts a stylish silver pair of headphones that wirelessly block out external sound. Bose QuietComfort 35 includes a battery with 20 hours of wireless listening, a noise-rejecting dual-microphone system and a Bose Connect app.
Bose QuietComfort 35 wireless headphones, $349.95, apple.com
Also boasting bluetooth and noise-cancelling features, this pair from Sony comes in a variety of bold colors. High-resolution audio sounds even better when listened to through a pair that's Viridian Blue or this Bordeaux Pink.
Sony h.ear on wireless NC headphones, $349.99, sony.com
We love the retro look of these Meze 99 Classics with walnut wood earcups. Unique wood grains make each pair one-of-a-kind, promising unique headphones with crisp, natural sound for your music or audiobook.
Meze 99 Classics headphones, $309, mezeaudio.com
Traveling with over-ear headphones has never been simpler than with this pair from Sennheiser. The closed, circumaural Sennheiser HD 630VB is collapsible, storing easily in a carry-on during your next trip. It also works as a complete headset with control functions conveniently located on the earcup.
Sennheiser HD 630VB headphones, $499.95, sennheiser.com
Handcrafted in California, the LCD-XC headphones are beautifully set with African Bubinga wood earcups with a headband made from real lambskin leather or microsuede. The closed-back design reduces ambient noise and yields near-zero distortion for isolated listening.
Audeze LCD-XC headphones, $1,799, audeze.com
If you're already a fan of Danish speaker brand Bang & Olufsen, give these headphones a listen. A soft lambskin headband with matching ear pads comes in an array of sophisticated color schemes, while the earcup boasts a touch interface that works even while wearing gloves.
Beoplay H8 headphones, $499, beoplay.com