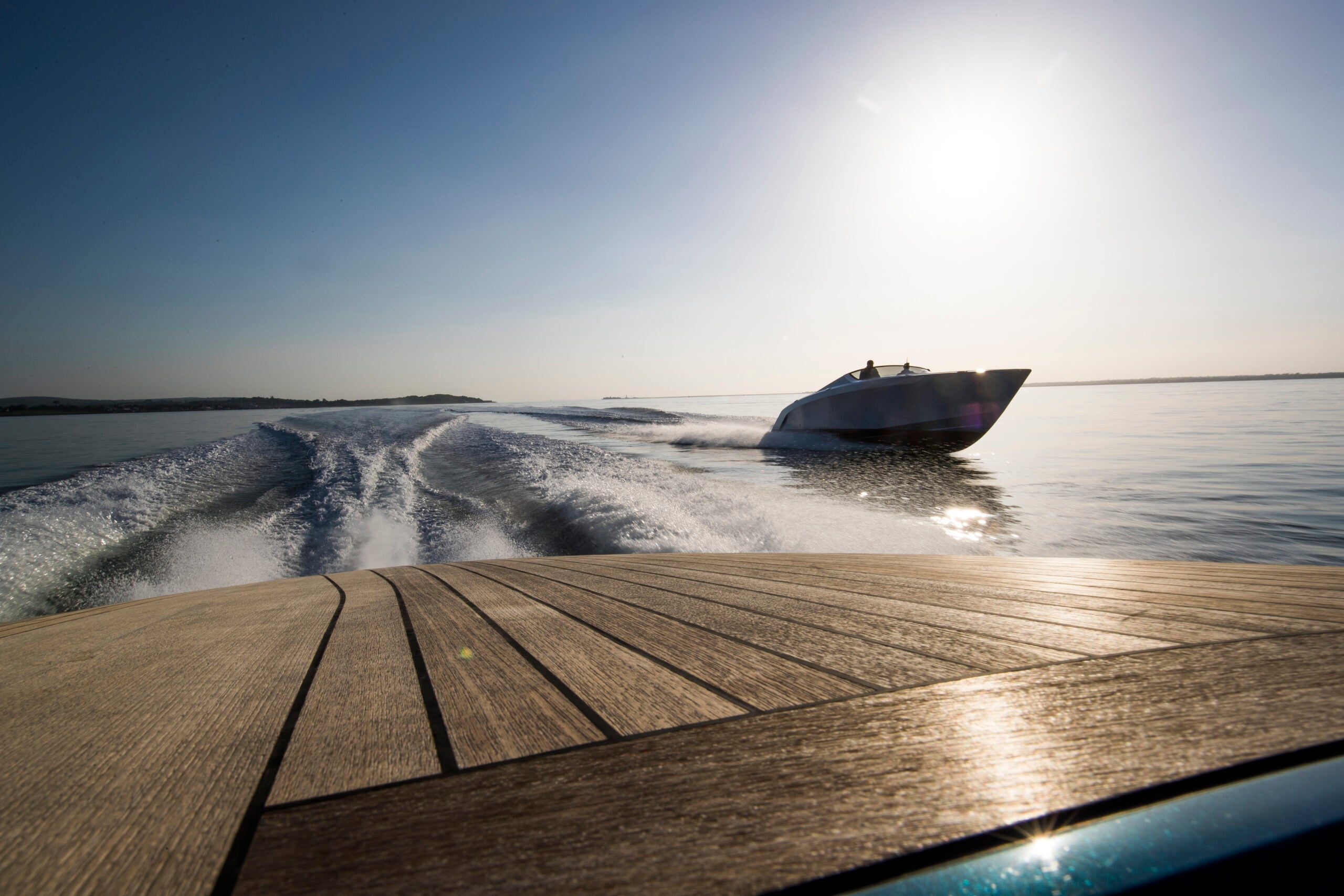 By Lauren Jade Hill
Developed by Quintessence Yachts in collaboration with Aston Martin the very first AM37 powerboat has been revealed and is now berthed in Miami. Handcrafted in the UK by Quintessence Yachts the powerboat underwent the Q by Aston Martin personalization service, allowing the owner to tailor the boat according to the materials, colors and textures they preferred.
As a result, the powerboat is distinguished by its MAKO Blue hull and interior of Baltic Blue and Cream Truffle upholstery and accents of chrome, featuring a convertible sofa, matt Lacewood table and champagne cooler in Baltic Blue carbon fiber for two champagne bottles and six flutes. For maneuverability and precise handling the powerboat features Axius Joystick Piloting, with underwater lights in the hull and the AM37S propulsion package which affords a top speed in excess of 50 knots.
After unveiling the prototype at Monaco Yacht Show last year, Quintessence Yachts are now working on a number of bespoke AM37s for clients who want to own their own Aston Martin for the ocean. Two versions are available: a 'gran turismo' leisure powerboat with either a twin 370hp Mercury diesel or two 430hp Mercury petrol engines, and an AM37S version with twin 520hp petrol engines by Mercury Racing. A unique version for the Swiss lakes  is also in production with a design that reflects the Aston Martin Vantage AMR road car and sound insulation to comply with the rules applied to powerboats used on Switzerland's lakes.
Each of the powerboats benefits from a sliding cockpit cover that can be operated remotely from a mobile app, with navigation, the control monitor and entertainment systems integrated into a touchscreen in the dashboard encompassing advanced functions for the electric anchor, retractable bimini and retractable swim platform. Made using the latest in composite technologies, each one features a number of carbon fiber moldings, including the deck of the boat.
The CEO of Quintessence Yachts Mariella Mengozzi enthuses: "With so many options available to our clients we are confident that there will never be two identical AM37s. At the heart of our approach is a commitment to listen to customers and understand their needs, supporting their choices with the finest quality artistry. By fusing the maritime and automotive worlds with the universal characteristics of style and elegance, AM37 offers the perfect balance of design and engineering, performance and comfort, luxury and functionality."
Described as one of the most innovative luxury yachts on the market today, the AM37 is considered a true reflection of Aston Martin's DNA.
Photos by Lloyd Images