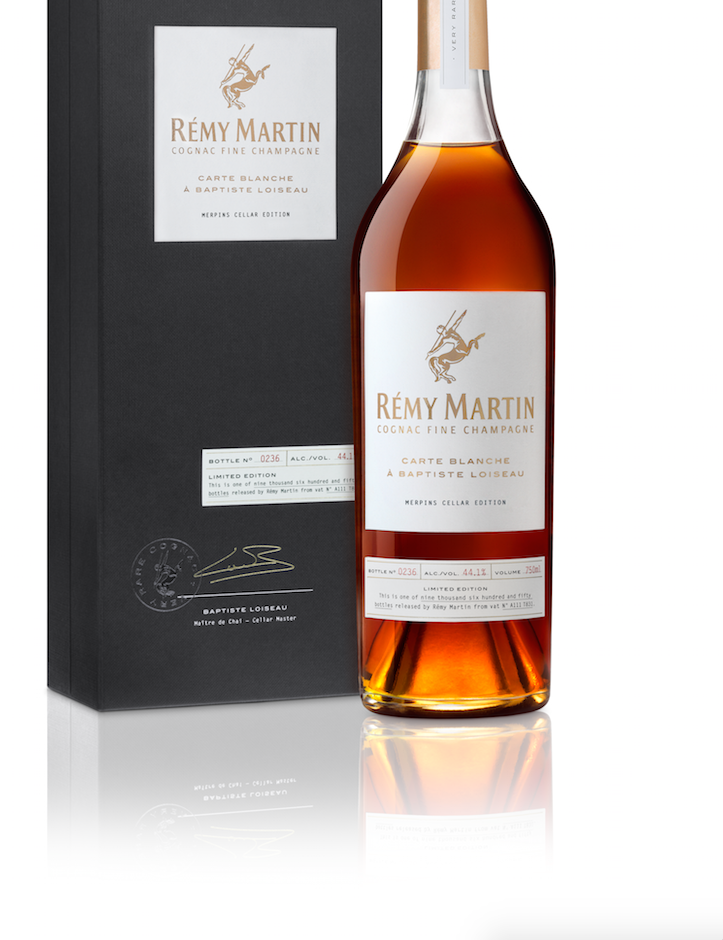 Due to strict requirements regarding cognac production, the spirit remains deeply rooted in tradition to this day. So with Rémy Martin cellar master Baptiste Loiseau given carte blanche to hand-pick the esteemed house's latest collection, stateside cognac lovers can rejoice in an exciting — but limited — second edition of Rémy Martin Carte Blanche.
For the new launch, Loiseau was at his discretion (hence the 'carte blanche') to select a single vat for an original blend that still held true to the Rémy Martin character. The choice was a Cognac Fine Champagne from the Merpins Cellars at the Rémy Martin estate, singled out from the collection of eau-de-vies housed there.
"For me, what's important is that it's really highlighting the treasures of the house," Loiseau tells me during the Carte Blanche launch at The Whitby Hotel in New York City. "It's the essence of what is a cognac for Rémy Martin. It's the concentration of time with the harmony of spiciness and fruitiness. It's all in the glass. I'm proud of it."
While cognac bottle designs can lean toward showy, Loiseau adds that the numbered editions of this expression are "simple, elegant and pure." The aesthetic for Rémy Martin Carte Blanche Merpins is more akin to a wine bottle, recalling the grapes that all cognacs are derived from.
Aged at 27 years and matured in a single vat , Rémy Martin Carte Blanche Merpins has aromas of plum, gingerbread and cloves. To taste, the blend is a combination of sweet spices with a long, smooth finish. Limited to only 9,650 bottles (and just 2,000 in the US), the rare cognac is best served neat to allow the flavors of the blend to come forward.
Rémy Martin Carte Blanche Merpins á Baptiste Loiseau will be available beginning this November in the US, priced at $500. For more information, please visit remymartin.com.