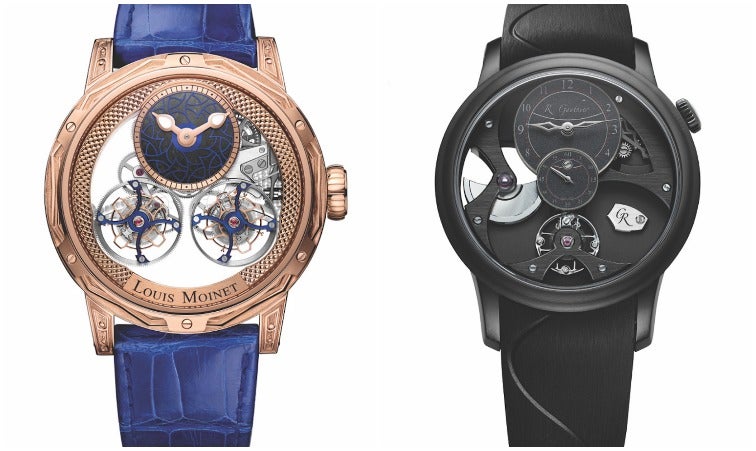 Over the centuries, the watch industry has often been called a carriage trade, with many independent watch brands working together to create luxury watches.
However, as they grew into fully integrated manufacturers and became icons, large conglomerates began snapping them up. Today, three top luxury groups — Louis Vuitton Moet Hennessy (LVMH), Richemont and Swatch Group — own more than 30 of the most powerful names in the industry.
Despite this trend, recent decades have witnessed the emergence of dozens of fledgling brands that are determined to go it alone. As they forge ahead as independently owned brands, without the financial backing of large corporations, these companies are taking the watch-collecting world by storm.
Because they are uninhibited by often-plodding corporate bureaucracy, they can move forward faster with ideas, innovations and unusual approaches. Many independents are small and run on a day-to-day basis by the watchmaker whose name they bear, or by the founder of the brand.
This all-hands-on-deck structure yields immediate access for watchmakers or designers with great ideas to the executive decision makers, who are typically prepared to take risks in order to produce something unique. Generally, independents are purists when it comes to horology, but they also think outside of the box, are passionate about aesthetics and craftsmanship, and are eager to embrace cutting-edge watchmaking techniques.
They strongly believe in their visions, which result in watches that run the gamut from space-age-looking, multi-dimensional pieces to incredibly classic and beautifully executed works of art.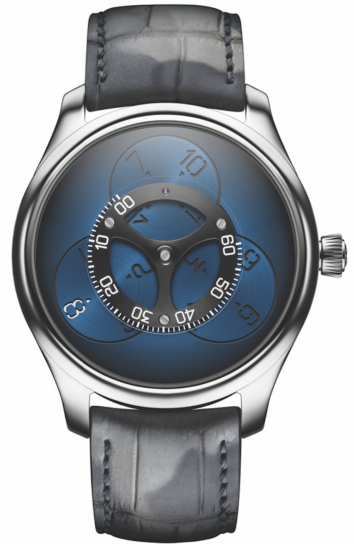 Handcrafted and finely finished in-house, these watches are quite limited in production, and each embodies a journey from the soul of the watchmaker to the wrist of the collector.
Louis Moinet, founded in 2004 in Neuchâtel, Switzerland, focuses on haute horlogerie, offering some of the most extraordinary dials on the market. Its roots date back to 18th-century watchmaker Louis Moinet, inventor of the chronograph and a student of astronomy.
Today, many timepieces boast astronomical indications paired with horological feats like double tourbillon cages and skeletonized calibers with unusual motifs. Since Louis Moinet builds just a few hundred watches a year, it can turn to some of the universe's rarest materials for dials, including meteorites, dinosaur fossils and tree fossils.
The Acasta watch (a limited edition of three) uses Acasta Gneiss, the oldest exposed rock on Earth (4 billion years) as its dial material. With a history dating back to the early 1800s, H Moser & Cie was relaunched in 2012 by family-owned MELB Holding.
With an annual production of about 1,200 watches, it's a bit larger than most independents. The firm focuses on creating in-housemade, finely finished movements, including classic minute repeaters and tourbillons, fitted into watches with minimalistic aesthetics. Its hypnotic, richly colored dials, with some of the most stunning gradient colors and patterns on the market, are a signature of the brand.
H Moser & Cie constantly pushes the boundaries of watchmaking with unusual materials and concepts; the 60-piece Endeavour Flying Hours watch is a prime example. It houses a new movement created in tandem with sister brand Hautlence that offers time indication using three small sapphire discs to display the hours and a central rotating disk to show the minutes.
Romain Gauthier established his eponymous watch brand in 2005 to create ultra-exclusive, handmade watches that underscore his commitment to haute horlogerie. With a methodical and precise plan, he created a fully integrated manufacturer, even becoming a supplier of components to the larger watch industry. In fact, Chanel recently invested in Gauthier's component business to ensure its future.
He has developed four movements for his brand, each incredibly complex and meticulously hand-finished. The detailed hand finishing of the calibers, dials and cases of the approximately 60 watches he creates a year is a key pillar of the brand.
The most recent Insight Micro-Rotor caliber, which took three years to develop, puts his elaborate finishings on display thanks to an open view of the caliber and micro-rotor.
By focusing on craftsmanship, innovation and exclusivity, these independent brands are building new legends, and collectors are taking notice.
Top image: Louis Moinet Acasta in 18K rose gold, $325,000, King Jewelers in Aventura, Florida, +1 305 935 4900, louismoinet.com.
Middle image: H Moser & Cie Endeavour Flying Hours in 18K white gold, $32,000, Cellini Jewelers in New York, +1 212 888 0505, h-moser.com.
Bottom image: Romain Gauthier Insight Micro-Rotor in black titanium, $74,800, Passion Fine Jewelry in Solana Beach, California, +1 858 794 8000, romaingauthier.com.
Photo credit ©StefanVOS
This story originally appeared in the Spring 2019 edition of Elite Traveler.