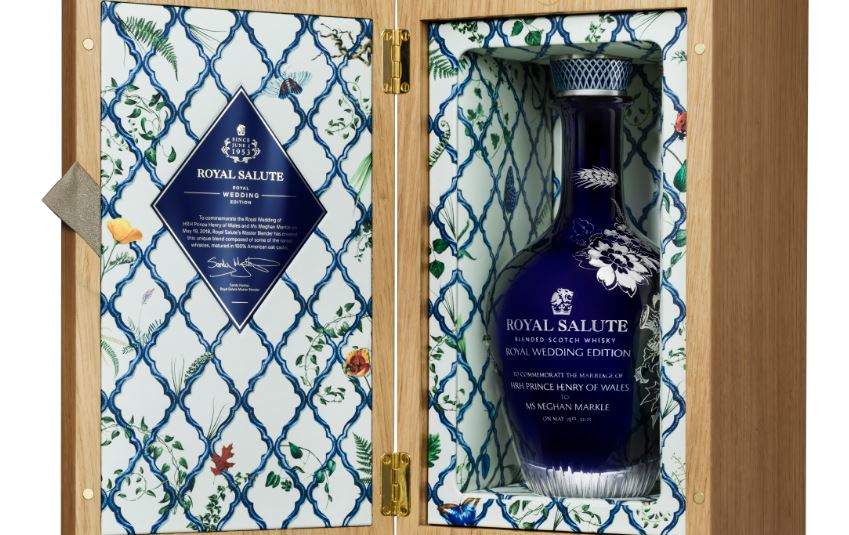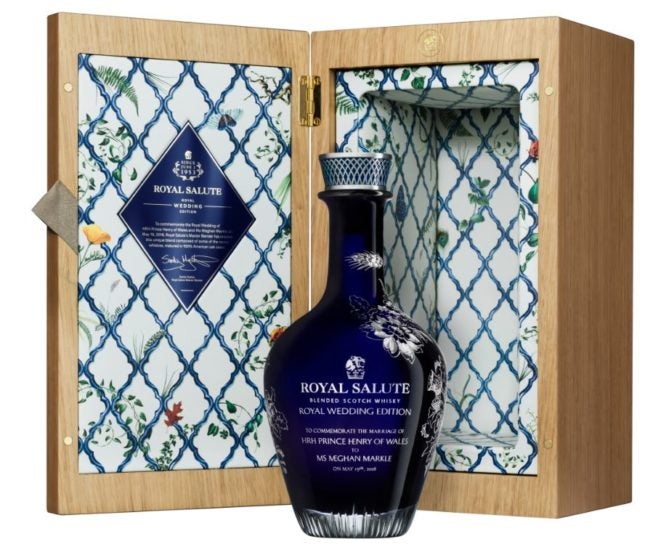 As a whisky brand that was first created to mark the coronation of Queen Elizabeth II, Royal Salute has a long and rich history of commemorating royal occasions, and now the distillery is celebrating the latest royal milestone by launching a special Royal Wedding Edition in honor of Prince Harry's marriage to Meghan Markle. This collector's edition is limited to just 70 bottles, with each one presented as a hand-blown Dartington Crystal decanter in a hand-crafted American oak box. Bottle number one is winging its way to Kensington Palace for the newly weds and the rest will be available to buy around the world.
Royal Salute master blender Sandy Hyslop created this commemorative blend by bringing together some of the oldest and rarest whiskies from the distillery's vault before maturing the blend in 100 percent American oak casks—a tribute to Meghan Markle's roots and a first for the distillery—giving the whisky a long creamy finish and sweet vanilla nose.
"It was a pleasure to create such a special whisky for HRH Prince Harry and Ms Meghan Markle," Hyslop says, "By marrying together some of the oldest and rarest whiskies in our portfolio, and aging them in American Oak casks, I have created a harmonious blend to match the coming together of such an iconic couple."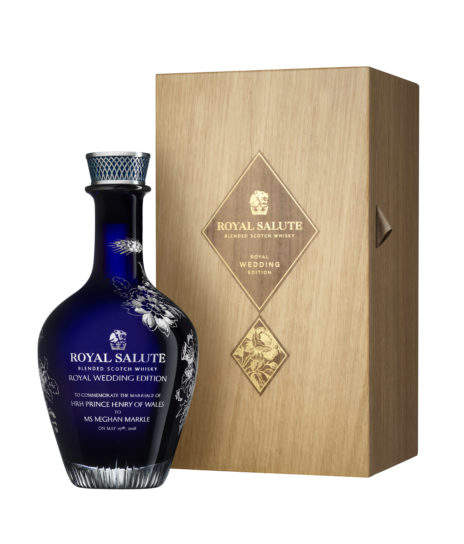 Each crystal decanter is hand-engraved with its unique number and painted with silver roses, thistles and barley, and its box is then decorated with a spring themed flower and foliage brocade design incorporating daffodils representing Prince Harry's official title 'Prince Henry of Wales' and California poppies in tribute to Meghan's birthplace.
At the whisky's official launch and inaugural tasting, Royal Salute brand ambassador, His Grace The Duke of Argyll tells us: "Royal Salute is very proud to have one of the best aged collections of whisky in the industry, with casks laid down for Prince Charles and the coronation. And this whisky is an absolute first for Royal Salute – never in the history of Royal Salute have we ever produced whisky that has 100 percent been aged in American oak cask. The oldest whisky in the blend is 55 years old and there's a significant volumn of 33-year-old and 36-year-old whisky. It's very unique in the whisky industry."
"The marriage of HRH, Prince Henry of Wales, to Ms Meghan Markle, will be one of the most exciting events this century," he says. "We believe this remarkable new blend is a perfect tribute to such a special moment in history."
The Royal Salute Royal Wedding Edition is distinguished by its light color, especially sweet nose and notes of creamy vanilla and chocolate fudge, which are followed by burnt mandarin orange and a touch of cinnamon. The blend's rich, fruity taste comes with hints of tropical banana, charred pineapple, almond and ginger, and culminates in a long finish that's characteristic of aged whisky.
The Royal Salute Royal Wedding Edition is available for $10,000 per flagon. For more information, contact Royal Salute at contact@royalsalute.com.