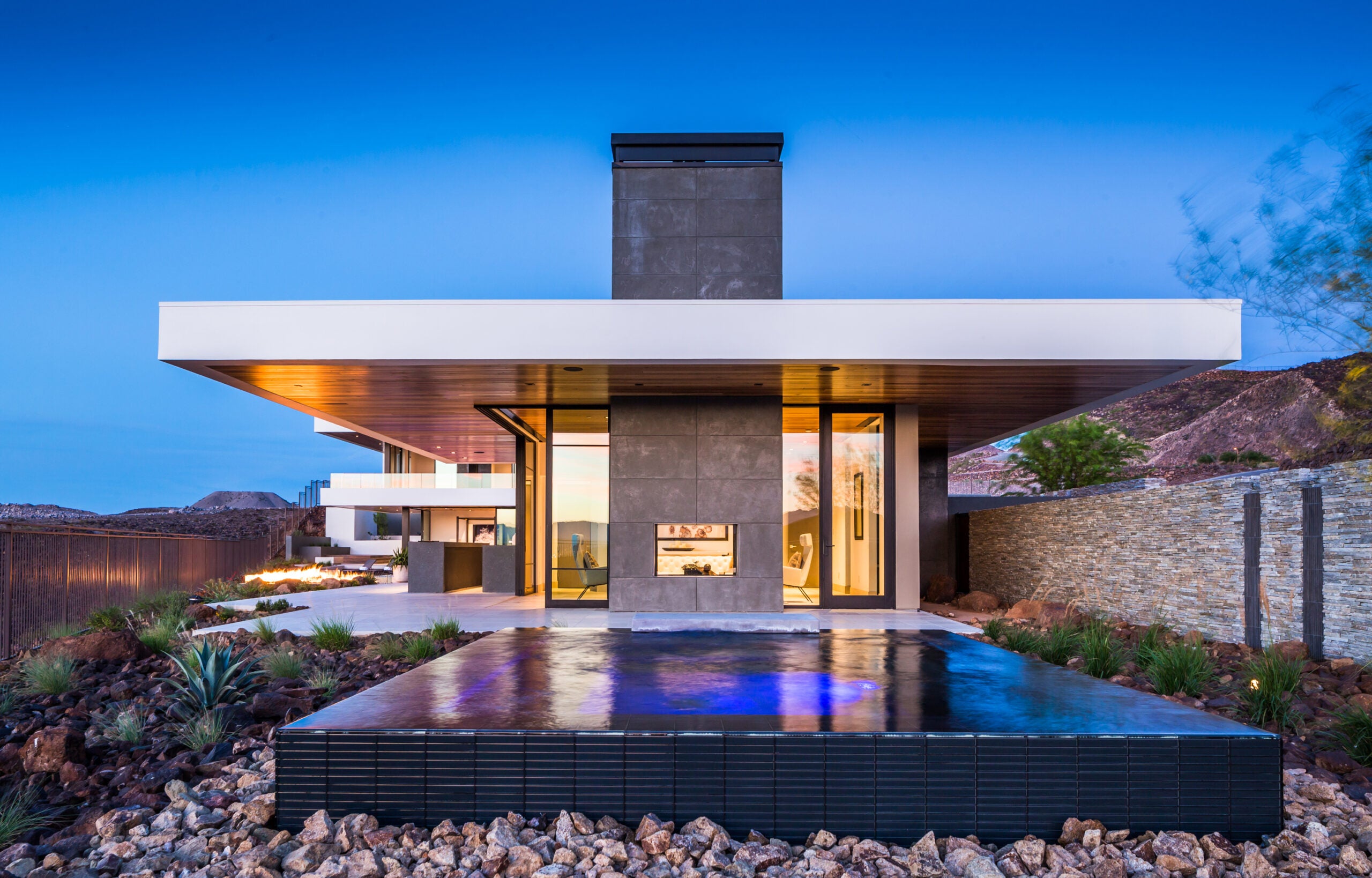 It's in the foothills of the McCullough mountain range just outside Las Vegas that the luxury real estate development Ascaya is now coming to fruition. Owned by Hong Kong billionaire Henry Cheng, this development will first encompass six 'inspiration homes' – each designed by one of the country's most progressive and esteemed architects who will interpret desert contemporary design in their own way.
The first of these inspiration homes, which was designed by San Francisco-based SB Architects, is now complete, with the more to come from Marmol Radziner, Richard Meier, Lake Flato and Hoogland Architecture. These one-of-a-kind homes will go on sale once the community is complete, with the property by SB Architects listed at $7.95m.
Set on half an acre of land, SB Architect's property exudes subtle elegance, with clean modern lines and a harmony between the indoor and outdoor space. Expanses of glass open onto the home's covered outdoor rooms, which between them comprise al fresco dining space and an outdoor spa.
This property comprises three separate areas, which are positioned in a triangular structure and linked by the outdoor rooms. The sprawling living and dining area is at the heart of the home, with walls that open up entirely to the infinity pool and valley view. The spacious ground-floor master suite opens up to a pool and yoga lawn, and three additional bedrooms and an office occupy the second-floor.
The property's second level also acts as a privacy screen, blocking views to the home's pool and outdoor space. Together, the horizontal roofs on top of the home's three structures echo the stepped terrain of the surrounding desert.
While these first six homes will provide the inspiration in architecture that's shaped by the desert sun, earth and stone, a total of 313 lots are encompassed within the community, ranging from .5 to .8 acres. Each one is carved out of the volcanic rock, providing expansive views of the city from its position 1,000ft up from the valley floor, at an elevation of more than 3,000ft above sea level.
The central focus here will be the Ascaya Clubhouse, a 23,000 sq ft space designed by award-winning architectural firm Swaback Partners and interior design firm TAL Studio. This will act as the community hub, providing a place to socialize and unwind that's complete with terraced gardens and pools, a club spa and tennis pavilion.
Combining the stark landscape of the Nevada desert with architecture that's inspired by these first six extraordinary homes, Ascaya will be a community like no other.
Images © Ciro Coelho Photography