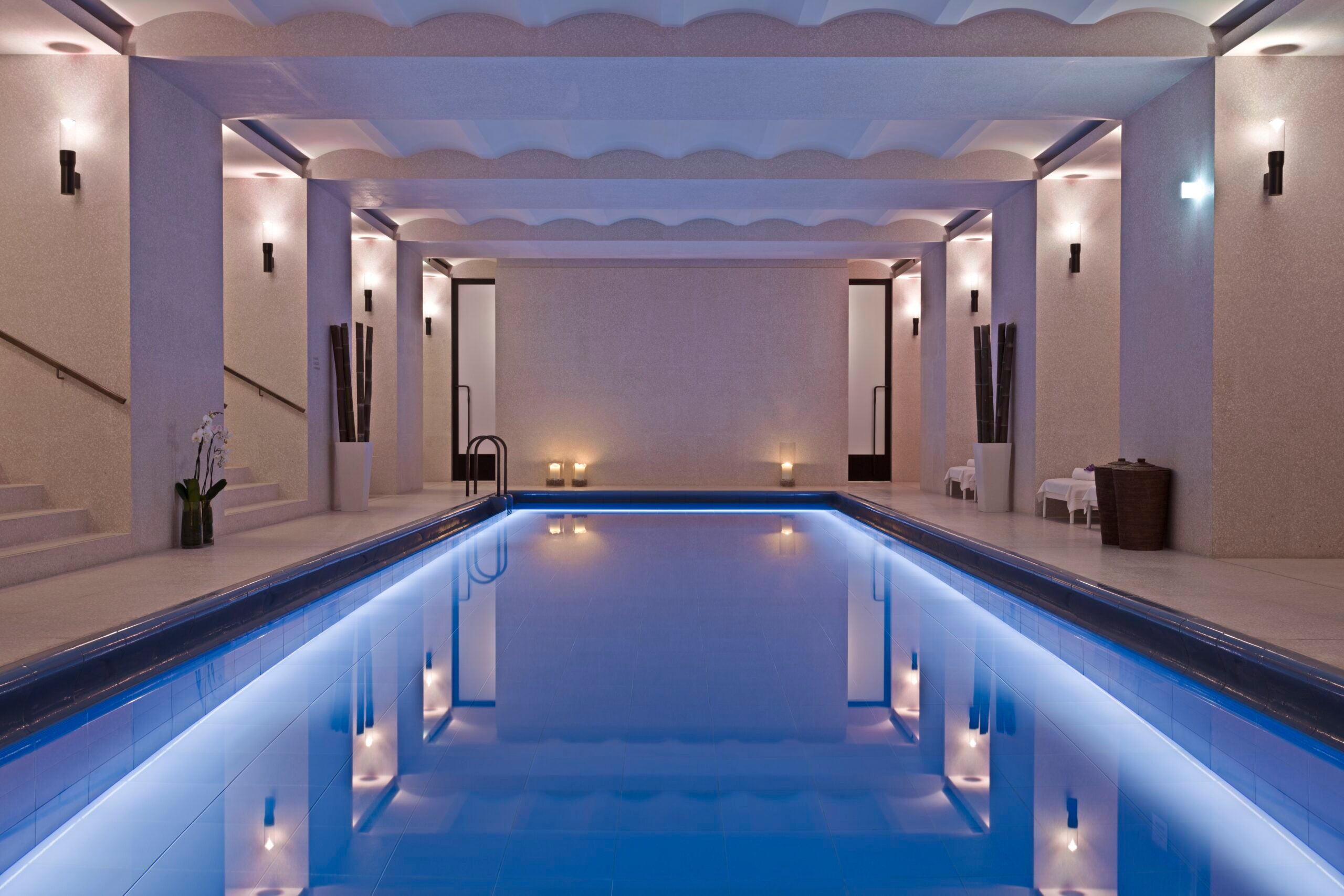 By Kristen Shirley and Olivia Cuccaro
From wading in the sparkling ocean to floating in the infinity pool to simply staying hydrated in the heat, water is synonymous with the summer season. Skiing, scuba diving and surfing are just a few of our favorite aquatic activities, but water sports are not all the element has to offer. At Hotel Café Royal in London, Akasha Holistic Wellbeing Center has introduced Aquatic Therapy to present relaxing treatments to guests with water at the center.
The healing benefits of water are unleashed with Akasha's Aquatic Therapy experience. Led by Steve Karle, a pioneer in aquatic bodywork therapies, guests will embark on a wellness journey through Watsu. Watsu is a hydrotherapy practice that incorporates muscle stretching, joint mobilization and shiatsu for a renewing treatment in a pool heated to 95 degrees fahrenheit. The custom treatment improves posture and relieves stress by realigning the body as you float through natural movement patterns. With the Aquatic Healing Retreat, an interactive assessment with Steve is followed lunch by in-house nutritionist Zoe Stirling before a four-hour aquatic bodywork experience in the spa's private Watsu pool. Guests will experience couples meditation and a full hour of private use of the Watsu pool following the workshop, complemented by fruit and champagne.
And if you would prefer to stay on dry land, the Thai Qi Fusion treatment is deeply relaxing. It combines gentle Tai Qi stretches performed by the therapist, a hands-on massage and ends with a massage using warm herbal poultices to focus on pressure points. The poultices are filled with turmeric (for its antioxidant and anti-inflammatory properties), lemongrass and lime (for energy), and camphor (said to pacify the nervous system and relieve muscles in spasm). Don't be surprised if you fall asleep during the treatment, or after in a cozy bed in the relaxation room.
Named for the Sanskrit word, Akasha spa spans nearly 13,000 sq ft of tranquil spa retreat. The spa features nine treatment rooms (including the double Akasha Suite), a 60ft lap pool, hammam, sauna and Jacuzzi. Erected from heated marble, a private hammam is dedicated to purifying scrubs and massages performed with La Sultane de Saba 23 carat gold products. A Vichy shower recalls the French spa experience for a full body massage with six shower heads of varying pressures and temperatures for the desired effect. For a full-body experience, the spa's signature treatment is 90-minute Four Elements treatment which reflects the four elements of nature (wester, earth, fire and air) through hydrotherapy, a foot massage, restorative hot oil massage with hot stones and a tension relieving scalp massage.
Feel completely rejuvenated with a stay in the three-bedroom Dome Penthouse which spans over 3,100 sq ft. Under the hotel's copper-domed rotunda, the master suite is a circular open space overlooking Lower Regent Street, while two additional bedrooms feature fumed English Oak and their own Carrara marble bathrooms. The penthouse also has a separate guest bathroom, guest kitchen, marble dining table to seat six and two furnished terraces.

Hotel Café Royal is located at 68 Regent Street, London W1B 4DY. For more information, please visit hotelcaferoyal.com.